Allen Iverson Returned to Philadelphia 76ers and Roasted Thaddeus Young the 1st Time They Spoke: 'I Own This Locker Room'
For 10 years, Allen Iverson was the Philadelphia 76ers. He was the undisputed alpha almost from the time the franchise took him with the top overall pick in the 1996 NBA draft.
When he made his way back to Philadelphia in 2009, Iverson expected it would be business as usual.
He was in for a surprise.
Allen Iverson was an icon, even among other NBA players
During his first stint with the Philadelphia 76ers, Allen Iverson was a lightning rod for criticism. There were criticisms of his shooting volume, his injuries, his reluctance to share the ball, and so on.
There is some truth to the criticism. Iverson shot the ball a lot. Over his last eight seasons in Philadelphia, he averaged nearly 25 shots per game. On the other hand, who else was going to get the ball? Eric Snow? Iverson was a four-time scoring champion, the NBA's MVP in 2000–01, and went to 11 consecutive All-Star games.
Iverson was also influential off the court. His style was what prompted the NBA to institute a dress code for players not in uniform. Essentially, that dress code called for players to look much less urban (to use a polite term for it). The standards have relaxed, but Iverson was enough of an influencer to be credited (or blamed) for the dress code.
A tense meeting with Thaddeus Young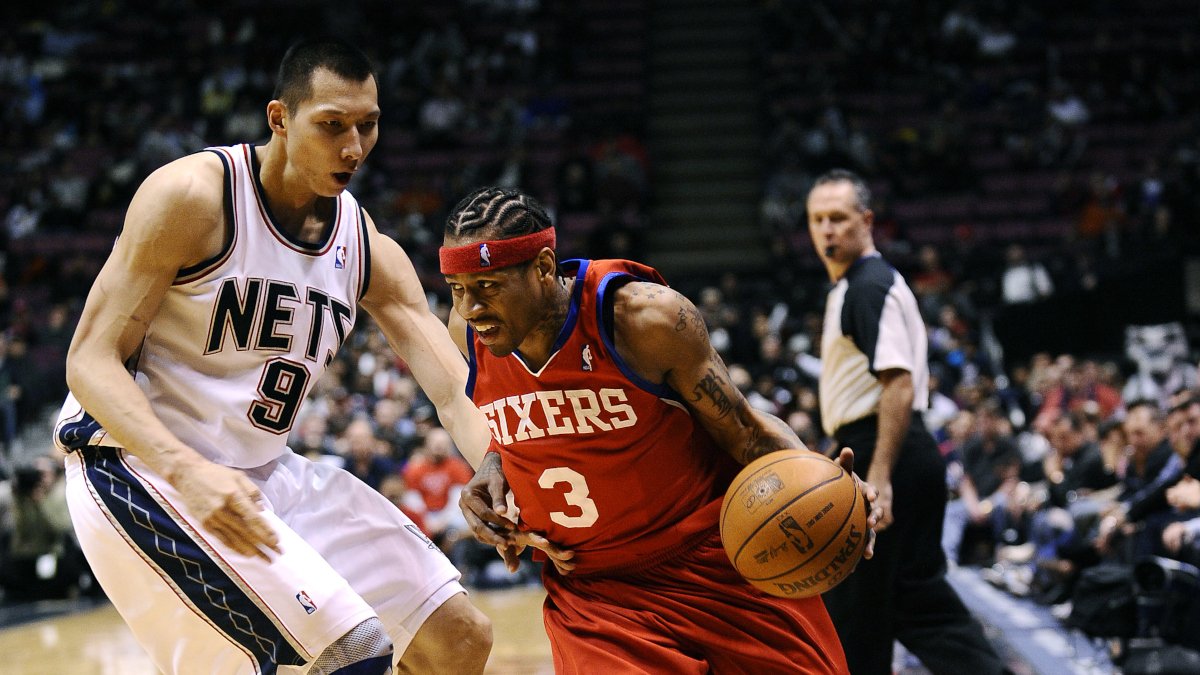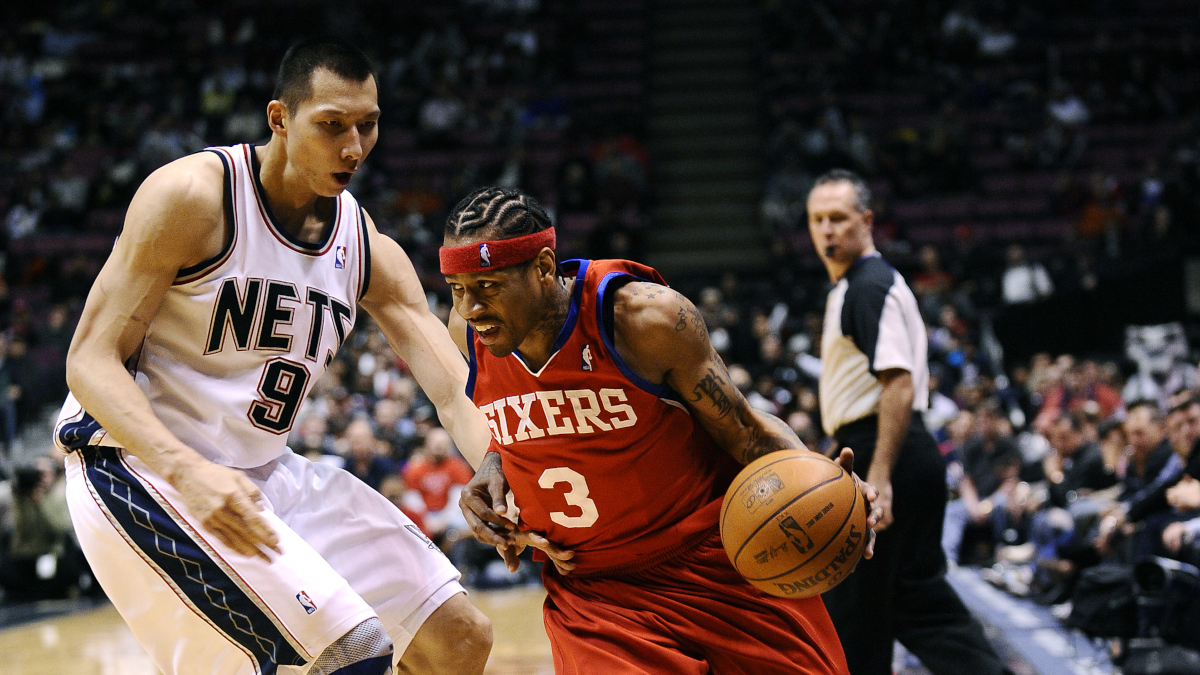 Allen Iverson bounced from the Denver Nuggets to the Detroit Pistons and the Memphis Grizzlies between 2006–09. Released by Memphis after just three games, Iverson wound up back with the Philadelphia 76ers in December 2009.
Iverson was fading, but he was still a star to the fans. Even in his final season, fans voted him a starter for the 2010 All-Star Game. That's impressive for a player who would be released by the 76ers less than a month after that game.
When he returned to the 76ers, he made himself right back at home. One of his new teammates thought that perhaps Iverson was a little too comfortable. As he told The Crossover NBA Show podcast recently:
"The first day he came in, and he had all this stuff in my locker because he sat next to me in practice, so he had all this stuff in my locker. And I came in, and I was looking, and I just set his stuff over next to his locker. [T]he first thing he said was — he was joking, but what he said, don't ever touch my sh*t again, you young punk beat motherf*cker.

"And I started laughing like I thought it was the funniest thing ever. [H]e was like, he was joking about it. But that was like the first time we had ever, like, spoke or like had a conversation. [F]rom then on, we were just super cool. And I kind of had to hold my ground as a young guy, like 'No, man, you set your stuff in yo locker, I'll set my stuff in my locker!' And he was like, 'I own this locker room. I made this locker.' And I was like, 'You right about that, but you ain't been here in three years.'"

Thaddeus Young
Allen Iverson and Young were together only briefly with the Philadelphia 76ers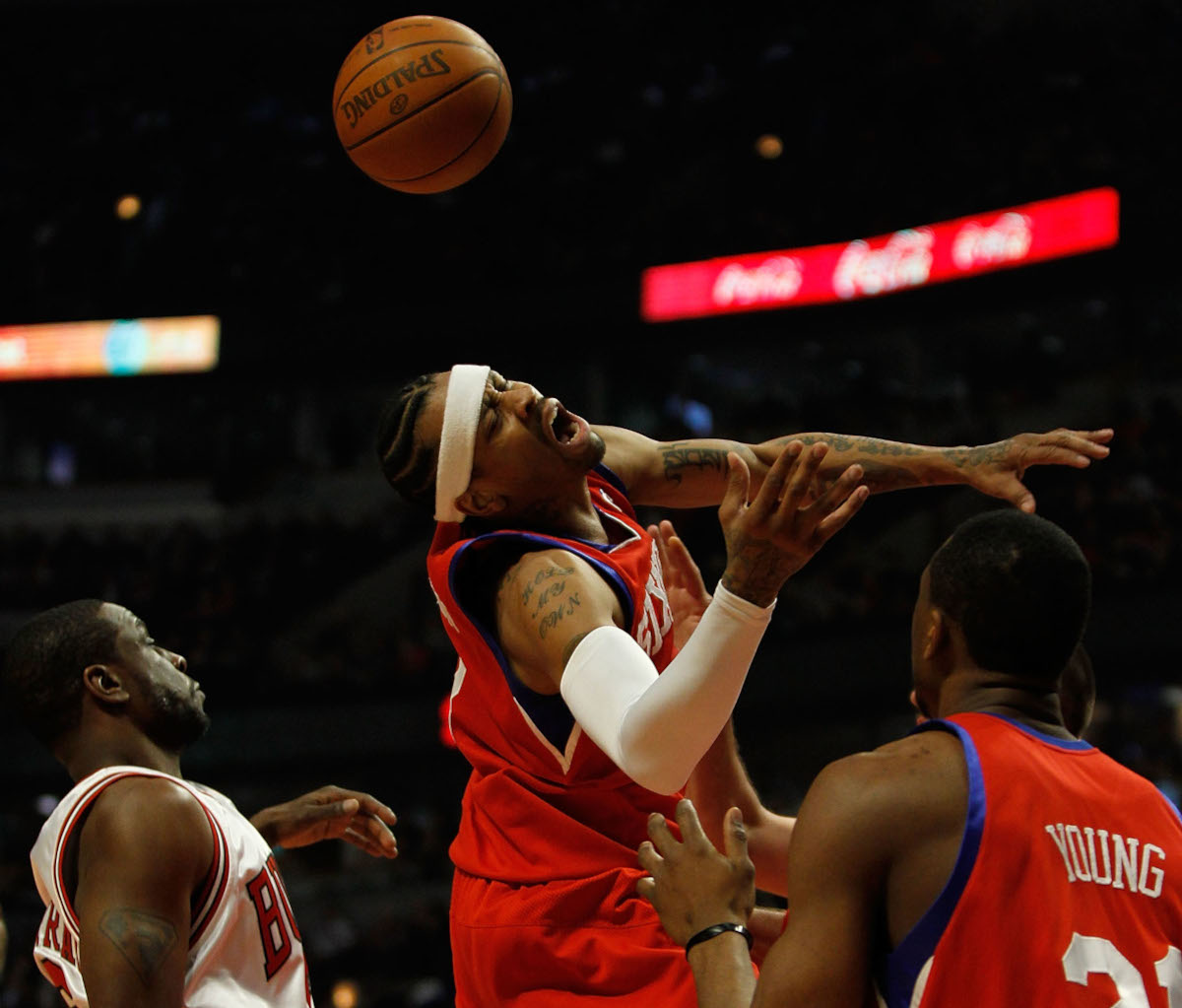 In 2009–10, Young was a third-year player from Georgia Tech. The Philadelphia 76ers had taken him with the 12th overall pick in the 2007 NBA draft. Young was a full-time starter for the first time in 2008–09.
He is still active with the Chicago Bulls, where he has played two seasons. Young is signed for next season for $14.19 million, with $6 million of that guaranteed. Coincidentally, Young has played 14 seasons, the same number Allen Iverson logged during his Hall of Fame career.
The collaboration on the court between Young and Iverson lasted only 25 games and 933 minutes. The 76ers were10–15 in those games, according to NBA Stats. In those 25 games, Iverson averaged 13.9 points, 4.1 assists, and 3.0 rebounds in 31.9 minutes per game. But for a team that wanted to build around young veteran Andre Iguodala, Iverson didn't fit.
Most notably, that involved rookie guard Jrue Holiday, a 19-year-old first-round pick at the time. For Iverson, his release from the 76ers marked the end of his NBA run. He played three games for Turkish club Besiktas in the 2010–11 season.
Still, give Thaddeus Young some credit for standing his ground against Allen Iverson. That's a future Hall of Famer with some serious swagger.
International information via RealGM.