Allen Iverson Sends a Warning to the Rest of the NBA by Praising an Up-and-Coming Star: 'I Don't See No Flaws in His Game at All'
Allen Iverson knows standout point guard play when he sees it. More specifically, he knows scoring from the point guard spot when he sees it. AI was one of the best ever at creating shots from anywhere on the floor while throwing in a little flair and playmaking to go along with it. Now, The Answer has his sights set on another young guard with the same skills he once flashed — the Atlanta Hawks' Trae Young.
Young can do almost everything Iverson could do, and at a similar stature. Game recognize game, and the former Philadelphia 76ers' star sees the complete package in Young.
Trae Young took a major leap last season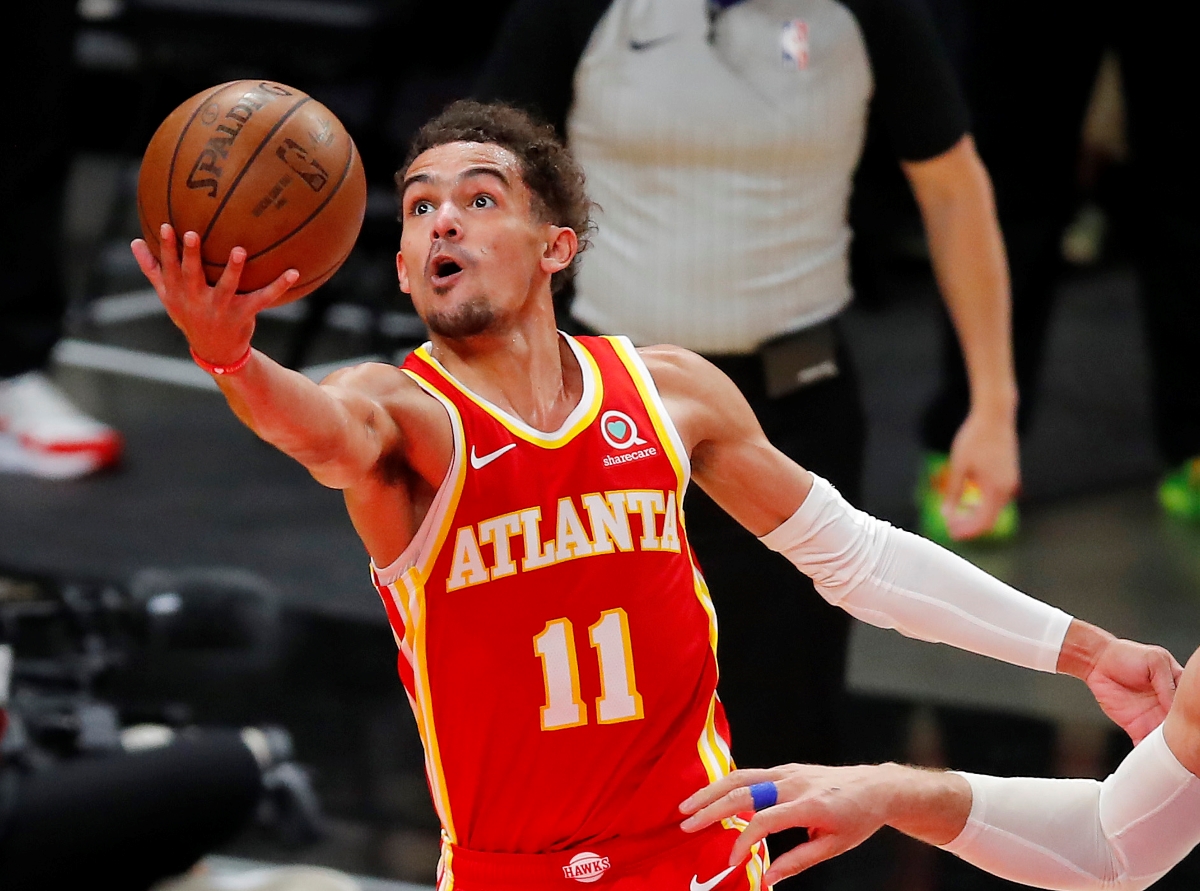 Ice Trae will always be compared to Luka Doncic after their draft day swap, but Young is carving out his own path toward the superstar tier.
He came into the league known for his ability to stretch the floor and facilitate, but listed at 6-foot-1 and 180 pounds, questions were raised about Young's ability to stay healthy. The Oklahoma product has started every regular-season game since he entered the NBA.
There were also concerns about whether Young's shooting ability would translate to the league. He's a career 34.3% shooter from deep over his first three seasons, but at a high volume (7.1 attempts) and often from long, long range.
Trae took a jump last season, though. He was named an all-star for the first time in his career and showed he has the clutch gene during the playoffs. In his first postseason appearance, Young led Atlanta on a surprising run to the Eastern Conference Finals before eventually losing to Giannis Antetokounmpo and the NBA-champion Milwaukee Bucks. He averaged 28.8 points and 9.5 assists in 16 playoff games.
Iverson sees superstardom in Young already
In an interview with Taylor Rooks of Bleacher Report, Iverson had nothing but love for Young's game:
"I don't see no flaws. You know what I mean? All I know is he's just going to keep getting better and better. So all I would say is just keep doin' what you're doin'. I don't see no flaws in his game at all.

"I like everything about his game."

Allen Iverson on Trae Young
AI even praised the budding superstar's influence in the Hawks' locker room, saying, "He's a leader. And they listen to him. As young as he is."
That's high praise coming from a former MVP and four-time scoring champion, but Iverson clearly believes in Young. He sees a bit of himself in the former Sooner — small and slight, but skilled, tough, and with an obvious chip on his shoulder.
Young and the Hawks will look to build on last year's playoff performance in 2021-22
Atlanta is running it back with the roster that ended last season just a few wins shy of the NBA Finals. The franchise re-signed forward John Collins to a max extension, keeping Young's most tenured teammate around. The rest of the Hawks' top nine players from 2020-21 in terms of minutes all return.
Bogdan Bogdanovic, Kevin Huerter, Cam Reddish, and De'Andre Hunter are set to man the wings, while Clint Capela, Danilo Gallinari, and Onyeka Okongwu complement the Hawks' franchise point guard perfectly on the interior.
Atlanta has the talent and experience to repeat last year's performance, if not surpass it. And based on his current trajectory, Young should take another leap this season.
One of the greatest guards of all time certainly thinks the 23-year-old is capable of it.
All statistics courtesy of Basketball Reference.
RELATED: Re-Examining the 2018 NBA Draft: The No. 1 Overall Pick Is Still Ludicrous, and the Luka Doncic-Trae Young Swap Remains a Crucial Part of Recent NBA History