Allen Iverson Was Thrown on Top of a Car by His High School Coach After Being Caught Skipping Class: 'I Wasn't Going to Allow Him to Fail'
Allen Iverson will forever go down as one of the greatest players in Philadelphia 76ers team history. His illustrious Philly career withstanding, Iverson will also go down as the greatest "pound for pound" athlete in all of professional sports.
Despite being heavily undersized throughout his basketball-playing career, Iverson always found a way to impact the court, coming within a few games of delivering Philly a championship in 2001.
However, years before he was electrifying the NBA with his flashy moves and high-scoring outings, Iverson was taught a crucial lesson by his former high school football coach.
Allen Iverson regularly skipped school as a teenager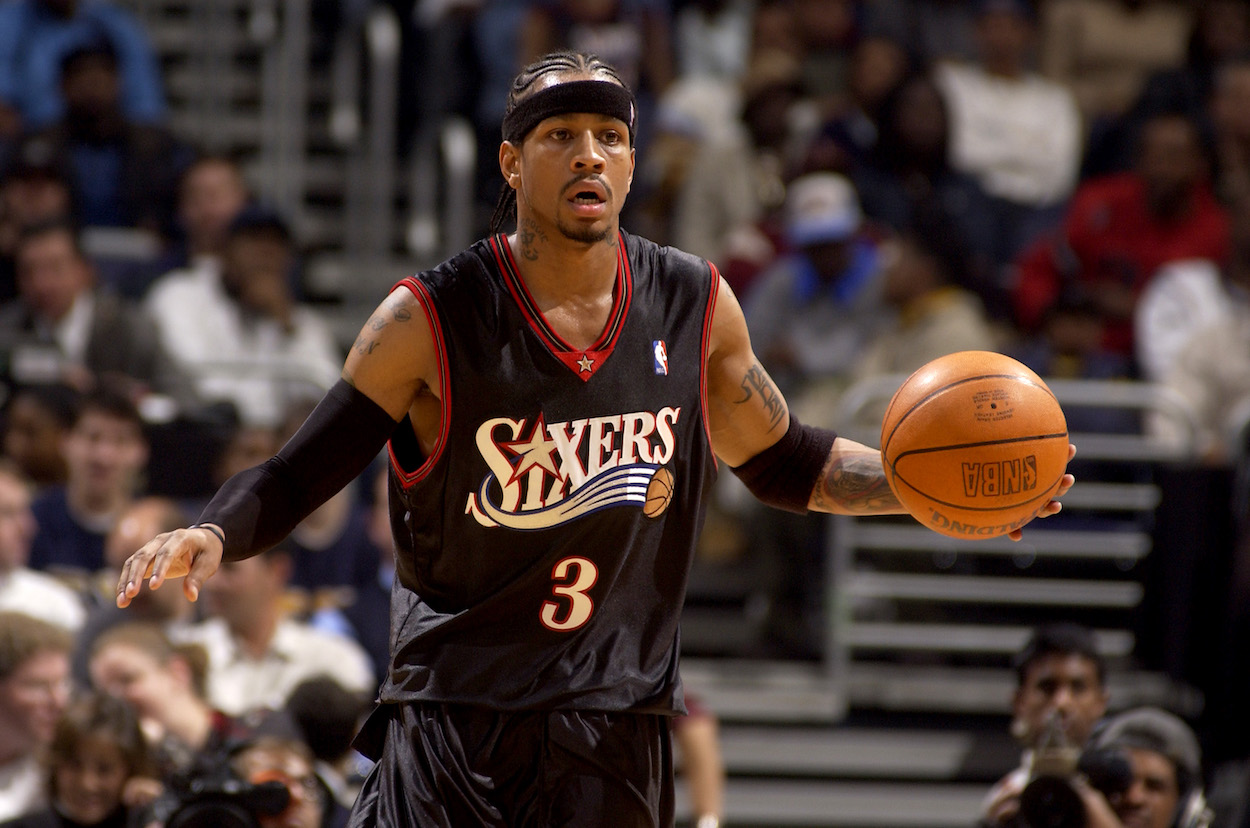 Despite being a promising multi-sport athlete in high school, Iverson didn't grow up under the best circumstances when it came to his academics. He regularly skipped class and failed courses, casting a significant amount of doubt on if the future NBA superstar would even make it to college.
After completely failing a grade in high school, Iverson moved in with his football coach at the time, Gary "Mo" Moore.
Upon finding out that Iverson was continuing to no-show for classes even after moving in, Moore decided to teach him an important (and physical) life lesson.
Allen Iverson was taught an early life lesson by his high school football coach
In an attempt to provide a wake-up call to Iverson, Moore flipped the teenager on top of a car. It was a rather violent approach to encourage Iverson to attend class, but something needed to change if Iverson wanted to make it to the NBA.
Moore saw sky-high potential in Iverson and didn't want to see it go to waste.
"I wasn't going to allow him to fail," said Moore.
The car incident proved beneficial, as Iverson began cleaning up his act and attending school soon afterward. Iverson himself credits Moore for turning his life around in the right direction, and Moore continued to act as his personal manager throughout the remainder of high school. The future Sixer graduating high school and making it to Georgetown can largely be attributed to "Coach Mo" interjecting when he did.
As much as it probably sucked to be tossed on top of a car in the moment, Iverson should be grateful his football coach stepped in and decided to do something.
A.I. had a historic NBA career with the Philadelphia 76ers
Once Iverson made it through high school and college, the rest became history. The longtime Sixer averaged 26.7 points per game over the course of a 17-year career and won a plethora of awards.
Iverson is an 11-time All-Star, seven-time All-NBA player, four-time scoring champ, three-time steals champ, Rookie of the Year, MVP, and Hall of Famer.
An awe-inspiring career for a guard who barely stands 6-foot, no matter how you slice it.
All stats courtesy of Basketball Reference.