Allen Iverson's Former Coach Latest to Compare Ja Morant to AI: 'Reminds Me So Much of Allen Athletically'
Ja Morant has exploded onto the scene during the 2021-22 NBA season as a full-fledged A-List superstar. The Memphis Grizzlies leader has carried his team toward the top of the Western Conference standings and himself into the top five of the MVP conversation.
Ja's highlight reel is just as impressive as his overall game. Deep threes, buzzer beaters, explosive dunks, incredible finishes — they've all put him on the national radar not only as a great player but as must-see entertainment.
There's a Hall of Famer whose name comes up repeatedly when searching for comparisons to Morant's game. The style, the flash, the jaws it leaves on the floor — is eerily reminiscent of Allen Iverson.
One of The Answer's former head coaches, Hall of Famer Larry Brown, is now the latest to make that exact correlation.
Ja Morant has become a bonafide NBA superstar with the Memphis Grizzlies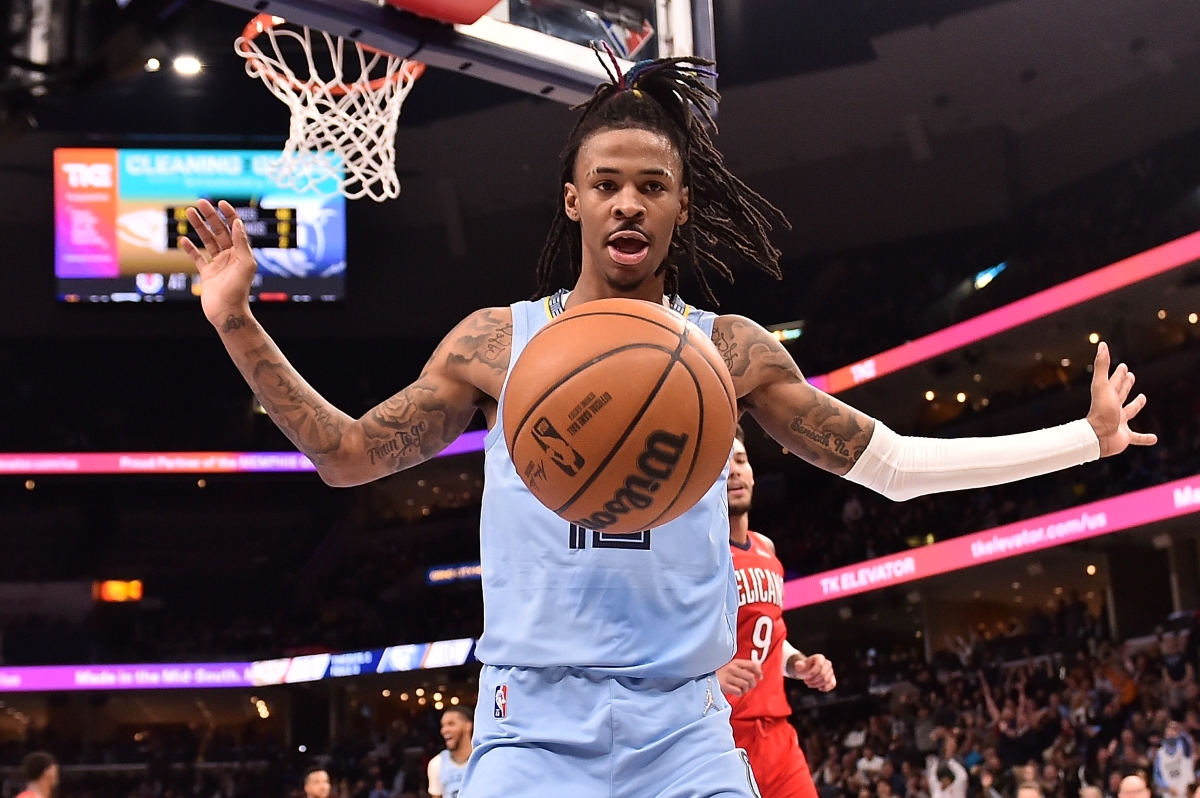 Ja was the No. 2 pick in the 2019 NBA Draft and was subsequently named that season's Rookie of the Year.
His stats went up the following year and have taken a massive leap this season through March 15.
Morant's scoring jumped from 19.1 points per game to 27.5. His rebounds went from 4.0 to 5.8. He's shooting 49.3% from the field this year versus 44.9% last year.
He's making and taking more threes. He has a higher effective field-goal percentage.
He's made such a leap (literally in his case) that he earned his first All-Star berth and is in the running for the 2021-22 MVP at age 22.
Morant is fourth in the running for the award according to NBA.com behind Nikola Jokic, Joel Embiid, and Giannis Antetokounmpo. He's vaulted quickly from up-and-comer to one of the best point guards in the league.
We've seen and heard the Iverson comparisons. But now we're getting one from an "AI expert," so to speak.
Larry Brown is the latest to compare Ja to Allen Iverson
Larry Brown coached Iverson with the Philadelphia 76ers for six seasons, from 1997-98 to 2002-03. He was there for Bubba Chuck's explosion onto the national radar.
Brown saw Iverson go from an ascending 22-year-old to an NBA legend (sound familiar?). He and AI made the NBA Finals together in the 2000-01 season, which coincided with The Answer winning his lone MVP award.
If any coach is an Iverson expert, it would be Brown. And now the former Philly head man has become the latest to voice the similarities between AI and Ja, via The New York Post:
He reminds me so much of Allen [Iverson] athletically the way he plays. Fearless. … He's so special.

The things Ja does, I remember sitting on the bench in Philly, looking at staff and seeing Allen do something and we all laughed because we never seen anyone doing anything like that. I get the same feeling watching Ja play.

Former 76ers head coach Larry Brown on comparing Ja Morant and Allen Iverson
The similarities between Morant and a young AI are easy to catch. But Ja has some things to do before he makes that correlation complete.
The Memphis star is shooting to match — and surpass — AI's best season
Teamwise, the two are apples and oranges. Philly needed every point Iverson scored to win, while Ja is the leader of a deep, tight-knit Memphis team.
Iverson averaged more than 31 points per game in the '00-01 season when he won MVP. But that award and Finals appearance are two things AI has that Morant doesn't. At least for now.
As of March 15, the Grizzlies are 47-22. They're battling the Golden State Warriors for the West's 2-seed.
But Ja's squad is talented enough — and he's talented enough — to make a legitimate run for an NBA title this year. And it sure seems like a possible MVP is right around the corner.
Like Iverson, though, Morant won't back down from a challenge. He doesn't just want to join AI in those two categories — he wants to beat him.
All statistics courtesy of Basketball Reference.
RELATED: Giannis Antetokounmpo's Recent Comments Suggest Ja Morant Could Be a Future MVP