Allen Iverson's Secret Talent Is Surprisingly Creative
Allen Iverson is a legend who transcends his mostly excellent play on the court. The reasons fans still hold him in high regard have more to do with his style and personality than his jump shot. Iverson is beloved for his outspoken personality, but he also has a secret talent that he's passed on to his daughter.
Even without playoff success, Allen Iverson is an icon
RELATED: Allen Iverson Spent $40,000 at Strip Clubs During His Time in the NBA
It's funny to remember that Iverson was incredibly divisive as an active star. To some, he represented some immoral scourge of players who didn't dress professionally and scoffed at the idea of practice or lifting weights. But Iverson's defiance and swagger endeared him to fans who admired his insistence on being himself.
 His fearlessness was his best and worst asset. It gave him the confidence to take on Michael Jordan as a rookie and attack the rim consistently despite being the skinniest player on the floor. It also meant he took a lot of bad shots. The efficiency-focused modern NBA wouldn't fit Iverson's game at all. And being one of the role players on his teams probably wasn't that fun. But his ability to raise the floor of struggling Sixers teams made him an MVP in 2001 after leading Philadelphia to the Finals.  
Iverson is sometimes referred to as the best pound for pound player ever, as Bleacher Report details. While that distinction doesn't make literal sense, it speaks to the love people have for Iverson. His actions were so often irrational, and we love him more for it. 
Iverson's decline was swift but barely changed his status
RELATED: Allen Iverson Accidentally Left a Teammate Stranded
Iverson at his best was an exhilarating player to watch. But his fall from grace occurred in a flash. It started after he was traded to the Pistons. Iverson put up decent stats — 17 points and five assists per game. But he was inefficient and began to spend more time on the bench. Iverson saw this as humiliating. It became a big reason his NBA career ended.
He signed for the Memphis Grizzlies as a free agent in 2009. But Iverson only played three games before leaving the team. He ended his NBA tenure where it all started in Philadelphia. Iverson's final pro games actually took place in Turkey. But his stint as a rotation piece for Besiktas is mostly forgotten.
Nostalgia always erases the nuances of a person's life. In Iverson's case, that's for the better. The same personality traits that made him hated by many early-2000s sports journalists turned him into a generational icon. He still gets standing ovations at Sixers games. His impact on the game is too strong for a few mediocre seasons to obscure that. 
Allen Iverson has a secret talent he passed on to his daughter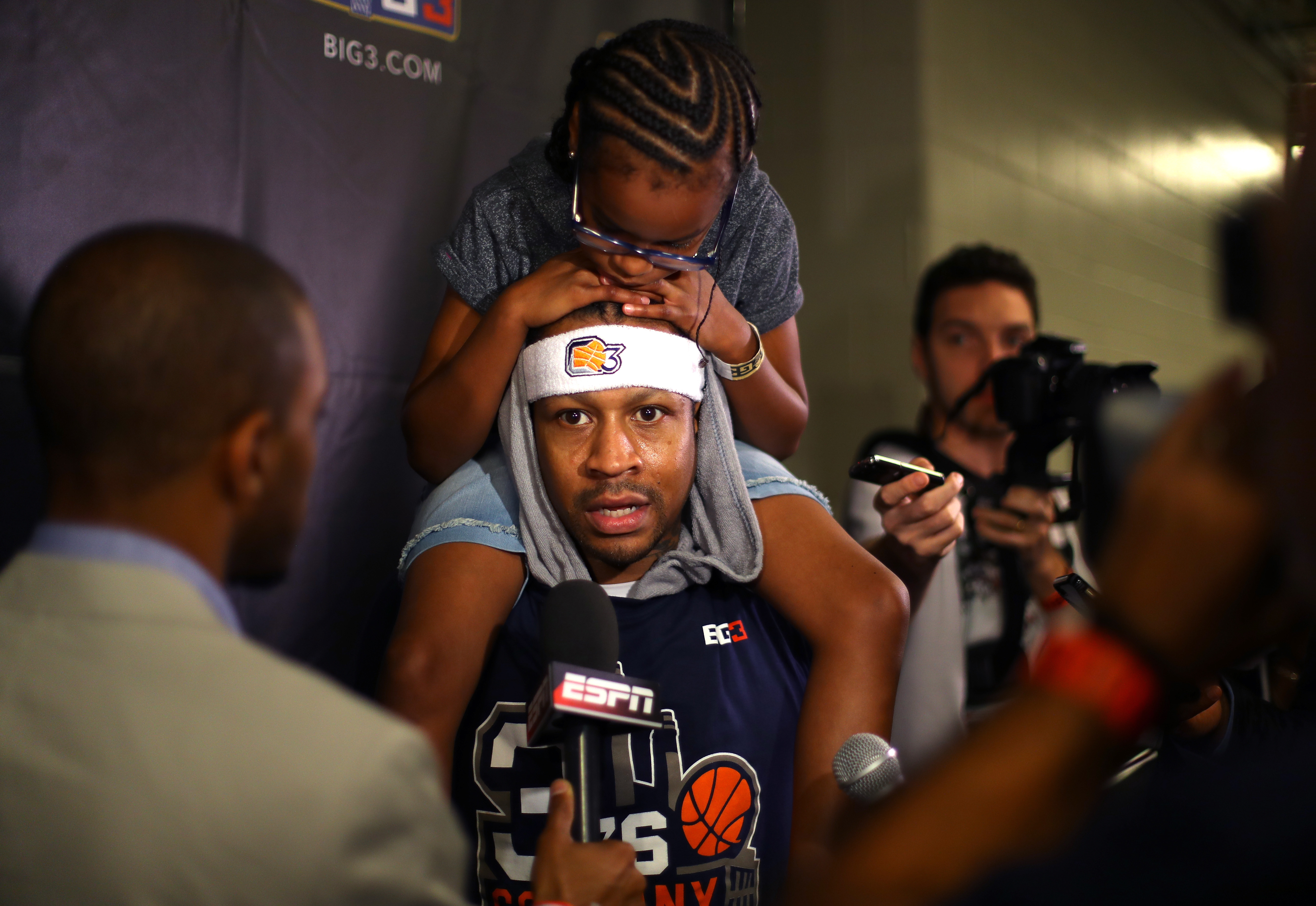 Despite all of the reporting on Iverson, there are parts of his personality not known outside of the NBA. In his spare time, Iverson was an excellent cartoonist. He showcased this skill as part of a video for The Player's Tribune last month. Iverson furthered detailed this skill in a wide-ranging interview with GQ.
The interviewer expressed surprise, saying, "You're obviously a creative person, you've dabbled in music, but I had no idea you could draw like that." Iverson said, "Yeah, I mean, I'm good. But my 14-year-old daughter? She's incredible. Way crazier than me. Literally, she's going to be legendary with it. I can't wait for the world to get a chance to see her talents."
The pride in his daughter's skill is particularly poignant because the child he's talking about, Messiah Iverson, was the impetus for his official exit from the NBA. After she became got a diagnosis of Kawasaki Disease, he left Philadelphia to take care of her. It's nice to hear that she recovered and is doing well. 
On a less serious note, Iverson talked about how he used his drawings to lighten the mood in the locker room before games on the uncommon occasion that he showed up with time to kill. He told The Players' Tribune:
"Well, it was rare that I got [to the locker room] before everybody. [Laughs.] But if I did, I'd get in there and put something on the chalkboard just to lighten everybody up. Just to get them in that comfortable mode before we go to war."

"I don't think I ever did Coach Brown, but all of the guys on my squad. It was just to lighten the mood, especially if it was a tense situation — like a playoff game, something like that."
Iverson's creativity is not confined to his athletic career. This quality is what makes him so magnetic so long after his prime playing years.