Amari Cooper Says He Had a Blunt 2-Word Response for a Group of People Who Suggested He Quit Football in High School
Amari Cooper has become one of the most important players on the Dallas Cowboys' offense. Ever since Dallas traded for him in 2018, he has been about as productive as they come at the wide receiver position. 
However, what if he had never entered the NFL? Cooper recently revealed that a group of people suggested he quit football back when he was in high school, but he ultimately gave them a blunt two-word response.
It's safe to say he chose the right path.
Amari Cooper has become a Pro Bowl receiver on the Cowboys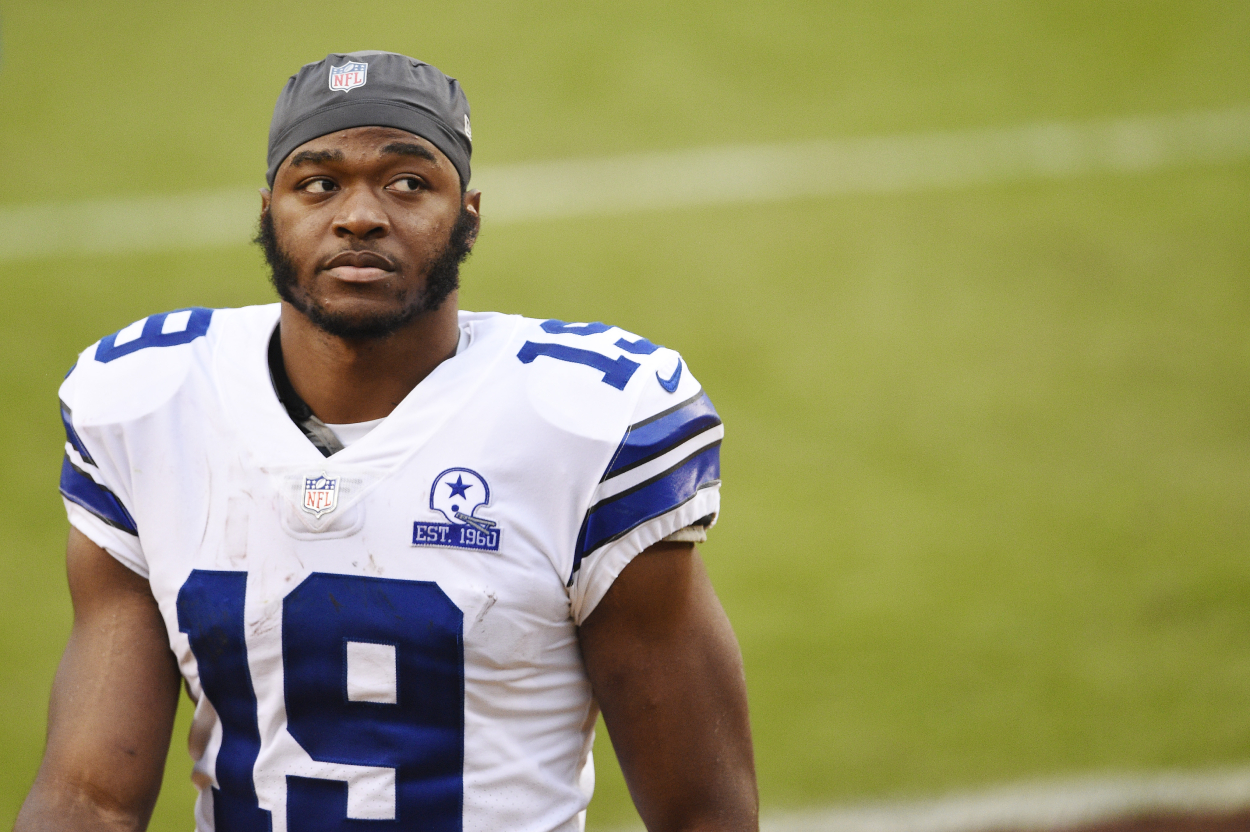 Cooper entered the NFL as one of the top prospects in the 2015 draft, as he went to the Oakland Raiders with the fourth overall pick out of Alabama.
He then recorded over 1,000 receiving yards in each of his first two seasons, earning two consecutive Pro Bowl selections. But the pass-catcher struggled in 2017, only playing in 14 games and catching just 48 passes for 680 yards.
Cooper's struggles continued in 2018, as he caught 22 passes for 280 yards through six games for Oakland, but in October of that year, the Raiders traded him to the Cowboys. Once he got to Dallas, Cooper immediately started producing again. He caught 53 passes for 725 yards and six touchdowns in nine games for his new team that year, which helped him become a Pro Bowler again. He also helped lead the Cowboys to the divisional round of the playoffs.
Cooper has continued producing at a high level the past couple of years, earning his fourth Pro Bowl selection in 2019 with 79 catches for 1,189 yards and eight touchdowns. The 6-foot-1-inch receiver then gained over 1,100 yards again in 2020, despite quarterback Dak Prescott missing most of the season due to injury.
For his career, Cooper has caught 449 passes for 6,211 yards and 38 touchdowns; he has become a premier receiver in the NFL, despite some people actually suggesting he quit football.
He said people suggested that he quit football and focus on singing instead
With HBO's Hard Knocks featuring the Cowboys this year, fans have gotten a new perspective on Cooper and his teammates. In fact, during a scene that NFL Films recently tweeted out, Cooper told teammate Cedrick Wilson about the time in high school when people suggested he quit football for music.
"I used to be in a singing group. I swear," Cooper said in the clip. "Ninth grade going to 10th grade, I was in a singing group all summer. I'm killing it. You know what they told me? Because you know nobody gonna know if you're gonna make it (to the NFL) or not, they're like, 'Man, we're gonna take this serious. You're probably gonna have to quit football'."
Cooper then had a two-word response to that suggestion.
"I said two words: 'I'm out.'"

Amari Cooper
Obviously, there's a chance Cooper may have been embellishing a bit given that he was joking around with his teammate during practice, but if his comments are 100% true, he's probably thankful he chose to not listen to them.
He has since become a sports star and has made millions as a professional athlete. Maybe, he can go after a singing career once his football days are over.
What can we expect from Amari Cooper on the Cowboys in 2021?
Since Amari Cooper is, in fact, a football player for the Cowboys, what can we expect from him in 2021?
With Prescott back from injury, Cooper has a great chance to have another big year and earn his fifth Pro Bowl selection, but there's a chance he could have a slow start after undergoing ankle surgery this past offseason.
According to Sports Illustrated, he only started practicing toward the middle of August and wanted to play "10 snaps" in his team's preseason game against the Houston Texans on Aug. 21. It seems that everything went well in those snaps, though, which should be a good sign for Cowboys fans.
If Cooper is at full strength, it's hard to imagine him not having another productive year for the Cowboys. He has proven his ability to produce year-in and year-out ever since becoming a star in The Star.
Stats courtesy of Pro Football Reference