Amari Cooper's Little Problem With the Cowboys Offense Is a Nice One to Have
The Dallas Cowboys' offense has hit a wall for some reason. With Dak Prescott running the show, the Kellen Moore-led offense is a shell of what it was at the beginning of the year.
However, the defense has done its part and is keeping the Cowboys in games, for now, at least. Nonetheless, there is some unhappiness with Amari Cooper, who has been a small part of the game plan over the past few weeks. But Cooper's minor issue is actually a good one to have and shows just how dangerous this Cowboys team is.
Amari Cooper just wants to be a bigger part of the Cowboys offense
As the Cowboys' offense goes through some struggles, Cooper insisted that he wants to get more involved. The talented wide receiver missed a couple of games due to COVID-19 and has only seen 14 targets since returning to action.
In the past three games, Cooper has just nine catches for a total of 100 yards and one score. All in all, it has been a down year for Cooper, who has posted 683 yards on 53 catches with six scores — tied for the team lead with CeeDee Lamb.
Nonetheless, Cooper wants to be more involved on offense and believes he can help (h/t Calvin Watkins of The Dallas Morning News).
"It's very frustrating. But that's not something that I can really control. But I do think there's a benefit in me getting the ball in those important situations, like red zone and third down, because I know what I'm gonna do, you know what I mean? I'm just going to stay ready for when that time comes. Hopefully it's soon."

Amari Cooper on wanting to be more involved
Cooper has a ton of talent; there's no question about that. So, why hasn't he been more involved in recent weeks?
Tight end Dallas Schultz has outpaced Cooper in two of the past three weeks, which isn't necessarily a bad thing, but Cooper has to get more involved in this offense one way or another — especially if they want to make a deep playoff run.
Prescott also wants to get the ball to Cooper more (h/t Calvin Watkins).
"Yeah, I mean you want to get the ball to him. You'd much rather have a guy saying that and a guy hungry for the ball than him shying away from it in critical situations or when you need to."

Dak Prescott on Amari Cooper wanting the ball more
So, there's that, and maybe Prescott finds more ways to get Cooper the ball.
On the other hand, the embarrassment of riches is a good problem to have.
Cooper's issue shows how many weapons Dak Prescott has to utilize on the Cowboys offense
Cooper says it himself. There are a "whole bunch of playmakers on offense."
That isn't a secret, either. Lamb, Cooper, Michael Gallup, Schultz, Ezekiel Elliott, Tony Pollard, Prescott, and Cedrick Wilson have done their part this season.
From top to bottom, the Cowboys have one of the most loaded offenses in the NFL. They also have a solid offensive line and an offensive coordinator who has emerged as a potential head coach option for a few teams, with the Jacksonville Jaguars being one of them.
Elliott has 862 yards and nine scores on the ground, Pollard has over 900 total yards and a pair of scores, and the three-person WR trio of Cooper, Lamb, and Gallup have combined for nearly 2,000 yards and a total of 13 scores this season.
That's how dangerous this offense is, even if they haven't looked the part these past few weeks.
Cooper's complaint is noteworthy, and he should be more involved, but there are a lot of mouths to feed on this Dallas offense, which makes it hard to satisfy everybody.
The Cowboys offense needs to rebound if they want to make a run in the talented NFC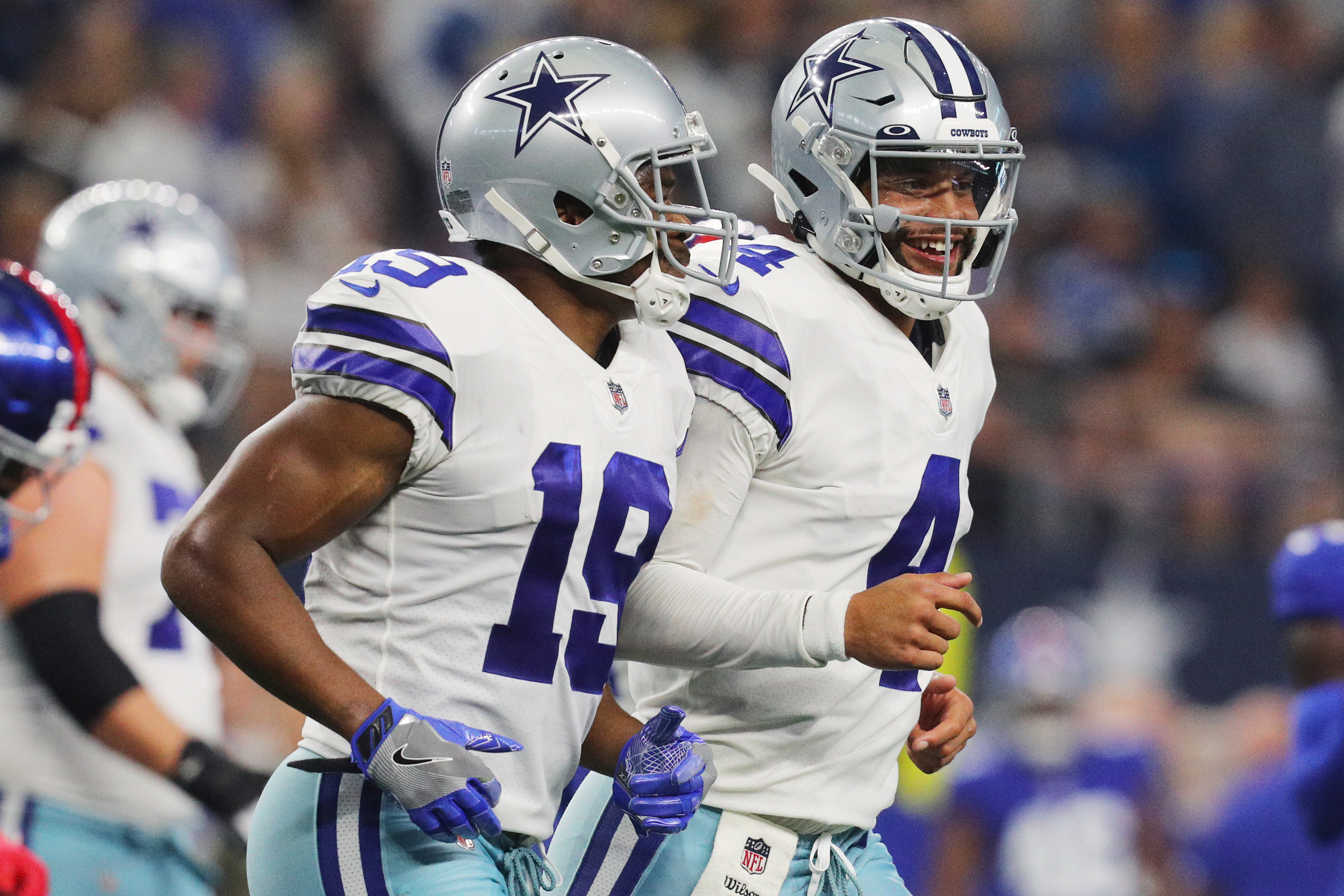 By now, this is nothing new. With this many weapons on offense and a quarterback as talented as Prescott, something needs to change.
There is no excuse, plain and simple. Surprisingly, the Cowboys still sit at first in the NFL in yards per game, second in points scored per game, and sixth in nothing rushing and passing per game. But, they have struggled to score against the New York Giants, Washington Football Team, and New Orleans Saints over the past three weeks — although the Saints defense showed how dangerous they are against Tom Brady.
Either way, something needs to get fixed and maybe getting Cooper the ball more would open things up. The Cowboys face Washington again, this time on Sunday Night Football, and they just secured a spot in the playoffs thanks to a San Francisco 49ers loss to the Tennessee Titans.
The final two games come against the Arizona Cardinals and Philadelphia Eagles, so the Cowboys will work hard to get this offense back on the right track ahead of the playoffs.
Stats Courtesy of Pro Football Reference