Amari Cooper Trade: Do the Cowboys Regret Initially Acquiring the WR?
In an attempt to shed salary this offseason, the Dallas Cowboys pulled the trigger on quite the franchise-altering trade this week. They moved wide receiver Amari Cooper to the Cleveland Browns in exchange for Day 3 draft pick compensation.
Cooper's Dallas exit had been hinted at for several weeks. The Cowboys weren't hiding the fact they needed to free up cap space, and Cooper's lofty $20 million salary made him a prime candidate to be moved off of.
Cooper had a productive four-year career with the Cowboys from 2018 to 2021. However, now that he's no longer on the roster, it's worth wondering whether Dallas regrets trading for him in the first place.
Should the Cowboys regret trading for Amari Cooper in the first place?
The Cowboys initially acquired Cooper in 2018 by surrendering their 2019 first-round pick in a trade with the Las Vegas Raiders. It was an aggressive trade to make. However, the Dallas front office felt Cooper was better than any receivers they could have taken toward the back-end of the first round.
Pro Football Talk's Mike Florio took a look at the decision. More importantly, he took a look at who Dallas could have drafted in 2019 had they not forfeited their first-rounder for Cooper.
From 2019 through 2021, the Cowboys paid Cooper $53.9 million. If they'd taken a receiver with the 27th selection in 2019, that player would have gotten a slotted four-year, $11.4 million contract. They would be currently deciding whether to exercise the player's fifth-year option.

They could have drafted A.J. Brown, DK Metcalf, or Deebo Samuel in that spot. They also could have ended up with N'Keal Harry.

And that's ultimately why they traded for Cooper. To get certainty in lieu of a lottery ticket.

Still, they chose to pay a steep price for certainty. And they ultimately didn't get much when it was time to move on.

Mike Florio, Pro Football Talk
Money, not production, was Amari Cooper's issue in Dallas
In hindsight, drafting A.J. Brown, DK Metcalf, or Deebo Samuel instead of trading for Cooper looks great. However, it's never that simple. Dallas pursued Cooper in 2018 because they needed an established number one wide receiver who could immediately elevate Prescott and the Cowboys' offense.
By all accounts and measures, that's exactly what Cooper did. Cooper was Prescott's favorite target for three straight seasons, and he proved worthy of being considered the Cowboys' franchise quarterback of the future.
Production isn't why Cooper was traded to Cleveland for pennies on the dollar. Instead, it was due to Dallas' inability to keep their payroll in check. It handed out massive extensions to Prescott, Cooper, Ezekiel Elliott, Demarcus Lawrence, and several offensive linemen. Someone had to go.
The Cowboys should be happy with how the trade played out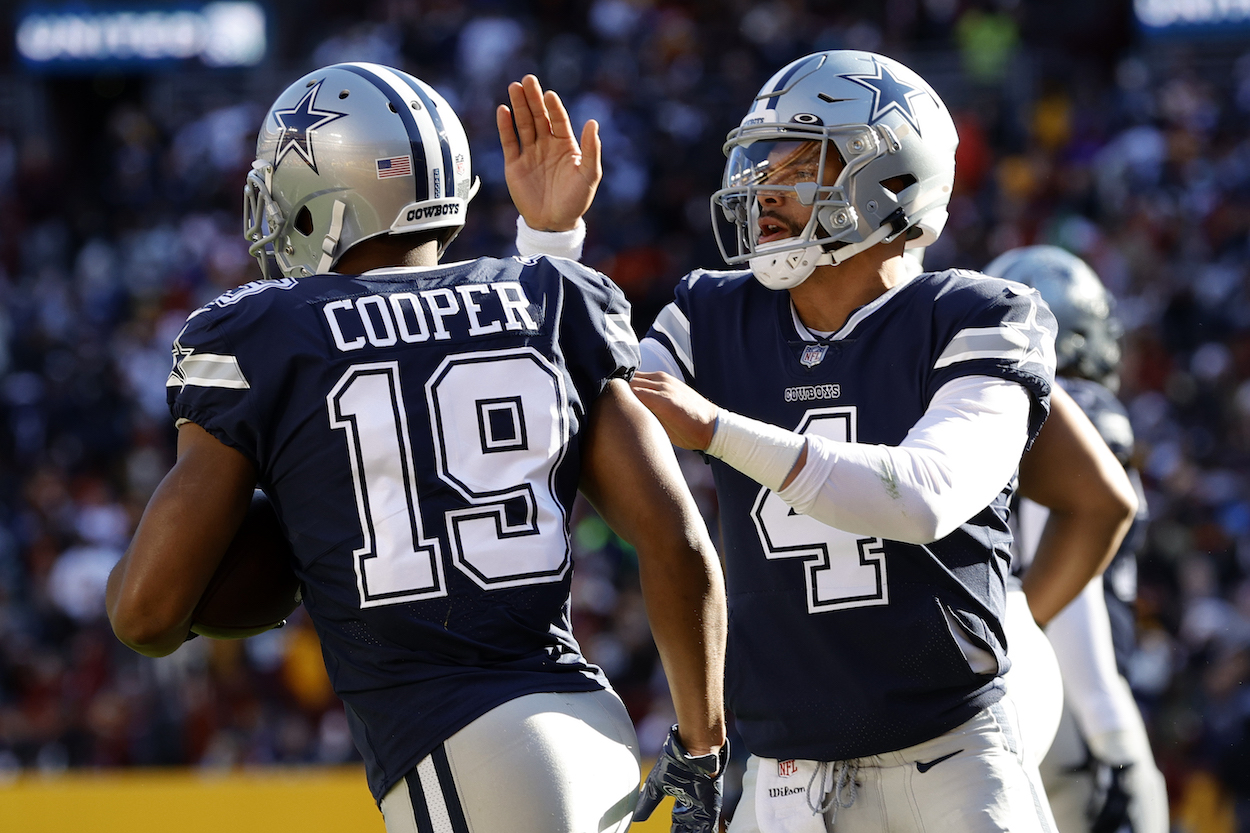 It's unfortunate Cooper is no longer a member of the Cowboys. However, it's hard to look back on the trade with anything other than respect.
Sure, the Cowboys gave up a first-round pick. They also acquired a WR who recorded back-to-back 1,000-plus yard seasons in 2019 and 2020. Most front offices would make that deal.
All stats courtesy of Pro Football Reference.
RELATED: Panthers Trade Rumors: A Blockbuster Move for Deshaun Watson Could Easily Backfire