Amazon CEO Jeff Bezos is the Perfect Fit to Own 1 NFL Team
NFL owners are a tightly-knight group, very careful about who they let into their club. One potential new owner they'd be very welcoming towards is Amazon founder and CEO Jeff Bezos. Bezos has reportedly expressed a desire to own an NFL team. But which team would he buy?
While Bezos can afford almost any team, hardly any of them are up for sale. But there's one franchise in particular that makes perfect sense for Bezos, the team, and the NFL as a whole.

Jeff Bezos' interest in owning an NFL team
A Bloomberg estimate puts the net worth of Bezos at $112 million. Bezos founded Amazon in 1994, giving up a "cushy Wall Street job" to start the online venture selling books. It clearly paid off, as Amazon is now synonymous with online shopping, not just for books, but for almost all products. It's clear that he has the financial resources to jump into the NFL.

It's not easy to become an NFL owner, mostly because there aren't many teams, and they rarely are for sale. However, it's an item on Bezos' shopping list according to CBS Sports, which reported on Bezos' interest in potentially purchasing an NFL team:

"Multi-billionaire Jeff Bezos has interest in purchasing an NFL team and has become close with several current owners, according to league sources, and has strong support within the league to eventually join their ranks. Bezos, the Amazon mogul who also owns the Washington Post, has spent considerable time around owners, including Washington's Dan Snyder, and is in the process of moving to Washington."

The NFL is an incredibly profitable sports league. Bezos is one of the world's most powerful men. It's a match made in heaven and seems almost destined to happen. But which franchise would Bezos end up with?

Which team should Bezos buy?
Two teams that CBS Sports predicts Jeff Bezos may buy include the Denver Broncos and Seattle Seahawks. Denver is dealing with potential lawsuits from heirs to the late Pat Bowlen, the team's former owner. The Seahawks' former owner, Paul Allen, passed away last year, and the family may look to sell.

Both of those are great situations for Bezos, particularly Seattle, where his company has its headquarters. But the best fit from the league's standpoint is a team many will not consider and is also highly unlikely to come to fruition.

Bezos is the perfect fit to own the Washington Redskins.

Under current owner Daniel Snyder, the Washington Redskins have become a complete joke of a franchise. They're poorly managed and haven't been consistently competitive in nearly three decades despite sporadic playoff appearances. Their refusal to change their offensive nickname is also a black mark on the league – Snyder has dug in his heels by embracing the team's legacy as opposed to moving away from the ugly, outdated term of "Redskins." Attendance is dwindling, and the team needs something to change course.
Will Snyder sell to Bezos?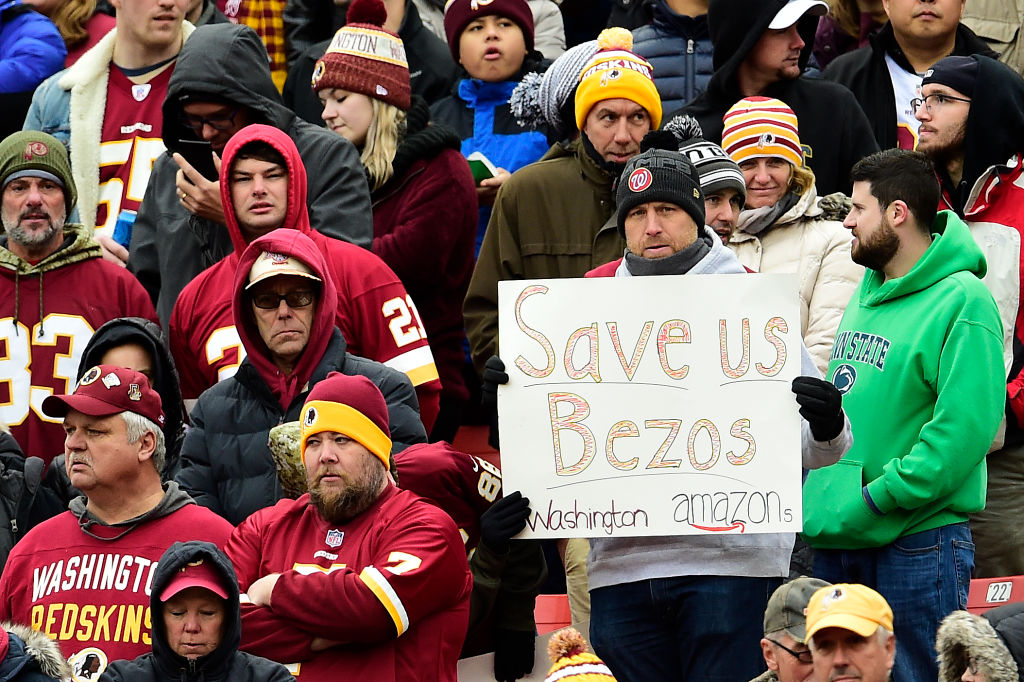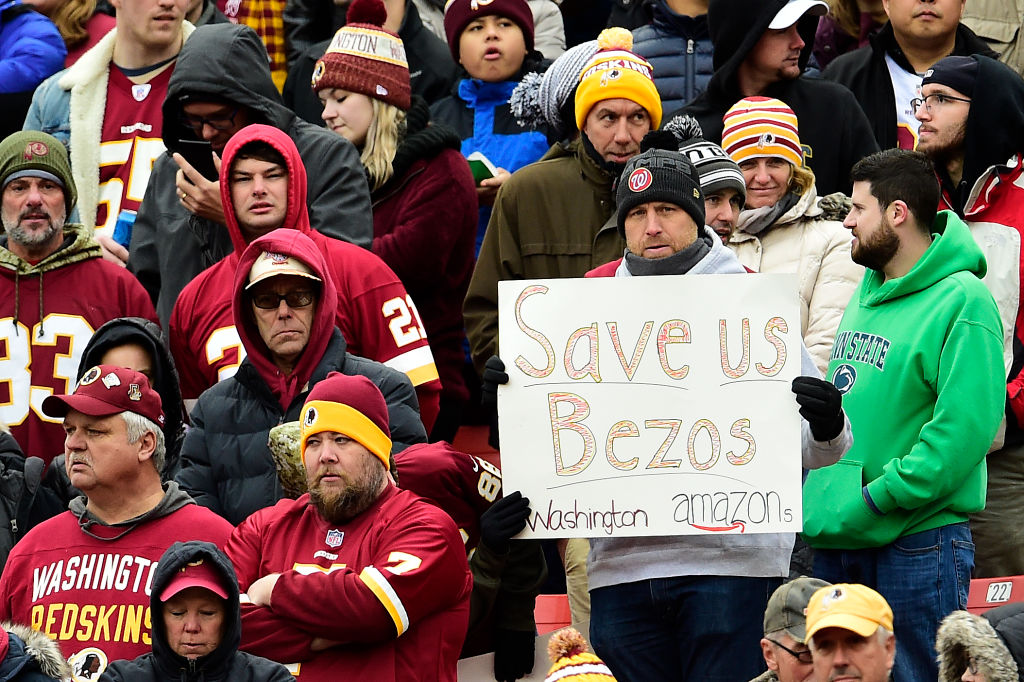 Snyder has shown no willingness to sell his team. But there are several reasons a union with Bezos could benefit all parties:

The Redskins are located in the nation's capital. Amazon is building a new headquarters in Arlington, Virginia's Crystal City neighborhood, right next to DC. Having an asset like the Redskins so close could only help Bezos and Amazon politically.
The NFL would get a high-profile and successful owner attached to one of its most dysfunctional franchises. It would give the organization a chance to rebrand — retiring the Redskins logo and name in favor of a new look. The team could embrace the positive aspects of the team's history while moving forward with a new look and name. They could build a museum and Hall of Fame honoring the team's old players and legends while explaining the need to embrace a cultural change.
While Snyder hasn't shown any desire to sell the team, he is a businessman. And only one person on Earth probably has enough money to convince him to sell, and that man is Bezos, who he already has a close relationship with.
Will Bezos buy the Redskins? Probably not. But it's a move that makes a lot of sense for Bezos, Snyder, and the NFL, and might be the best outcome for all parties involved.