Amazon Expected to Land Kirk Herbstreit for Thursday Night Football After Being Shut Down by Sean McVay
NFL free agency is right around the corner and some big names are expected to sign elsewhere. But, as we wait, the sports broadcasting world continues to shift. Troy Aikman is reportedly a lead option for ESPN, and the destinations of Joe Buck and Al Michaels are still up in the air.
Los Angeles Rams head coach Sean McVay even considered a massive deal from Amazon before ultimately deciding to return to the sidelines. Now, Amazon is swinging for the fences in an entirely different way and is expected to land college football icon Kirk Herbstreit for Thursday Night Football.
Amazon expected to bring aboard Kirk Herbstreit for Thursday Night Football
After striking out on McVay and losing Aikman to Monday Night Football, Amazon has found the guy — Kirk Herbstreit.
On the surface, this is a shocker, especially because Herbstreit has been the face of college football for quite some time. Although, he should be able to retain those roles with ESPN calling college football games.
Amazon has been working hard to find the guy for Thursday Night Football. Still, Aikman decided against it, McVay returned to the NFL, and they even attempted to persuade San Francisco 49ers general manager John Lynch.
But none of them decided to make the move, and now Herbstreit is the guy. Pat McAfee was one person actively advocating for Herbstreit to land a job in the NFL — and now he does.
It's a bold move by Amazon, which isn't surprising. While Herbstreit is a college football guy deep down, let's not forget that he is a true pro.
Peter King is torn on Kirk Herbstreit's NFL move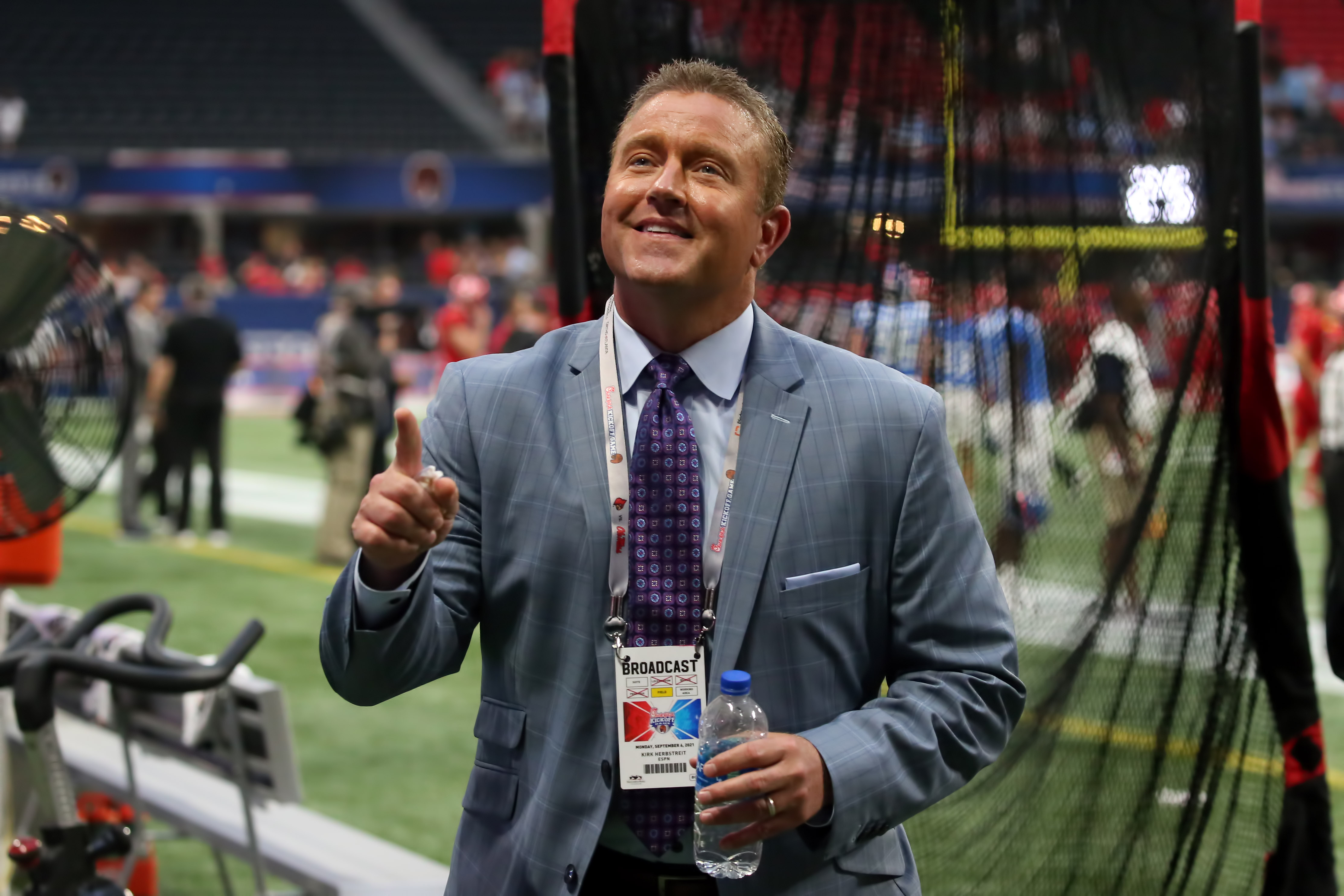 Peter King dropped the massive Kirk Herbstreit news in his latest edition of Football Morning in America. Much like everybody else, King questioned this move by Amazon. At the same time, he admitted that Herbstreit is a pro, and this move could pay off in a big way for Amazon.
My first reaction: It seems weird. Amazon would rather have a very good college football analyst who's never had a regular NFL job do the games than, say, Drew Brees or Sean Payton or Kurt Warner? My second reaction: Herbstreit's a pro, he's a big name to legions of college football fans, he must really want to break the college-to-NFL glass ceiling, Amazon surely wanted to make a splash with this hire, and Herbstreit's a non-status-quo guy. He's different. It's a little edgy, a little risky. All that, just my educated guess.

Peter King on Kirk Herbstreit going to Amazon
Herbstreit is a pro and has an excellent reputation across the sports world. The most interesting thing about all of this will be hearing Herbstreit calling Thursday night games, then turning around and calling college football games on Saturdays.
He will be a busy man, and with the money that Aikman and Romo are earning, it will be interesting to see how lucrative Herbstreit's deal is.
Everybody still waits on the decisions by Al Michaels and Joe Buck
Aikman is headed to ESPN, McVay is staying put, and now Herbstreit is moving over to the NFL realms. It has been a busy time so far in sports broadcasting.
But, Al Michaels is still lurking around as a free agent, and Joe Buck has a decision to make as well. Two of the best in the business are available and awaiting their next destination.
The question is: Will one of these guys join Herbstreit at Amazon? That would be quite the pairing. Could you imagine Herbstreit and Michaels calling games together? It is a genuine possibility (h/t Dave Clark of the Cincinnati Enquirer).
Amazon could pair a former Cincinnati Reds play-by-play announcer with a self-proclaimed die-hard Reds fan if Al Michaels and Kirk Herbstreit are in its "Thursday Night Football" broadcast booth.

Dave Clark
Michaels has been the face of the Super Bowl for quite some time, and if he moves to Amazon, it will be interesting to see if he negotiates a separate deal to call the Big Game still.
On the other side, it looks unlikely that Buck would leave Fox, especially with his dedication and passion for the MLB and the World Series. But who knows. Money talks, and if Buck can get anything near what Aikman is projected to get, he might leave Fox after all.
Significant changes are coming in the world of television, and the voices for NFL games will be much different than what we saw during the 2021 season.
RELATED: Troy Aikman Will Make 12 Years of Dallas Cowboys' Salary in 3 With ESPN