Amid Derek Jeter Tributes, Yankees Ignore Mandate to Win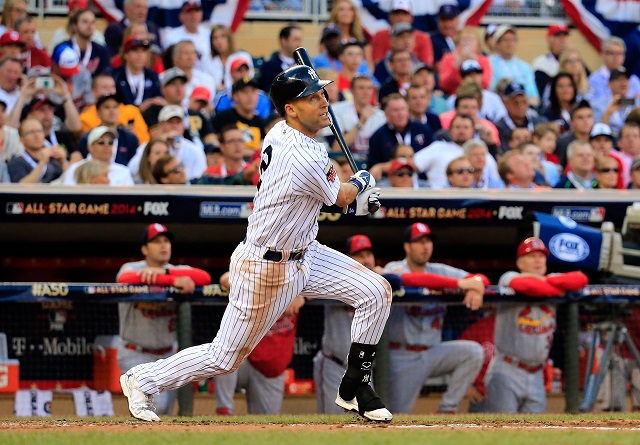 The tributes to Derek Jeter in his final MLB season have bordered on excessive in the eyes of many fans and sports writers. As the Yankees continue what is an unprecedented glorification of an active player, it is if whether the team still has the Steinbrenner win-at-all-costs mentality or if the hunger for ticket and merchandise sales overwhelmed the organization's mandate to win. Decisions made by Manager Joe Girardi and the front office suggest missing the playoffs is now okay for the Yankees, a concept that was once unthinkable.
Jeter's commemorative tour
In a season plagued by weak offensive production and injuries to four starters, the Yankees have struggled to remain in the playoff picture. (As of September 4, they trail the second Wild Card leader by four games.) Yet the #Season2Watch train has slugged on, with Jeter receiving an endless stream of gifts and tributes. For a player who ranks sixth in career hits and owns five World Series rings, tributes are certainly in order.
Yet on the field it has not been a productive season for Jeter. Through September 4, Jeter was hitting .261 with 3 HR and 14 2B in 123 games. It's by far his worst season, which is to be expected for a player at 40 years old. However, the Yankees insistence on batting Jeter second and the order smacks of a desire for a guaranteed first-inning appearance rather than a move designed to win ball games. When Joe Girardi was asked about his reluctance to drop Jeter in the lineup, the Yankees manager challenged the concept.
"You look up and down our numbers and there's a lot of .240s and .230s," Girardi told reporters after a September 2 loss to the Red Sox. "I'm not so sure why [Jeter] is the one that's necessarily picked on here."

Girardi's point about his weak offense is valid — except he was ignoring the power stats and other areas that define a ballplayer's output. Jeter's .207 average in August (mostly on singles) and his .226 on-base percentage are as bad as offense can get. But the power numbers that measure his extra-base pop are actually dead last in baseball. In that respect, any player would be better in the two-hole if the Yankees want someone capable of driving in productive leadoff hitters like Brett Gardner and Jacoby Ellsbury.
For a man once known as "Captain Clutch," his numbers in clutch situations are even more dismal. With two out and runners in scoring position, Jeter is hitting .146; in late games when the score is close, he is hitting .171 with three double plays in 82 at-bats.
For a team so dedicated to infield shifts and advanced strategies, it is impossible to think the Yankees don't know these stats by heart. They are simply unwilling to drop Jeter in the lineup and upset his farewell tour, even if the cost is winning ball games.
End of 'The Steinbrenner Way?'
There was never any question what the late George Steinbrenner, who bought a majority share in the Yankees in 1973, wanted for his club. "The Boss" had an obsession with winning that penetrated every corner of the organization. He backed up his desire to win with skyrocketing payrolls and a hands-on approach, at one point receiving a lifetime ban from baseball for trying to frame a struggling (but handsomely paid) Dave Winfield with the help of a gangster.
It is difficult to imagine Steinbrenner, whose heirs now control the team, allowing a player tribute to affect the Yankees' chances to make the postseason. Yet the team he revived seems to be consciously making that choice in 2014. On September 7, the Yankees will debut patches honoring Derek Jeter that they will wear throughout the 2014 season, marking the most heavy-handed tribute for an active player in recent memory (Mariano Rivera got patches for a single game in 2013).
In fact, it seems the only person who could take Derek Jeter out of the lineup would be the captain himself. There is a precedent. Don Mattingly, the revered ex-captain of the Yankees, famously ceded his third spot in the lineup to Paul O'Neill, the team's best hitter by 1994. Though an MVP season, a batting title, and the nickname "Donnie Baseball" suggested Mattingly was untouchable, his response was telling.
"It's never difficult for me to take when it's what's good for the club," Mattingly said to Jack Curry at the time.
No one believes Jeter would take the same approach. One could argue Jeter's refusal to see himself as ineffective is what allowed him to reach these spectacular heights in baseball. That's certainly true, but a Yankees team that consciously weakens itself to appease a player has forgotten its mandate to win. For the New York Yankees, that means the team has lost its identity.