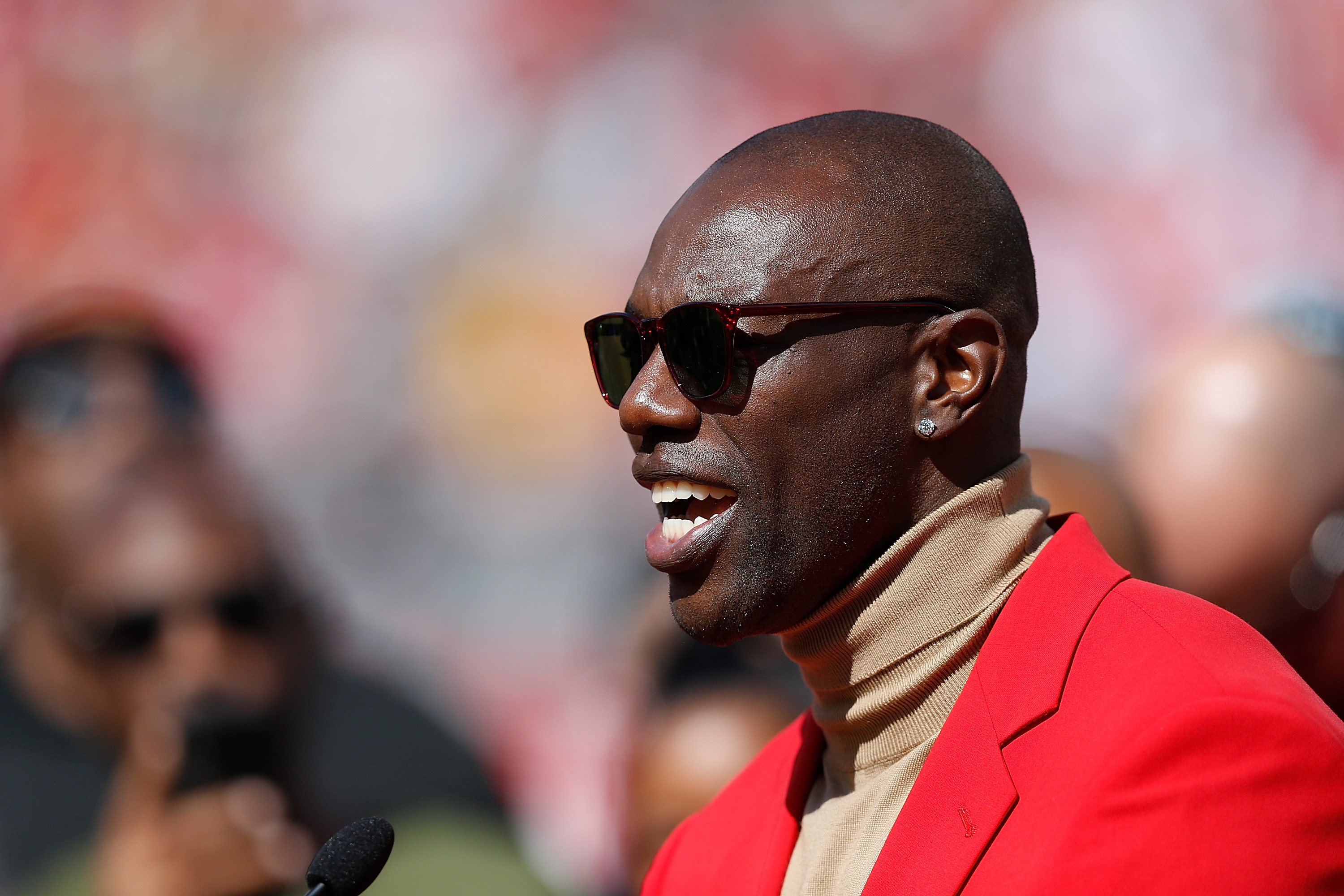 An Indoor Football Team Cut Terrell Owens — and Removed His Ownership Stake — Over 'Lack of Effort'
NFL legend Terrell Owens tried playing and owning an Indoor Football League team in 2012. Owens lost both over a perceived 'lack of effort.'
Pro Football Hall of Fame wide receiver Terrell Owens wanted to keep playing football as long as possible.
When the former Dallas Cowboys star found himself out of football in 2012, Owens took his talents to the Indoor Football League. Owens would serve as both a player and a part-owner for a team in Allen, Texas.
Things didn't work out in that league for Owens, who found himself in quite the jam shortly after his tenure started.
Terrell Owens is among the greatest receivers in NFL history
Terrell Owens not making the NFL's 100th Anniversary All-Time Team is one of the greatest injustices in league history.
Among the greatest receivers ever to take the gridiron, Owens hauled in 1,078 catches for 15,934 yards and 153 touchdowns in 15 seasons. Owens made six Pro Bowls and earned five first-team All-Pro selections.
Owens also ran for 251 yards and three touchdowns.
A capable postseason player, Owens had 54 catches for 751 yards and five scores in 12 career playoff games.
Owens had nine career 1,000-yard seasons and two others with over 900 yards.
Owens had an opportunity with an Indoor Football League team
Even as he approached age 40, Terrell Owens was an excellent football player who held off the sands of time as long as he could.
Playing most of the 2010 season at age 36, Owens caught 72 passes for 983 yards and nine touchdowns alongside Chad Ochocinco on the Bengals.
No team signed Owens in 2011, however, in part because he suffered a torn ACL during the offseason. By 2012, Owens went down a different path to get his football kicks in and try finding his way back on to an NFL roster.
Owens joined the Allen Wranglers, an Indoor Football League team, in January 2012. Not only would Owens play for the Wranglers, but he also joined the team's ownership group.
A 'lack of effort' cost Terrell Owens his job and ownership stake
Terrell Owens immediately brought popcorn and attention to the Allen Wranglers.
Owens had three catches for 53 yards and three touchdowns when he debuted for the Wranglers. Across eight games, Owens caught 35 passes for 240 yards and 10 touchdowns.
Owens didn't last for long in the IFL, though. Allen parted ways with Owens in May 2012, but not for his play or because Owens had an NFL opportunity ahead of him.
Jon Frankel, the Allen Wranglers' owner, told ESPNDallas.com that the team parted ways with Owens over his conduct.
"Our fans are amongst the best in the league, and it is impossible to maintain a player when even our fans notice and comment on a player's lack of effort both on and off the field."
Terrell Owens' attempt at an NFL comeback didn't end there, though.
Terrell Owens' attempt at an NFL comeback didn't end there, though. Owens joined the Seattle Seahawks that summer and spent the preseason with them.
Seattle cut Owens in late-August, however, and he never played in the NFL again. Owens entered the Pro Football Hall of Fame in 2018.
Like Sportscasting on Facebook. Follow us on Twitter @sportscasting19.