MLB: Andre Dawson, Tony Perez Might Boycott Derek Jeter's Hall of Fame Ceremony
Derek Jeter, the one-time New York Yankees beloved shortstop, is a shoo-in for the Baseball Hall of Fame. His ballot eligibility kicks in next year, when his explosive offense and major role in rebuilding the sport's reputation from the PED era will make him a popular choice.
It will be one of the most important days of Jeter's life, but apparently it won't be without controversy. Two previous Hall of Famers have openly voiced their disdain for Jeter and are unlikely to show up. Andre Dawson and Tony Perez have beef with Jeter that they can't quite let go, and legions of Expos, Cubs, and Reds fans are likely to empathize with their point of view.

How did things get to this point between a modern retired superstar and two of the best to ever play the game?

How Derek Jeter angered two beloved Hall of Famers
Rather than on the field antics, it's Jeter's post-retirement transition to an executive role that got the bad blood rolling. When Derek Jeter took over the Marlins, his opening gambit was pushing out the old guard.
While not every executive got tossed, Jeter appeared to go out of his way to target other ex-players in particular to clear the way for his new regime. Dawson and Perez were at the top of that list. He declined to handle this sensitive move personally, having surrogates pass along word in his stead before the official start of his work running the Marlins.
It gets worse. After wide derision from fans and fellow baseball executives alike, Jeter came up with a plan that could only be described as harebrained. He offered Dawson and Perez just $25,000 yearly salary to stay on board, with the stipulation that they could not wear Marlins uniforms in public and could not enter the clubhouse.

Andre Dawson's scorched earth response to Jeter's induction
After cementing his Hall of Fame status with incredible runs with the Expos and the Cubs, Dawson settled into his twilight years as a player with the Marlins. He developed a great rapport with executives there, who offered him a front-office job.

When Derek Jeter and his ownership group unceremoniously tossed out Dawson, the ex-outfielder called out the unprofessional process. Now, with Jeter's Hall of Fame entry a major hot topic, Dawson is wearing the acrimony on his sleeve. Sportswriter Scott Miller's interview with Dawson was the final nail: "I don't have a sense or feeling like I want to sit on that stage to hear what [Jeter] has to say."

Tony Perez tentative on a total no-show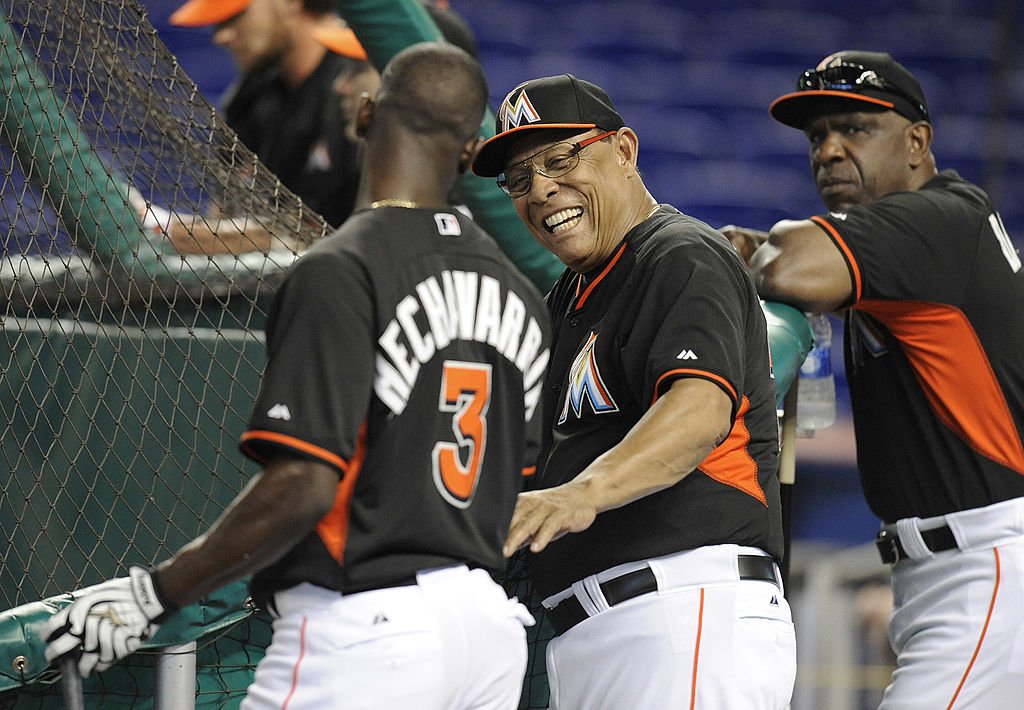 Perez, star first baseman of the Big Red Machine-era of the Reds, is less forthright than Dawson about whether he will appear at Jeter's Hall of Fame induction.

His feelings on his ouster from the Marlins are plain. "For me it was more an insult personally the way everything was handled," Perez told Miller. However, he notes that he doesn't intend to announce whether he will appear a full year out from the event.

Dawson doesn't want anything to do with Jeter. Perez, in contrast, appears to be opening a lane for Jeter to respond to the long-standing grievances.
Supporters of the Cubs, the Reds, anyone nostalgic for the disbanded Expos, and especially hurting fans appalled by Derek Jeter's uninspiring performance at the wheel of the Marlins are all stacked against his upcoming celebration. While the shortstop's generational talent is deserving of Hall of Fame status, it's understandable that a cloud hangs over next year's big day.