Andre Drummond Sets the Record for the Biggest NBA Pay Cut of the Last 2 Decades
Nine times out of 10, when you see a news story about a pro athlete's salary, you hear about ever-growing deals. But what you hear about less often are salary cuts.
Some players, like James Harden, have taken pay cuts to continue to play for a team they believe in. But sometimes, salary cuts follow an athlete's decline in performance over time. Here are the biggest drops that occurred last year.
Which NBA players saw the biggest salary reductions in 2021-22?
NBA players make staggering salaries. As a result, even their salary decreases are more than many working Americans earn in a lifetime. For example, the player who's taken the fifth biggest salary cut (as a percentage of salary), the Utah Jazz's Mike Conley is losing out on an eye-popping $13,502,132. Though not as big as Harden's pay cut of $14.3 million in dollars, Conley lost 39.13% of his pay, which is significant.
Luckily for Conley, he's still pulling down $21 million a year. Per Fadeaway World, Conley was overpaid during his initial multi-year deal. While his performance is not declining, the Jazz also has other players to compensate to build a championship-caliber roster.
A 40% pay cut is one thing. But these next four players saw their salaries drop more than 75%. Gorgui Dieng of the Atlanta Hawks lost a whopping $13,587,688 given declining performance, taking his salary down to just $4,000,000. That's not peanuts, but it has likely resulted in some standard-of-living adjustments.
Similarly, injuries led to Victor Oladipo taking an 88.62% bath. His salary dropped from $21,000,000 to just $2,389,641, which requires serious financial planning to manage.
The second biggest drop belongs to Otto Porter of the Golden State Warriors. He saw his salary shrink to $2,389,641. This is the veteran's minimum salary, afforded to him due to injuries over the past two seasons. But given he was making a bit more than Oladipo to start — $26,099,598 to be precise — his pay cut amounted to 91.61%.
However, by a tiny margin of 0.04%, the biggest salary reduction belongs to Andre Drummond of the Philadelphia 76ers.
Why did Andre Drummond take such a big pay cut?
Going from $28,751,774 to $2,401,537 must be a hard pill to swallow. The veteran's minimum stems from inconsistent performance, especially when making free throws and spacing the floor. But he had an impact during an abbreviated season in Philadelphia, where he backed up Joel Embiid.
Drummond's NBA trajectory has been complicated. He was bought out of his Cleveland Cavaliers contract by the Lakers partway through 2020-21 but saw his playing time reduced to nothingness. Then he signed a one-year deal at a veteran's minimum salary with the 76ers. Drummond wound up traded to the Brooklyn Nets as part of a deal that saw James Harden go to the 76ers for Ben Simmons.
At 6'10" and still healthy, the 28-year-old can still make an impact, especially with rebounding. Drummond has also averaged a double-double for eight straight seasons, which shouldn't be overlooked.
But it remains to be seen how much playing time he'll have in Chicago Bulls during his first full upcoming season. He signed a two-year $6.6 million contract with the Bulls after his unrestricted free agency.
Did Drummond receive the biggest NBA pay cut ever?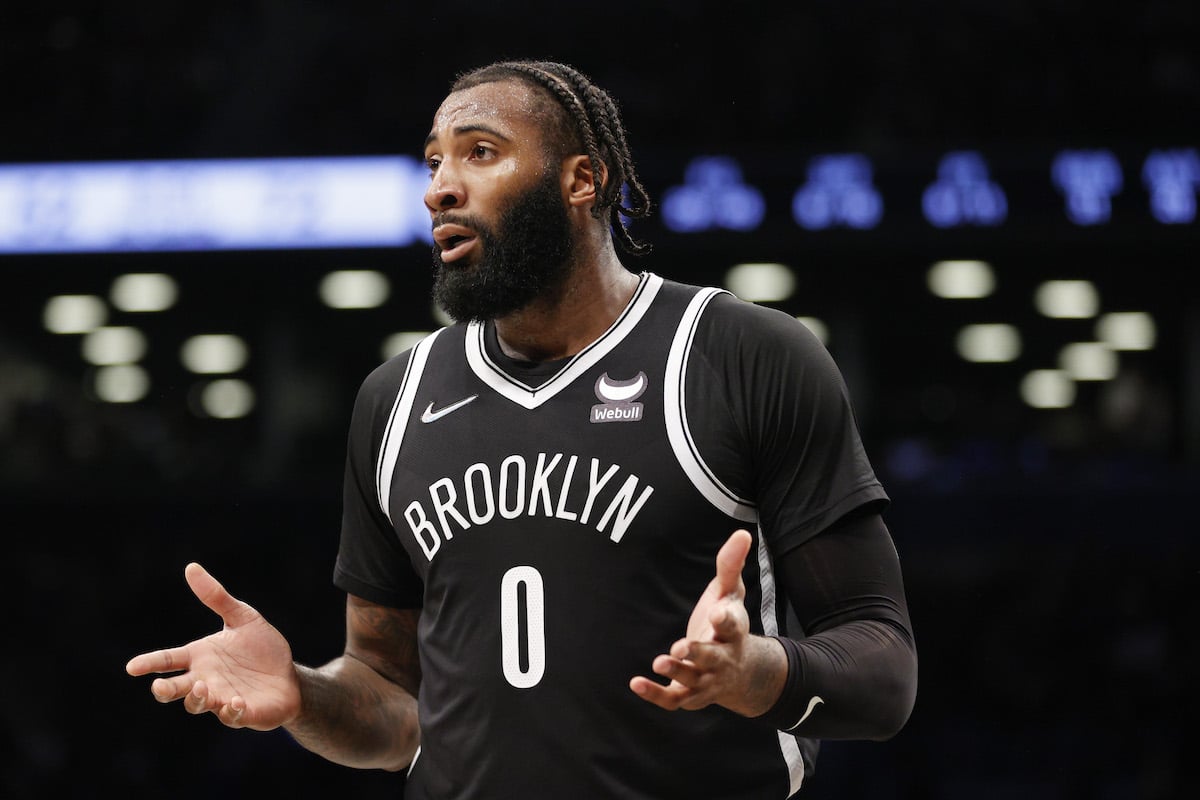 Despite a pay cut of over 91%, Drummond's salary reduction is not the largest ever taken by an NBA ballplayer. Many believe that record belongs to retired basketball legend Shaquille O'Neal, whose well-known height and ubiquity during his peak may have casual fans wondering why anyone would dare pay Shaq less.
Shaq's pay cut isn't larger than Drummond's in terms of percentage of pay. But it is larger in terms of absolute dollars. As recounted by The Sports Rush, to recruit Shaq to the Los Angeles Lakers and join Kobe Bryant to improve the franchise's chances of winning championships, Lakers head coach Jerry West convinced Shaq to take a $120 million contract. That's less than the $150 million Shaq was seeking and likely could have gotten elsewhere.
That's a $30 million loss — and it's not the only time he took a loss that size. After his stint with the Lakers, he signed a three-year, $90 million deal with the Heat, not the five-year $100 million deal he sought. By doing so and being paid $20 million a year, rather than $30 million a year, he took a $30 million pay cut those first three years of his contract.
We'll never know whether Shaq could have negotiated his way into a five-year, $30 million a year contract. But his $30 million pay cuts combined still don't hold the dubious distinction of the biggest one ever.
As per Forbes, that honor goes to Dirk Nowitzki, who left max contracts of $97 million on the table to continue to play for the Dallas Mavericks for $25 million. That's a whopping $72 million loss but shows how much some players value loyalty.
RELATED: How Shaquille O'Neal Spent His Whole L.A. Lakers Paycheck In Two Days