Andre Drummond Signing With the Sixers Brings to Mind His Furious Twitter Beef with Joel Embiid
Andre Drummond is joining the Philadelphia 76ers, meaning he'll have to bury the hatchet with Joel Embiid and put their old beef aside.
The Sixers have formed a pretty monstrous frontcourt after signing Drummond. However, it remains to be seen how he and Embiid will coexist on the floor. The two might also have some ground to make up in the chemistry department, given their tumultuous history.
Andre Drummond and Joel Embiid beefed on Twitter and in the media
Once upon a time, Andre Drummond and Joel Embiid looked to be developing one of the most entertaining individual rivalries in the NBA.
For those who don't recall, the Drummond-Embiid beef is actually pretty lengthy in nature. Embiid first went after Drummond in the fall of 2017.
"Defensively, he doesn't play any defense," Embiid said at the time, via SB Nation. "When we started the game, he was being aggressive and he was talking, too. … So what I was like [in my mind], 'You want to do that? I'm going to kick your [butt] then.' So that's what I did."
The former Detroit Pistons center initially kept things civil, saying Embiid's talent was evident but also mentioning the Sixers star would not be able to dominate against him consistently. The civility slowly eroded, however. Embiid again took shots at Drummond for his inability to shoot, prompting Drummond to fire back.
"I mean, you can't really have a conversation with a man who can't play a back-to-back," Drummond said in December of that year, via SB Nation. "I've been playing for six years and I've missed maybe four-five games. So when he can play a whole season without taking a rest, he can come talk to me."
The beef reignited the following season. Embiid got Drummond thrown out of a game and said he owned "real estate" in Drummond's head, with the then-Pistons star alluding to Embiid's flopping.
Things mostly died down thereafter, mostly because it became clear Embiid often got the better of Drummond on the floor. Plus, the two have experienced different progressions.
Embiid has become a legitimate MVP candidate in recent years. Meanwhile, Drummond is preparing to join his fourth team in a span of three seasons.
Drummond signed a one-year deal with the Sixers
Former rivals have become teammates.
Adrian Wojnarowski of ESPN reported Tuesday that Drummond agreed to a one-year deal to join the Sixers. The former UConn standout gives Philly some added frontcourt depth after Dwight Howard returned to the Los Angeles Lakers.
Drummond himself is coming from LA. He averaged 11.9 points and 10.2 rebounds in LA while also starting in all five playoff games during the team's first-round loss to the Phoenix Suns.
Sixers head coach Doc Rivers will have to decide how best to deploy Drummond. He figures to use the two-time All-Star in a bench role as a guy who can play minutes as a 4-man or backup center, but it's also possible fans see a monster lineup with both Drummond and Embiid on the floor at the same time.
Drummond and Embiid might actually benefit from playing together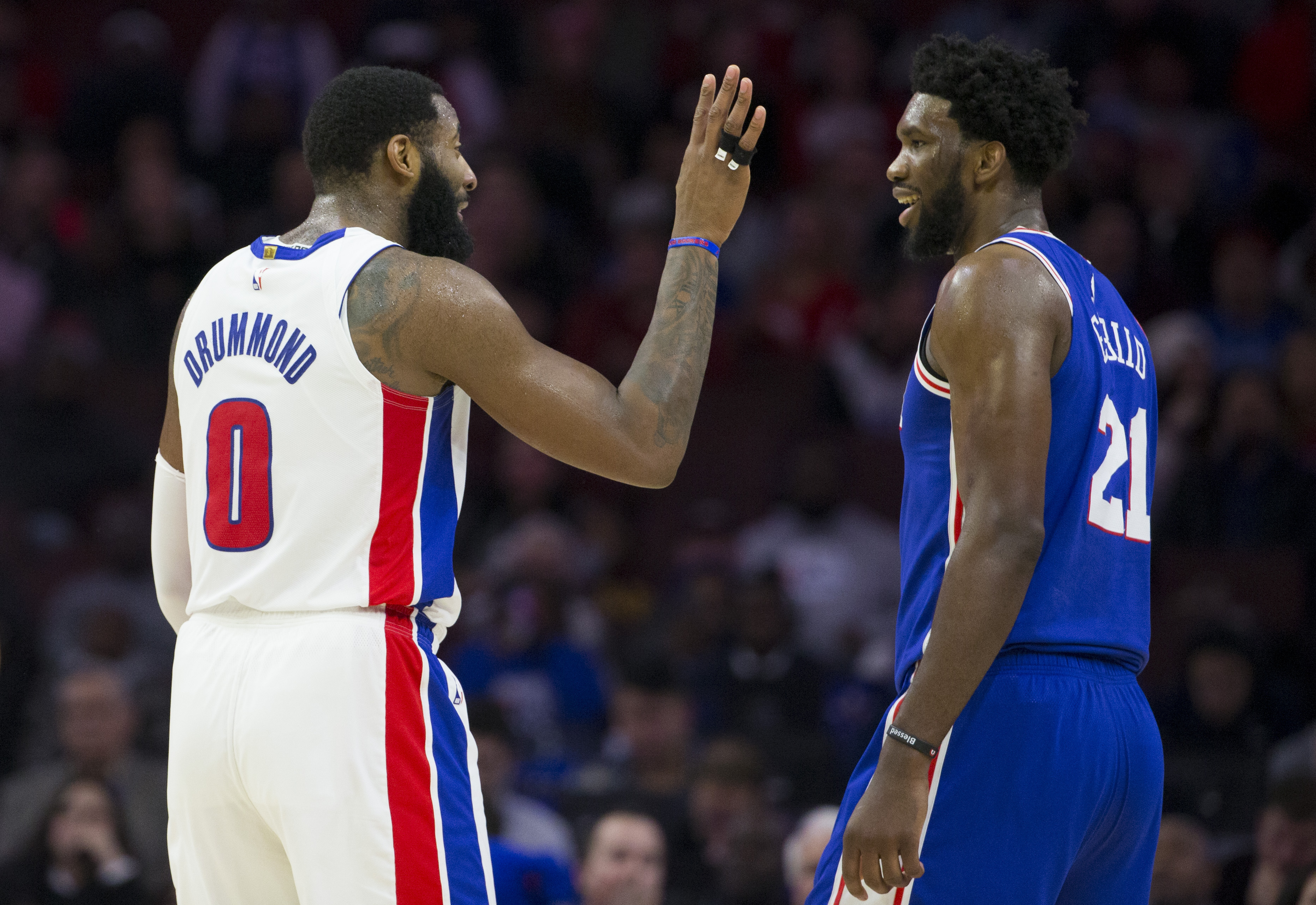 A Drummond-Embiid frontcourt partnership prompts questions, especially depending on whether the Sixers trade Ben Simmons and add more shooting.
Yet, there are plenty of reasons to like that duo sharing the floor.
Embiid's presence as a rim protector could allow Drummond to play the passing lanes more freely. The two will be almost impossible to hold down on the offensive boards. Moreover, Embiid's improved efficiency from beyond the arc bodes well in terms of giving Drummond room to operate in the paint. He also figures to be an important screener.
The former rivals probably won't share the floor for extended stretches. However, their ability to coexist could potentially be a big development for a Sixers team that might lean even more heavily on size next season.
Stats courtesy of Basketball Reference.