Andrew Bogut Was a 'Meh' 1st-Round Draft Pick, Especially When You Consider Chris Paul
NBA history is full of No. 1 draft picks who never quite live up to their hype. Some fail to develop altogether, instead dropping out of the league after a few disappointing seasons and earning the worst of all designations: "bust." Anthony Bennett, Kwame Brown, and Greg Oden must all live with the infamy of being busts at the No. 1 position.
A less drastic example of a disappointing draft pick is the recently retired Andrew Bogut. While Bogut saw his fair share of success, he also never quite managed to justify his position as a No. 1 pick.
Andrew Bogut's early years in Milwaukee
The Milwaukee Bucks selected Bogut with the first pick of the 2005 NBA Draft. The 7-foot-0 center from Australia was prized for his impressive defensive skills, as well as his considerable offensive potential. As a rookie, Bogut averaged 9.4 points, 7.0 rebounds, and 2.3 assists per game.
In his seven seasons with the Bucks, Bogut proved himself an impactful player on both sides of the court. During the 2009-10 season, he averaged a career-high 15.9 points per game.
In 2010-11, Bogut led the NBA in blocks per game, averaging 2.6 per game. Yet Bogut's physical style of play made him susceptible to injury, and he missed substantial parts of two seasons with the Bucks.
During the 2009-10 season, Bogut suffered a particularly gruesome injury during a botched dunk. Not only did he break his hand, but he also dislocated his elbow. After that, Bogut's shooting stroke was never quite the same.
A blockbuster trade to the Warriors
In March 2012, the Bucks traded Andrew Bogut to the Golden State Warriors as part of a multi-player deal. In four seasons with the Warriors, Bogut continued to deal with injury issues — including his bad elbow — and never managed to average double-digit points. Nonetheless, he added a crucial element of toughness to the Warriors' roster, and was especially valuable in the playoffs.
Bogut's interior presence was especially important during the Warrior's championship win over the Cleveland Cavaliers in 2014-15. That postseason, Bogut averaged 4.7 points, 8.1 rebounds, 1.9 assists and 1.8 blocks per game.
He had a strong performance again in the 2015-16 playoffs, though the Warriors were ultimately defeated by the Cavaliers in seven games.
In July 2016, the Warriors traded Bogut to the Dallas Mavericks, where he played a scant 26 games before being traded — and then waived — to the Philadelphia 76ers.
After brief stops with the Cavaliers, Los Angeles Lakers, Bogut returned to the Warriors in 2018-19, before finally announcing his retirement last November.
Andrew Bogut was a lackluster No. 1 pick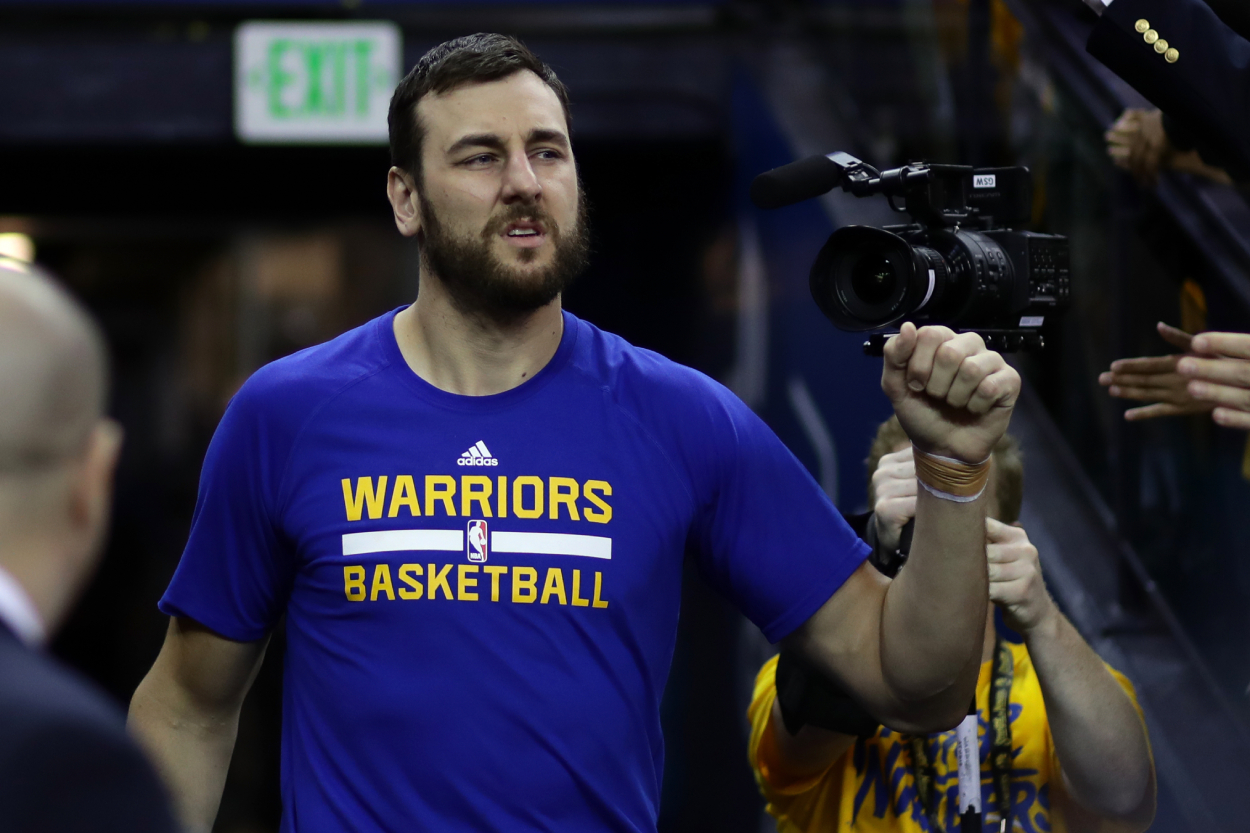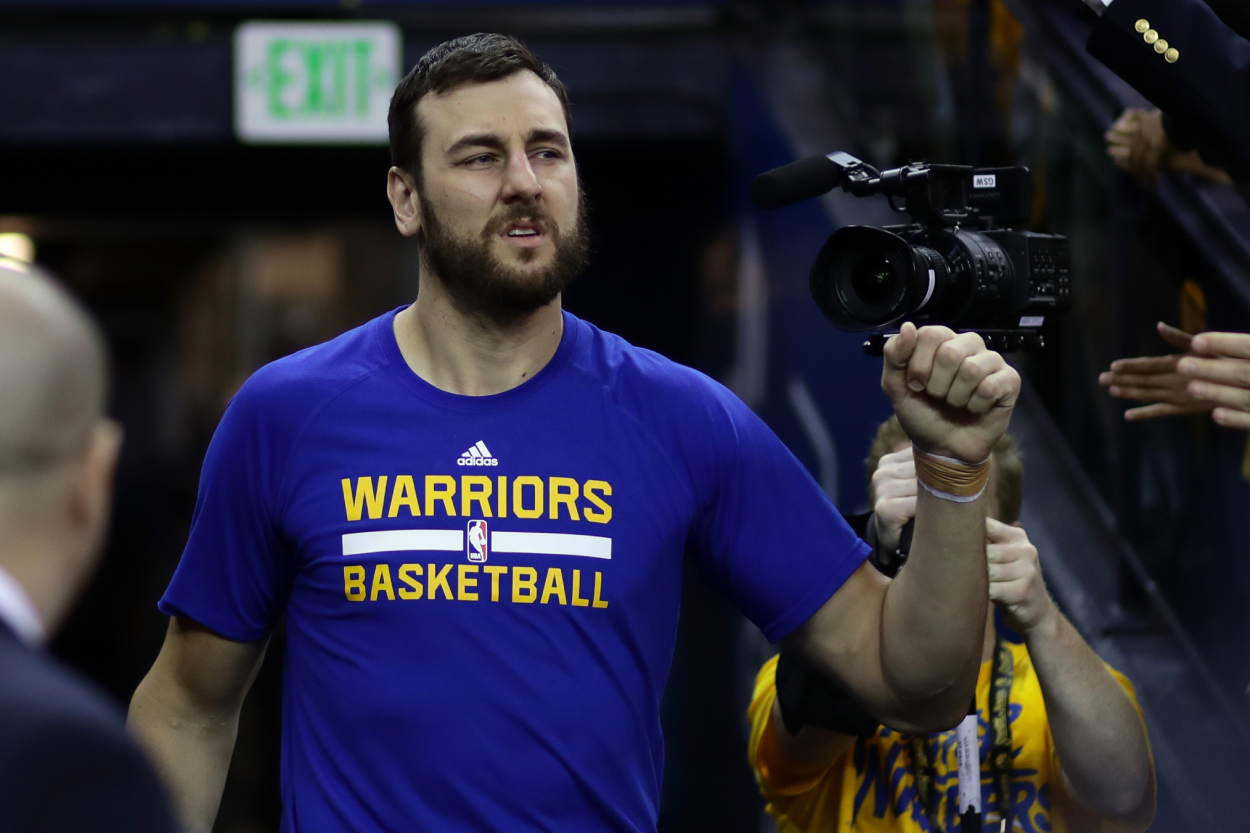 Bogut's NBA legacy is an interesting one. On the one hand, most NBA role-players would be thrilled to accomplish as much as he did, winning one championship with the Warriors and spending plenty of time battling in the postseason. In other words, by no means does Bogut qualify as an NBA "bust."
On the other hand, Bogut never managed to live up to the expectations placed on him as a No. 1 draft pick. Yet Bogut clearly deserved to go in the first round of what was, by most admissions, a pretty weak draft class.
Still, if the 2005 NBA Draft were redone today, chances are at least three players would end up going ahead of Bogut, according to a recent re-draft on Bleacher Report.
Viewed in retrospect, veteran point guard Chris Paul was clearly the best player in the draft, and deserved to be the No. 1 pick. Likewise, point guard Deron Williams was a far more impactful player than Bogut at his peak, as was small forward Danny Granger.
A number four pick would probably have been the most realistic spot for Bogut, given the toll that injuries ultimately took on his career.
All stats courtesy of Basketball Reference