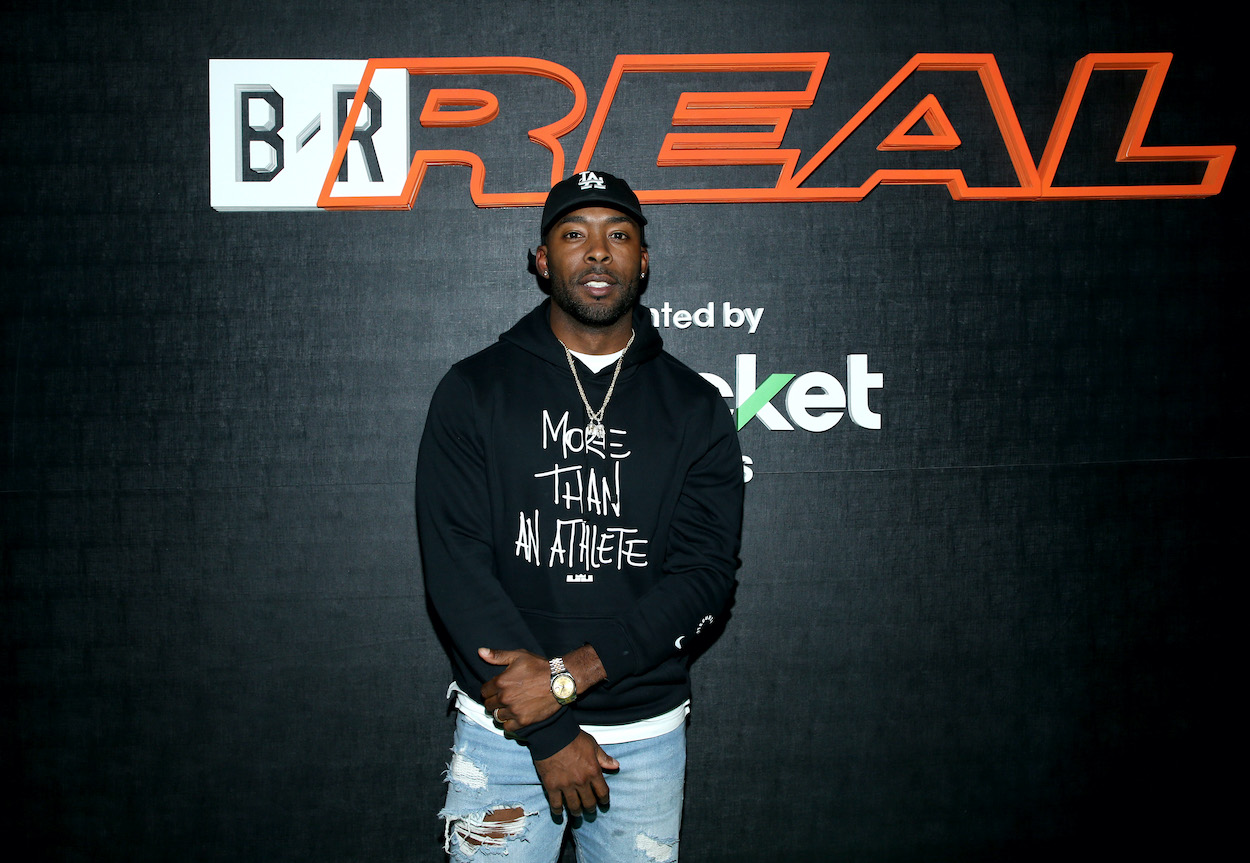 Andrew Hawkins Offers NFL 3 Suggestions to Fix Problems Including Taunting, Jersey Numbers, and Tom Brady
Former wide receiver Andrew Hawkins is a fascinating guy who tweeted some interesting ideas to fix a few problems that dog the NFL in 2021. such as taunting, jersey number, and the GOAT.
The 2021 NFL season is underway, and most football fans are just happy to have America's (real) Game back. Like any season, some issues come up. But overall, the games have been excellent so far and the ratings reflect that. One ex-player, former Cincinnati Bengals and Cleveland Browns wide receiver Andrew Hawkins did call out the league for three problems. Two are legitimate and one made most NFL fans chuckle.
Andrew Hawkins was undrafted but built a solid NFL Career after appearing on a reality show
Hawkins played wideout for Toledo from 2004-07. He didn't light the world on fire in Ohio. He only caught 67 balls for 634 yards and scored five total touchdowns as a Rocket.
With these numbers, it isn't a surprise he went undrafted in the 2007 NFL Draft.
One of the smallest players in NFL history, the 5-foot-7 slot receiver took a unique route to make the league. After college, he appeared on the short-lived, Michael Irvin-hosted reality show, 4th and Long. The show followed football players trying to make the Dallas Cowboys, per IMDb.
Although Hawkins didn't win, he signed with the Montreal Alouettes in the Canadian Football League and played two seasons there, per NFL.com.
His play in the CFL got him a shot south of the border, and Hawkins caught on with the Bengals. He became a key piece of the Cincy offense, catching 86 balls for 995 yards and four touchdowns in three seasons.
This production caught the eye of other teams, and he signed a four-year, $13.6 million free-agent contract with the Browns in 2014. During his three seasons on the other side of Ohio, Hawkins was even better, catching 123 balls for 1,424 yards and five touchdowns.
Hawkins signed with the New England Patriots for the 2017 season. After earning his master's degree in sports management from Columbia University that offseason, though, Andrew Hawkins decided to hang up his cleats at the age of 31.
Hawkins shared ideas on how to improve the NFL in 2021
The 2021 NFL season kicked off with a barnburner between the Dallas Cowboys and the Tampa Bay Buccaneers. It hasn't let up since then.
There have been a lot of close, exciting, well-played games in the Sunday afternoon window. Additionally, the prime-time games have been excellent and, if not excellent, at least exciting (sorry, New York Giants/Washington Football Team).
In a tweet during the Week 2 slate, Hawkins pointed out that there are three issues currently facing the league that it needs to deal with to get the best product possible.
The first is the ridiculous taunting rule that officials have already called 11 times in two weeks. These penalties seem incredibly arbitrary, and many former players, including Hawkins, Geoff Schwartz, and Tony Boselli, are speaking up against it.
Issue number two is the NFL's new jersey number rule. This is the first season where most players (except offensive lineman) can wear non-traditional jersey numbers. It changes the viewing experience for fans and can be confusing for quarterbacks, which is likely why Hawkins suggests changing it back.
The final problem is one that has plagued the NFL for two decades.
The simple fact is, Tom Brady is just too good. He's won seven Super Bowls and is still one of the best signal-callers at the age of 44. It's ridiculous and unnatural, which is why Hawkins suggested the NFL should "Spot all teams playing Tom Brady 7 pts."
Two of these ideas need to happen, and most would agree with the third as well
Andrew Hawkins' listed his three ideas to improve the league in descending order of ease to implement and how likely they are to happen.
The easiest to fix and most likely to get a tweak is the taunting rule. The new rule is one that only a small handful of coaches and owners on the competition committee seem to want. It is also coming under fire from fans and current and former players.
The crisis around these penalties will likely fade in the coming weeks, though. Players will adjust and learn how to stop taunting (or at least taunt without drawing a flag), and the league will possibly even direct refs behind the scenes to ease up. The whole thing (hopefully) won't be a problem in the back half of the season.
The jersey issue is a little more complicated. Obviously, the NFL can't change it this season if they wanted to, and, with all the publicity and new jersey sales, the New York office probably loves it. Yes, it does make it harder for QBs and more confusing for fans who aren't intimately familiar with the roster of the team they're watching.
However, it's the first year of this new system and, in time, we'll all adjust. In a few years, seeing a tight end like Kyle Pitts wearing No. 8 a linebacker like Patrick Queen rocking a No. 6 jersey won't seem unusual anymore.
Finally, the league won't ever spot a team points, no matter how dominant Brady had been for such a long time.
Plus, Brady will retire eventually. He can't do this forever… right?
All stats courtesy of Pro Football Reference
RELATED: Aaron Rodgers Sticks it to His Critics, the Andy Dalton Era Might Be Over, and Football Curses: NFL Week 2 Winners and Losers