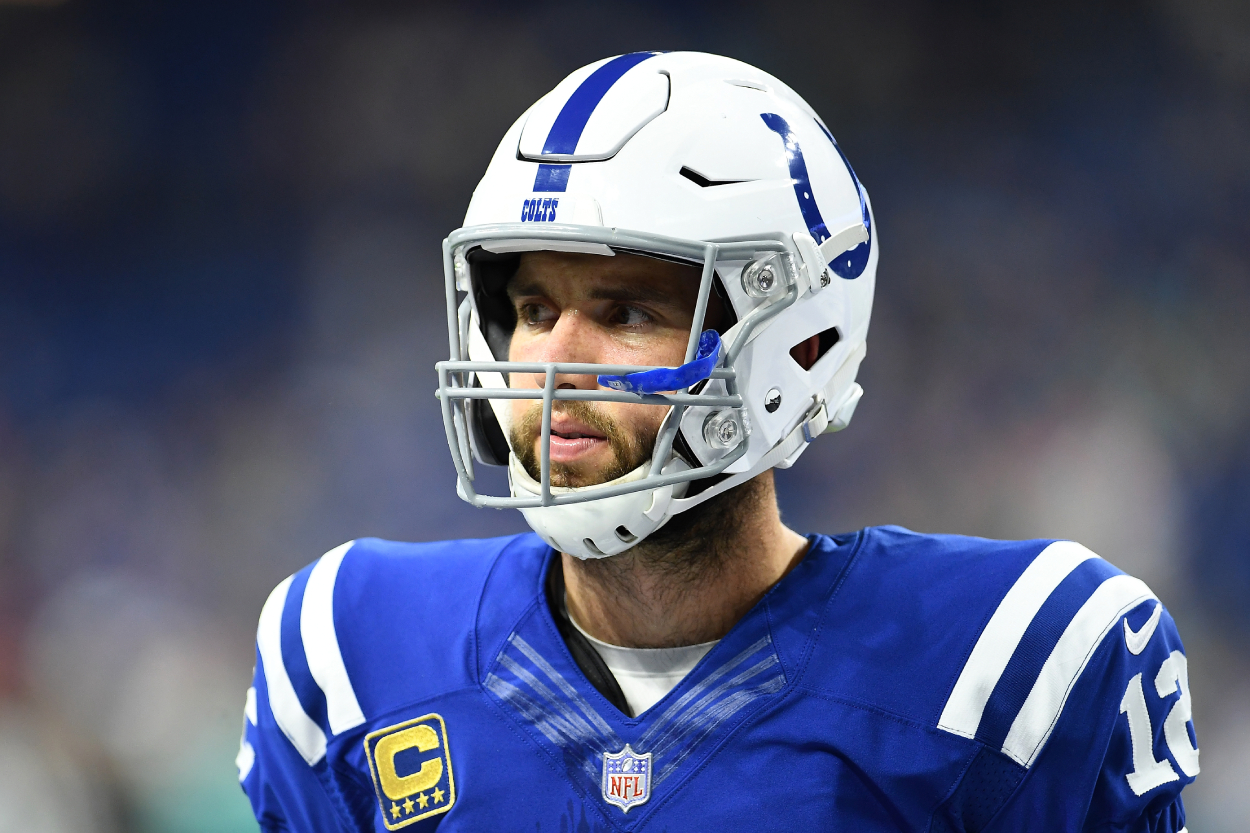 Andrew Luck's Former Colts Teammate Reacts to His Recent Football Field Return: 'Is He Coming Back?'
Former Indianapolis Colts quarterback Andrew Luck retired from the NFL before the 2019 season, and he hasn't been seen or heard from too much since. However, after seeing Luck recently practice with some high schoolers, some people are now wondering whether he's thinking about coming back, including his former Colts teammate.
An unexpected occurrence recently took social media by storm, as Andrew Luck, the former Indianapolis Colts quarterback who retired in 2019, practiced with some high schoolers. It may seem like nothing, but the news shocked football fans everywhere, given that many of them didn't think they would ever see or hear from Luck again.
However, it has also forced some to start speculating about his future, including Luck's former teammate, Pat McAfee. In fact, McAfee, the retired NFL punter, reacted to his old QB's sudden public appearance by asking the question we're all wondering: Is Luck making a comeback?
Retired QB Andrew Luck took the football field again
According to ProFootballTalk, retired and former Colts quarterback Andrew Luck recently asked a coach of the Summit High School football team in Colorado if he could come to practice.
He didn't just show up and talk to the kids, though. Luck played QB on the scout team.
"The kids are all trying to get picks on Andrew so they could say that," Summit High School coach James Wagner said to the Summit Daily, per ProFootballTalk. "We almost had one."
The news and photos of Luck spending time with the kids certainly created quite a stir on social media, as the former Stanford star earned four Pro Bowl selections in his seven-year career with the Colts. He also led the NFL with 40 touchdown passes in 2014 and took Indy to an AFC Championship Game that season. But he eventually shocked the world and retired right before the 2019 campaign at 29 years old.
So, with that all in mind, as well as the fact that Luck is still only 31, there has since been a frenzy of speculation following his appearance at the high school practice. And McAfee has, of course, joined in on it.
Pat McAfee reacted to the sudden re-emergence of the former Colts quarterback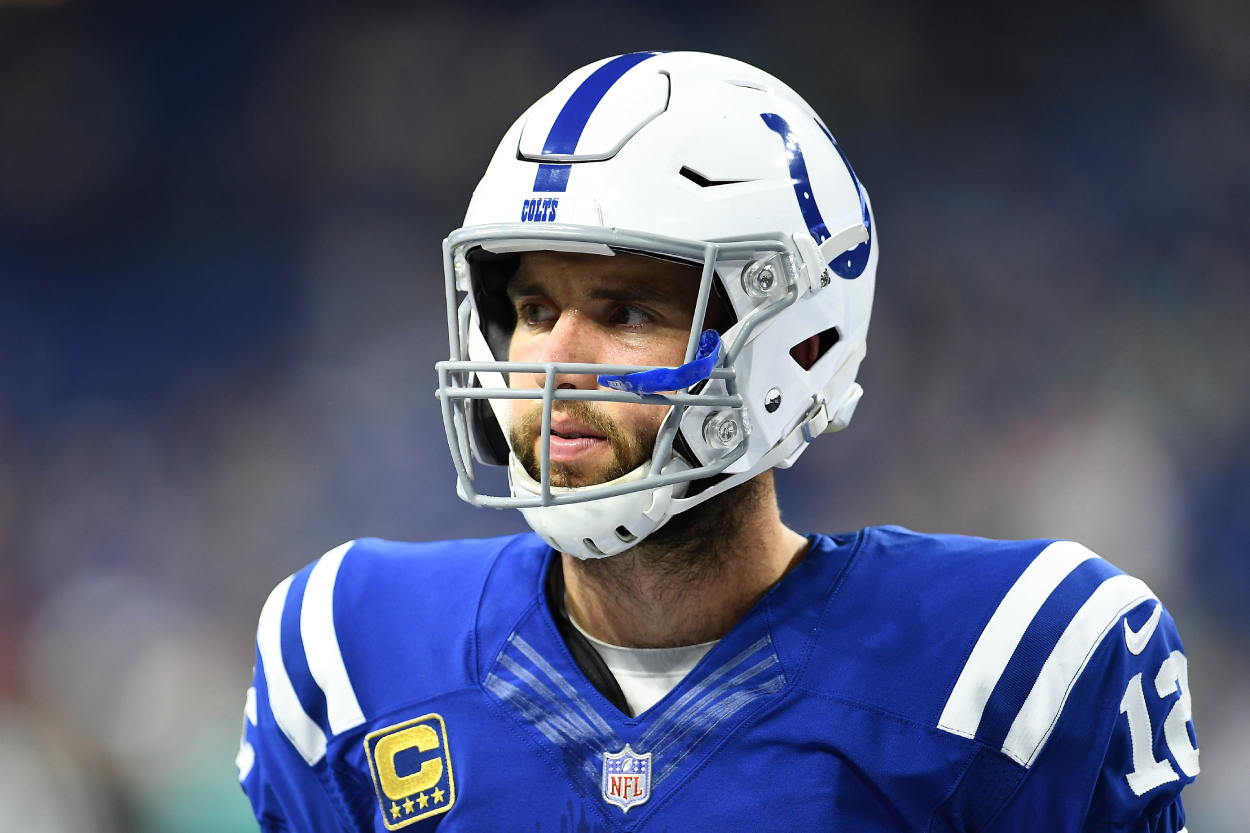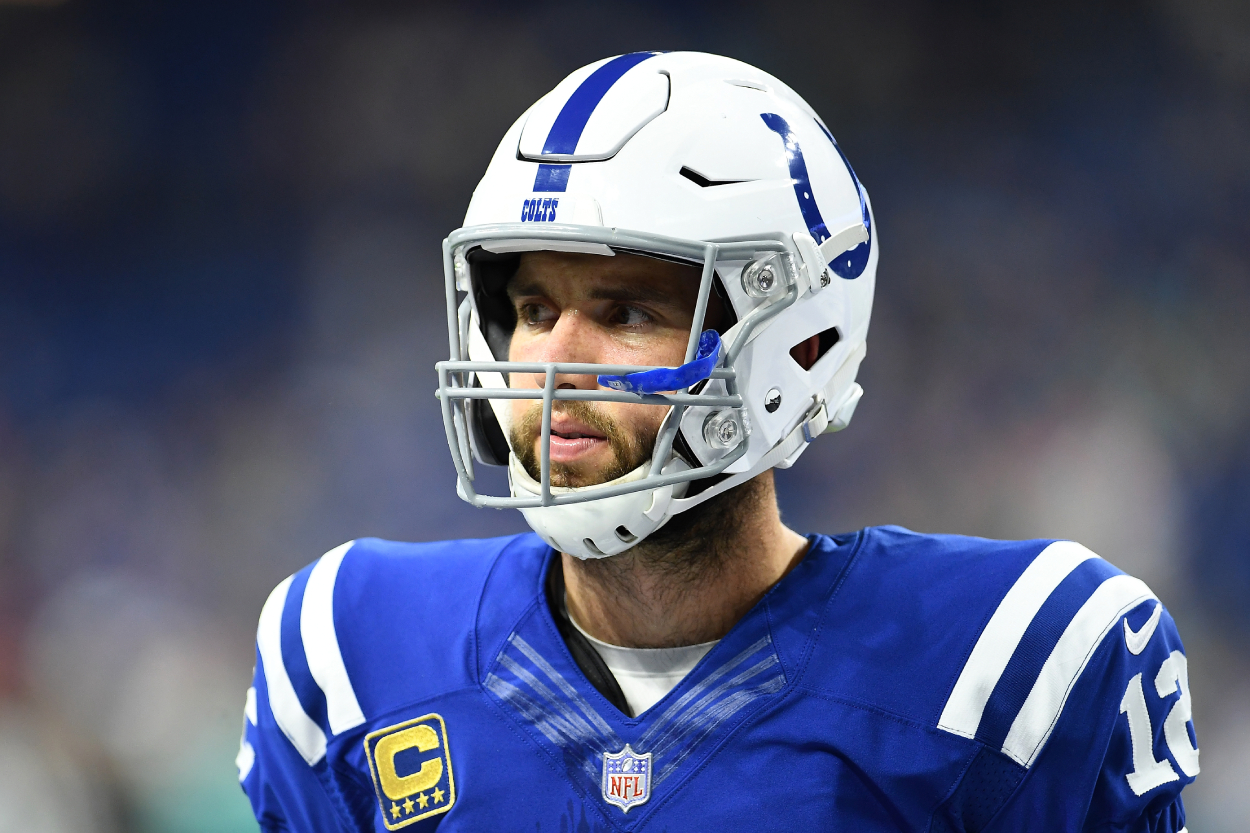 McAfee was the Colts' punter from 2009 through 2016, as he played with Luck — who entered the NFL in 2012 — for five seasons.
He recently took to his show to discuss Luck's return to the field, and his interest seemed piqued.
"I don't know him that well. I just know him as a teammate; he was too nice of a person, I thought," McAfee said on the Aug. 26 episode of The Pat McAfee Show. "He is a guy who [is] kind of low-key. He's a hippie kind of; he rides bikes around Indianapolis, Indiana. He loves IPAs. He's not doing something to just cause attention to himself. … Him getting back into the swing of practice and football practice: Is he coming back? Is Andrew Luck thinking about coming back?"
McAfee continued: "What if he was waiting for the Colts to find their guy, pay him $100 million, so he can go elsewhere? Carson Wentz, he's getting $100 million or whatever from us. It seems like he's all the way back; him and (Colts coach) Frank [Reich] love each other, bah, bah, bah, bah, bah. What if Andrew's coming back and looking to go somewhere else? … What if Luck does want to come back? I never thought he would, but I also didn't expect him to want to go to a practice and do stuff in high school. I hope for the sake of NFL, we get a chance to see him play football again. … Up until this point, I thought there was no chance."
Like many people, McAfee has no idea what Luck plans to do, but he was right about one thing: Luck's return would be great for football.
Andrew Luck can help several teams compete for championships
As mentioned earlier, Andrew Luck was one of the best quarterbacks in football before he retired. He threw for 4,593 yards and 39 touchdowns in his final season in 2018, which helped him earn Pro Bowl honors, the AP Comeback Player of the Year award, and he led the Colts to the playoffs.
Given just how good he is, several teams would likely love to give him a shot, and, yes, maybe even the Colts. If things don't go well with Carson Wentz this year, you can almost guarantee they would think about bringing Luck back if he were interested. There are also several teams like the Pittsburgh Steelers or New Orleans Saints who are just a quarterback away from contending for Super Bowls.
As of now, it doesn't look like Luck is returning. But the NFL landscape would certainly change if the No. 1 overall pick in the 2012 NFL Draft decided to make his way back to football.
Stats courtesy of Pro Football Reference