Andrew Luck Made His Football Comeback and Here's Why No One Knew About It
Former Indianapolis Colts quarterback Andrew Luck made his football comeback in the most under-the-radar of ways, as only Andrew Luck can. The former No. 1 overall pick retired from the NFL in August 2019, and he seems to be quite content in retirement. However, Luck still yearns to have the pigskin in his hands, as some very fortunate Colorado high school students found out earlier this week.
Andrew Luck's retirement was one of the most surprising moments in recent NFL history
The date is August 24, 2019. The Indianapolis Colts are playing the Chicago Bears in a preseason game at Lucas Oil Stadium. Suddenly, Colts star Andrew Luck can be seen escorted by stadium security back into the tunnel.
Rumors start spreading like wildfire. Some reports suggest Luck is ready to retire from the NFL, but would one of the best quarterbacks in football really decide to hang it up at just 29 years old?
Colts fans couldn't believe it. They wouldn't believe it. Some started booing Luck as he went back to the locker room. It was a saddening scene for a guy who had endeared himself to the fan base as Peyton Manning's successor.
Soon enough, the star signal-caller confirmed the rumors. Andrew Luck's retirement came just six seasons into his NFL career. The former Stanford star was emotional but also felt at peace with his decision after a career that was riddled with injuries.
Luck's retirement through the Colts organization into a state of limbo. Jacoby Brissett started the 2019 campaign on short notice. Philip Rivers was under center last season as a short-term option.
The Colts needed more of a franchise guy for the future after Luck's stunning announcement. General manager Chris Ballard made that move this offseason, trading for Carson Wentz.
Some had casually wondered whether an Andrew Luck comeback was in the cards, given he technically had three years remaining on his contract when he retired. However, Colts owner Jim Irsay consistently stated Luck was happy in retirement.
It turns out Luck did make his football comeback, albeit not on an NFL field.
Luck played QB for a scout team at a Colorado high school
Some Colorado prep football players were in for quite the treat this week.
Luck, who spends quite a bit of time in Colorado, dialed up one of the coaches at Summit High School in Frisco. He wanted to throw the football around a bit and served as the scout team's quarterback. Head coach James Wagner joked his players were relishing the chance to intercept a former Pro Bowl quarterback.
"The kids are all trying to get picks on Andrew so they could say that," Wagner said, via Antonio Olivero of the Summit Daily News. "We almost had one."
Wagner also said he felt Luck enjoyed the experience of being back on a football field.
"That's the great thing about football is it brings us all together and you have an even playing field, that common ground to be in that locker room and to just have him simply be one of the boys," Wagner said, via Olivero. "Football is still football, no matter where you are at. I think he was so happy to be out here on the field again being around the game. And that was really cool for me to see that in him."
It's safe to say throwing at the secondary of a junior varsity squad in Colorado probably isn't equivalent to the thrill of going against NFL defenses. Still, Luck appears to have a pure love for the game of football.
That doesn't mean he's ready to come out of retirement, though.
Luck probably won't return to the NFL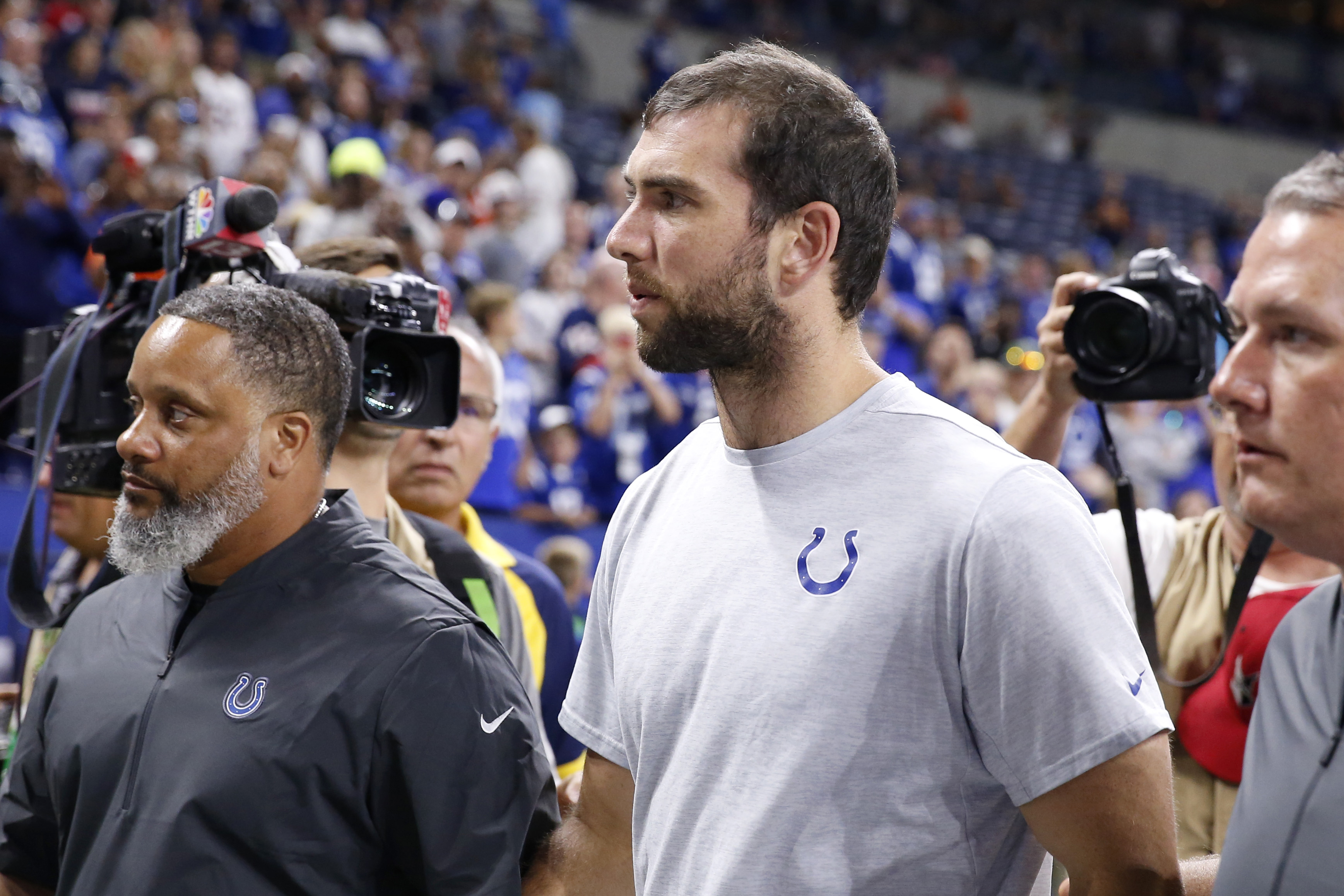 This past February, Colts owner Jim Irsay sent a blunt message to the fan base regarding a potential Andrew Luck comeback: it's not happening.
"Colts fans really need to digest this fact that (Luck's) more retired now than he was a year and a half ago," Irsay said. "He is retired. I mean, only Andrew knows of course, because it's his decision. But I can only say he definitely is retired and there's really no wiggle room or rumor, as much as people would like to hear that."
Irsay himself admitted he would have loved to welcome his former quarterback back with open arms, but it doesn't appear to be a realistic scenario. Andrew Luck's retirement is absolute, at least at this stage.
Colts fans will instead have to hope a change of scenery and a reunion with his former head coach benefits Wentz. In the meantime, Luck is content expressing his love for football on a much smaller scale.