Andrew Luck and His Shocking NFL Retirement Still Haunts the Indianapolis Colts
The day Andrew Luck retired from the Indianapolis Colts shocked the football world down to its core.
As surprised and taken aback as most football fans were upon hearing that Luck — one of the best quarterbacks in the league — was retiring just a few weeks before the 2019 season began, the Colts were that much more dumbfounded.
They had just lost their franchise QB and had little to no time to replace him.
The Indianapolis Colts are still feeling the lasting effects of losing Andrew Luck
Fast forward to 2021, and the Colts — led by esteemed general manager Chris Ballard — have done a nice job of rebuilding things. They navigated through the 2019 season with Jacoby Brissett at QB before scooping up Philip Rivers the following offseason via free agency.
Rivers led the Colts to an 11-win season in 2020, returning them to the playoffs for the first time post-Luck.
While Rivers hasn't totally shut down the idea of returning to the NFL this year, the Colts pivoted to yet another new QB following their early postseason exit. Capitalizing on a messy situation in Philadelphia, Ballard reunited head coach Frank Reich with his close friend Carson Wentz. The two had an abundance of success on the Eagles together in 2017 when Reich was offensive coordinator and have remained in touch ever since.
Wentz suffered a foot injury during training camp this summer which put up a roadblock for the reunion, but thanks to some magic surgery action by a Colts' doctor, Wentz appears locked and loaded to play Week 1.
Still, the absence of Luck looms large over the Colts franchise.
Andrew Luck retiring isn't something any NFL GM could have been prepared for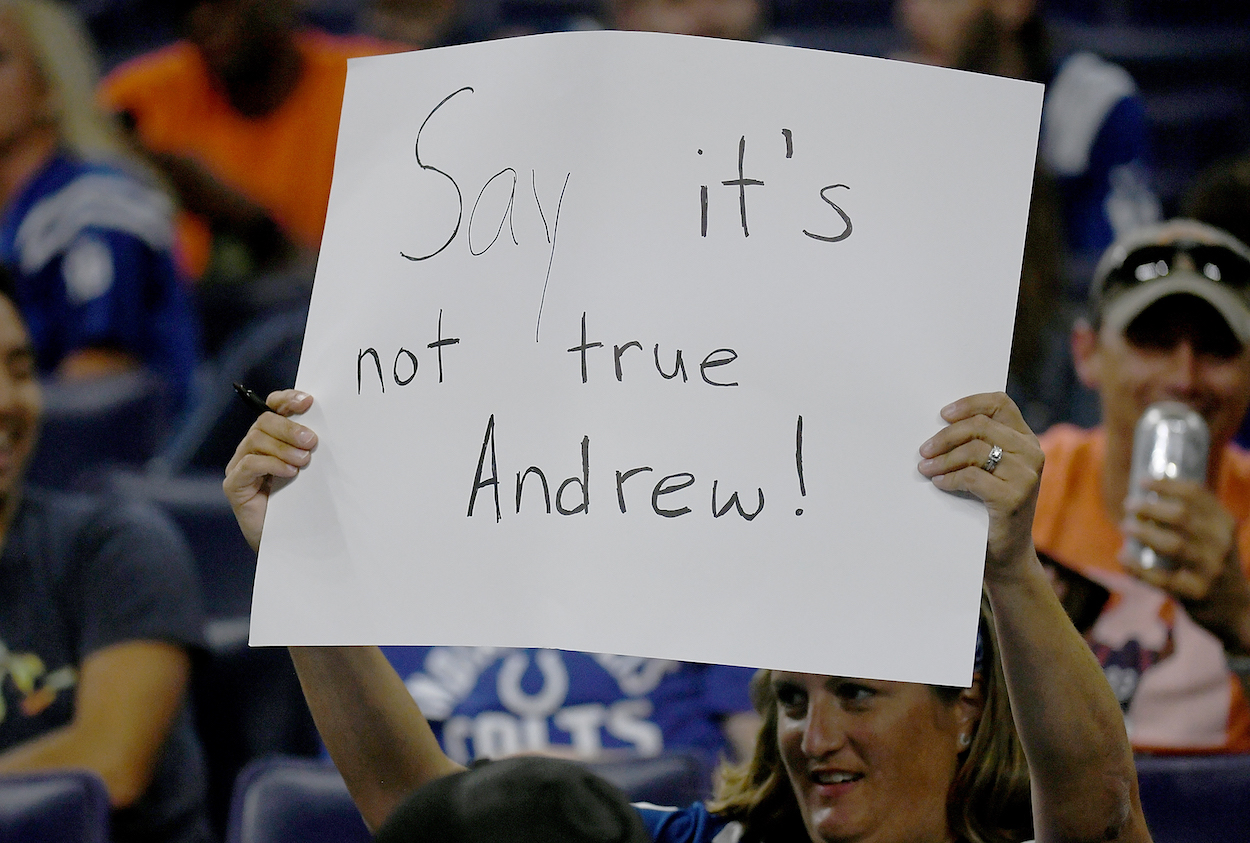 It's been just over two years since Luck decided to hang up his cleats, and it's still something that NFL GMs must look back on in horror.
This is to no fault of Luck, for what it's worth. The former No. 1 overall pick took a beating for years, playing behind a terrible offensive line. Luck was managing severe amounts of pain throughout his NFL career and was at risk for brain damage if he continued taking hits.
There is nothing wrong with Luck deciding to step away when he did.
Still, it put Ballard and the rest of the Colts organization in an unprecedently challenging situation. They were expecting to be Super Bowl contenders in 2019 and had to survive with Brissett at quarterback. Getting Wentz this past offseason was a nice band-aid on the whole situation. However, they also had to give up a conditional first-round pick to do so.
Fingers crossed Carson Wentz can salvage this era of Indy football
It's going to be hard for the Colts front office not to think about "what could have been" if Luck had decided to hang around for another few years. He was one of the league's premier athletes at the QB position and looked the part of a future Hall of Famer.
With that said, the organization is now committed to Wentz with hopes that he can salvage this era of Colts football.
Wentz is a former No. 2 overall pick who flashed MVP-caliber ability in the past. However, similar to Luck, he's struggled with injuries throughout his football career.
Should Wentz deliver a Super Bowl to Indy over the coming years, the Colts may be able to forget about Luck and how that experience played out. Should Wentz fail to do so, the Colts will likely always look back on this decade as the biggest "what if" in team history.
Like Sportscasting on Facebook. Follow us on Twitter @sportscasting19.
RELATED: The Indianapolis Colts Have a New Secret Weapon on Offense That's Impressing NFL Legend Steve Smith