Andrew Luck's Best Performances With the Colts Were on 'Parks and Recreation'
While former Indianapolis Colts quarterback Andrew Luck's career was short-lived, he certainly had some big moments in it. From getting the Colts to the AFC Championship Game during the 2014 season to winning the 2018 AP Comeback Player of the Year award, he gave Indianapolis Colts fans a lot to cheer about. However, some of the best performances of his career were not even during any games, they were on "Parks and Recreation."
Andrew Luck was a star for the Colts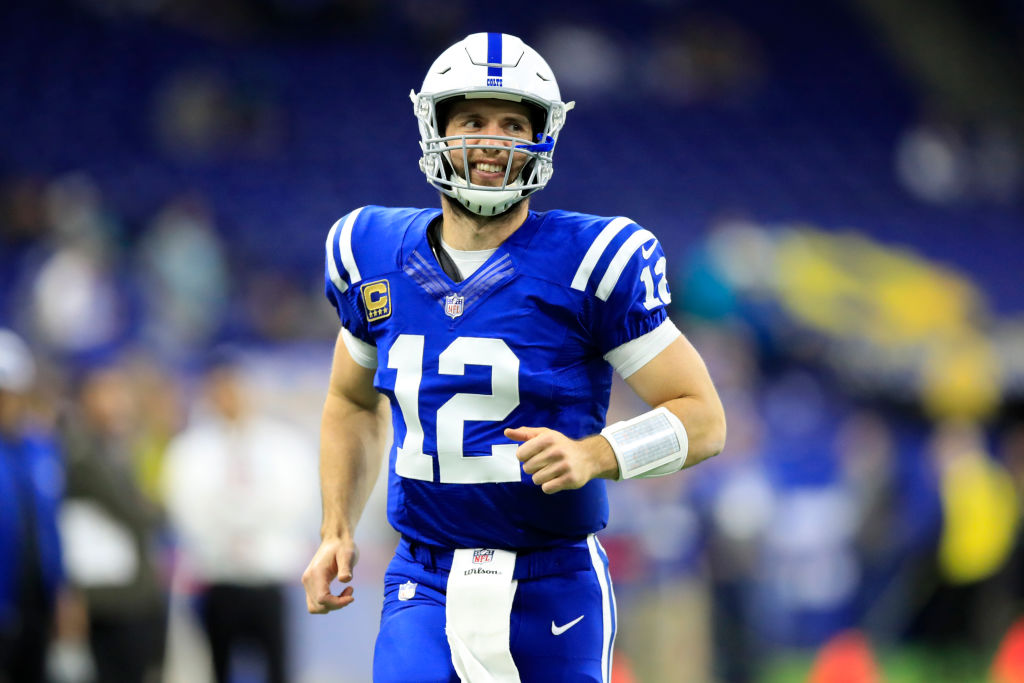 Andrew Luck was probably one of the biggest prospects coming into the NFL in quite some time. He had a great career at Stanford which led to the Colts selecting him with the No. 1 overall pick in the 2012 NFL draft. They didn't just select him No. 1 overall, though. The Colts pretty much chose him over future Hall of Fame QB Peyton Manning.
Luck ultimately had a lot of success with the Colts. In his first three seasons, he led the Colts to an 11-5 record each year. He also earned three Pro Bowl selections in those seasons. In 2014, he was also one of the best quarterbacks in the entire league. He threw for 4,761 yards and a league-high 40 touchdowns to go with 16 interceptions. Luck also led the Colts to the AFC Championship Game that season.
Then after missing the entire 2017 season, Luck had another career year in 2018. He threw for 4,593 yards, 39 touchdowns, and 15 interceptions. He won the AP Comeback Player of the Year award that season too as he led the Colts to a 10-6 record and a playoff win. That came after the Colts started the season 1-5.
The Colts looked like they were going to be good for a long time.
Injuries led to an early retirement
At just 29 years old, Luck, shockingly, announced his retirement from the NFL. This came right before the 2019 season was about to start too in August 2019.
Luck battled injuries for a lot of his career. He only played in seven games in 2015 as he dealt with rib and shoulder issues in 2015 and 2016, according to CBS Sports. He then missed all of 2017 after undergoing shoulder surgery. Luck then dealt with a calf issue before the 2019 season. This all then led to his retirement.
"I felt stuck and the only way out of it is to no longer play football," Luck said, according to CBS Sports. "It's taken my joy away from the game."

Andrew Luck
One of the best young talents in the game called it quits and now fans are left to wonder what could have been.
Luck was great on television
Despite the early retirement, Luck still had a good career. However, the best performances of his career did not happen during any games. They happened when he guest-starred on the television show, "Parks and Recreation".
Luck first appeared on "Parks and Recreation" in season five, episode 10 which was titled, "Two Parties." While a bachelorette party was ruined in the episode, Luck, his former teammate Reggie Wayne, and Colts owner Jim Irsay attended some of the bachelor party. Luck's best moment was when he told character Jerry Gergich to settle down. Gergich was often the butt of all the jokes. No one on the show even knew what his real name was as he was also called Garry, Larry, Terry, and Barry.
Then in season six, episode eight, which was titled "Fluoride," Luck returned to the show. He and several Colts players played with kids in Lucas Oil Stadium in a short segment on the episode. He also had a nice joke in that episode when he called three characters, Gergich, Ron Swanson, and April Ludgate, weird.
While the show always had humor in it, it was nice to see Luck in a different element and being funny. Andrew Luck had a great, yet short, career with the Indianapolis Colts. While he has since been out of the limelight since retiring, maybe Luck can return to acting sometime in the future. He certainly proved on "Parks and Recreation" that he has the ability.