Andrew Wiggins Has Quietly Become an Under-the-Radar Difference Maker Who Has a Chance to Swing the NBA Title in the Golden State Warriors' Favor
Stephen Curry has been garnering all the Golden State Warriors headlines — understandably and rightly so as he approaches Ray Allen's all-time 3-point makes record. But Andrew Wiggins is quietly becoming an essential piece of the Warriors' lineup, and one that could end up making an unexpectedly huge difference in Golden State's run at another title.
Wiggins has been playing the best basketball of his career lately. If he continues his run of form and adds to the firepower the Warriors already have, it may be goodnight Irene for the rest of the NBA.
Andrew Wiggins has yet to live up to the expectations of a No. 1 overall pick
Wiggins had the pedigree of a star coming into the NBA. He was the No. 1 overall pick in 2014 by the Cleveland Cavaliers. But LeBron James' return to his home town immediately sent the Canadian wing packing and off to Minnesota in a deal for Kevin Love.
Wiggins was the No. 1 recruit in the class of 2013 and ended up playing his lone season of college basketball at Kansas. The 6-foot-8 18-year-old started all 35 games for a Jayhawks' team that won the Big 12, according to Sports Reference.
Maple Jordan won the 2014-15 NBA Rookie of the Year after averaging 16.9 points and 4.6 rebounds for the Timberwolves. He upped his averages to 20.7 and 23.6 the next two seasons, but they dropped after that.
He was never an efficient shooter, from the floor or from deep. And the eye test made it appear like Wiggins was wasting his incredible athleticism and natural gifts by being a passive bystander.
But when the Warriors acquired the then-24-year-old during the '19-20 season, things began to change, and even more so this year.
Wiggins has broken out this season and become a key part of the best team in the NBA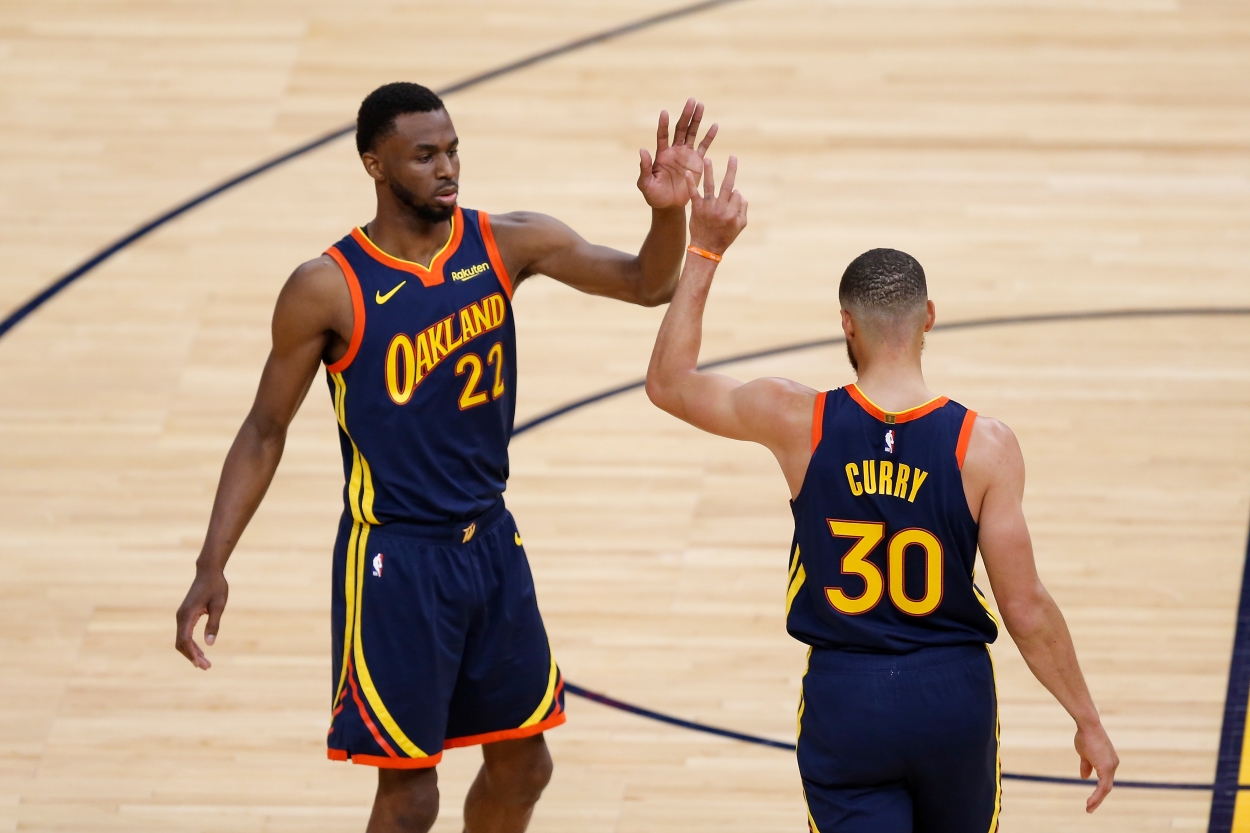 It's easy to forget that Wiggins is still only 26 despite being in his ninth season in the league.
But now that he's moved to the Warriors and is surrounded by a much better supporting cast than he had in Minnesota, the Huntington Prep grad has been thriving.
Wiggins has started every game since he arrived in Golden State (every game in his NBA career, actually). His scoring has dropped, but his shooting efficiency has gone up.
This year, Wiggs is scoring 18.4 points per game on 14.0 attempts per night, the lowest since his rookie season. But he's shooting a career-high 48.9% from the floor and a career-high 40.4% from three.
Wiggins is the team's second-leading scorer behind Steph, but he's turned his game up about four notches in the past month. Over his last 15 games, Mr. Fantastic has shot 51.2% from the field and 46.3% from deep on 5.3 attempts.
He's scoring 28.7 points per game per 48 minutes.
Wiggins is thriving as a lower-usage player next to one of the all-time great shooters and playmakers in Curry, and it's leading the team to wins.
The Warriors forward is a potential difference-maker in a title run
Curry is this season's MVP favorite and the engine that drives the Dubs. Klay Thompson is expected back relatively soon. Jordan Poole is having a career year.
But Wiggins could swing a playoff series, or even a Finals series, for a team with championship-or-bust aspirations.
"The thing about being on this team, you play with someone like Steph and Draymond, they're going to get you open shots and good looks," he said via NBC Sports. "In my career, this is the most open looks I've gotten."
If he continues to knock down said open looks and provide tertiary production alongside Curry and Thompson — or if Thompson struggles upon his return and Wiggins continues his current level of production — the chances of the Warriors winning their fourth title since 2015 increase substantially.
All statistics, unless otherwise noted, courtesy of NBA.com.