Andrew Wiggins Sends an Exciting Message About the Golden State Warriors' Explosive Backcourt
Andrew Wiggins was in an organization that never had a history of winning. Now, he is on a team that just had one of the most dominant squads of all-time a couple of seasons ago in the Golden State Warriors. He is also now in a backcourt that consists of multiple other scorers in Stephen Curry and Kelly Oubre Jr. However, they have yet to play together, so no one really knows what to expect from the three of them. Wiggins, tough, recently sent out an exciting message about the Warriors' new backcourt.
Andrew Wiggins spent over five seasons with the Minnesota Timberwolves
RELATED: Stephen Curry Sends a Strong Message About Draymond Green
Andrew Wiggins was the No. 1 overall pick in the 2014 NBA draft by the Cleveland Cavaliers. He ultimately got traded to the Minnesota Timberwolves in a trade for Kevin Love, though.
Wiggins, however, ultimately became a solid scorer for the Timberwolves. He won the 2014-15 Rookie of the Year award after averaging 16.9 points per game and 4.6 rebounds that year. He then continued to improve during the next couple of seasons, too. Wiggins averaged 20.7 points per game in 2015-16 and 23.6 points per game to go with four rebounds in 2016-17.
His numbers, however, took a hit in 2017-18, as the Timberwolves had Jimmy Butler that season. Wiggins ultimately only averaged 17.7 points per game and 4.4 rebounds that year, but the Timberwolves made the playoffs. During the 2018-19 season, though, Butler only played in 10 games for the Timberwolves, and Wiggins' numbers didn't make their way back up. He averaged 18.1 points per game and 4.8 rebounds.
Wiggins then played in 42 games for the Timberwolves in 2019-20 and played well, as he averaged 22.4 points per game and 5.2 rebounds. The Timberwolves ultimately traded him to the Golden State Warriors, though, and he played in 12 games for Golden State last season. Between both teams, Wiggins averaged 21.8 points per game and career-highs in rebounds with 5.1 and blocks with one per game.
He is in a talented backcourt on the Golden State Warriors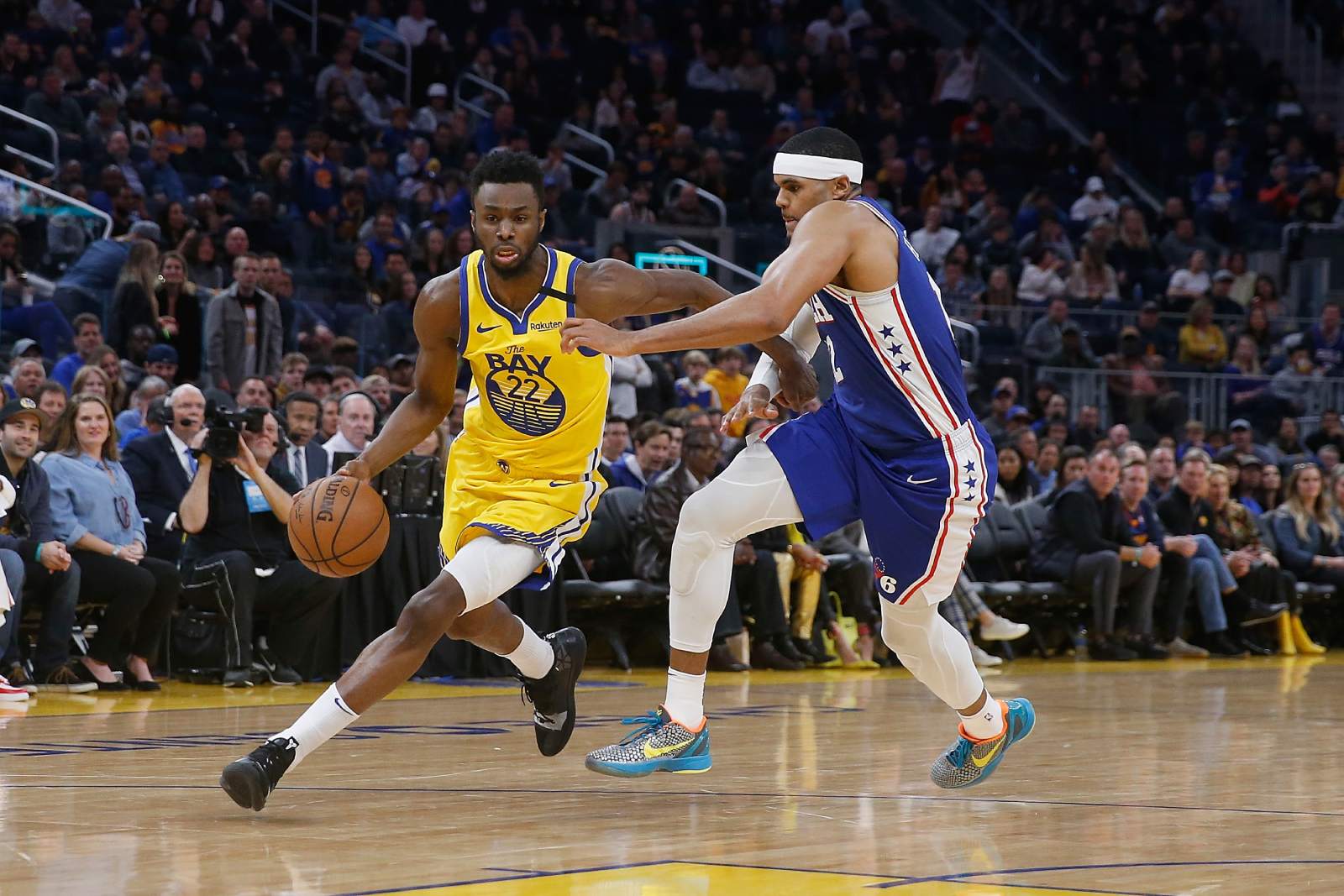 RELATED: The Golden State Warriors' $29.5 Million Man Has Put in the Work To Become a Star This Season
The Golden State Warriors were one of the most dominant teams of all-time for five seasons. From 2014-15 through 2018-19, the Warriors made five consecutive trips to the NBA Finals and won three championships.
However, last season, they no longer had Kevin Durant as he left and went to the Brooklyn Nets. They also didn't have Klay Thompson as he missed the entire season due to injury, and Stephen Curry only played in five games. This led to the Warriors going 15-50 overall.
In 2020-21, though, they have a chance to be a top team again. They won't have Thompson back as he suffered another season-ending injury, but they will have their two-time NBA MVP, Curry, back. They also traded for Wiggins last season and then traded for Kelly Oubre Jr. this offseason.
This should be an extremely exciting backcourt to watch as Curry is arguably the greatest shooter of all-time and averaged between 25.3 and 30.1 points per game between 2015-16 and 2018-19. Wiggins also averages 19.7 points per game for his career, while Oubre had a breakout year last season, averaging 18.7 points per game and 6.4 rebounds for the Phoenix Suns.
This explosive backcourt is in addition to a frontcourt that consists of three-time All-Star Draymond Green and No. 2 overall pick James Wiseman. This team could easily be a top team in the Western Conference.
For that to happen, though, the backcourt needs to click.
Andrew Wiggins sends an exciting message about the Warriors' backcourt
RELATED: The Golden State Warriors Reportedly Tried To Add a $41.2 Million Superstar
If the Warriors want to be successful this year, they need Curry, Wiggins, and Oubre to play well together all season. So, with practice underway, how have the three of them looked playing together so far?
"We've been good," Wiggins said, per NBA.com. "The chemistry's building; we've been playing together. Having success on the court. We look good. We're getting to read each other. We're making good plays — on the ball, off the ball. So, every day we're getting better."
Practice just started, but it's certainly encouraging to hear that Curry, Wiggins, and Oubre are beginning to click. If Curry can play like he did during his 2015-16 MVP season, the Warriors will be tough to beat, as he averaged a league-leading 30.1 points per game that season to go with a league-leading 2.1 steals, as well as 6.7 assists and 5.4 rebounds. Additionally, if Wiggins and Oubre can both score efficiently and play well within the Warriors' system, there is no reason why this team can't be a top-five team in the Western Conference.
The Golden State Warriors have high expectations this year. Their success will start and end with the play of Curry, Wiggins, and Oubre, too.
Stats courtesy of Basketball Reference