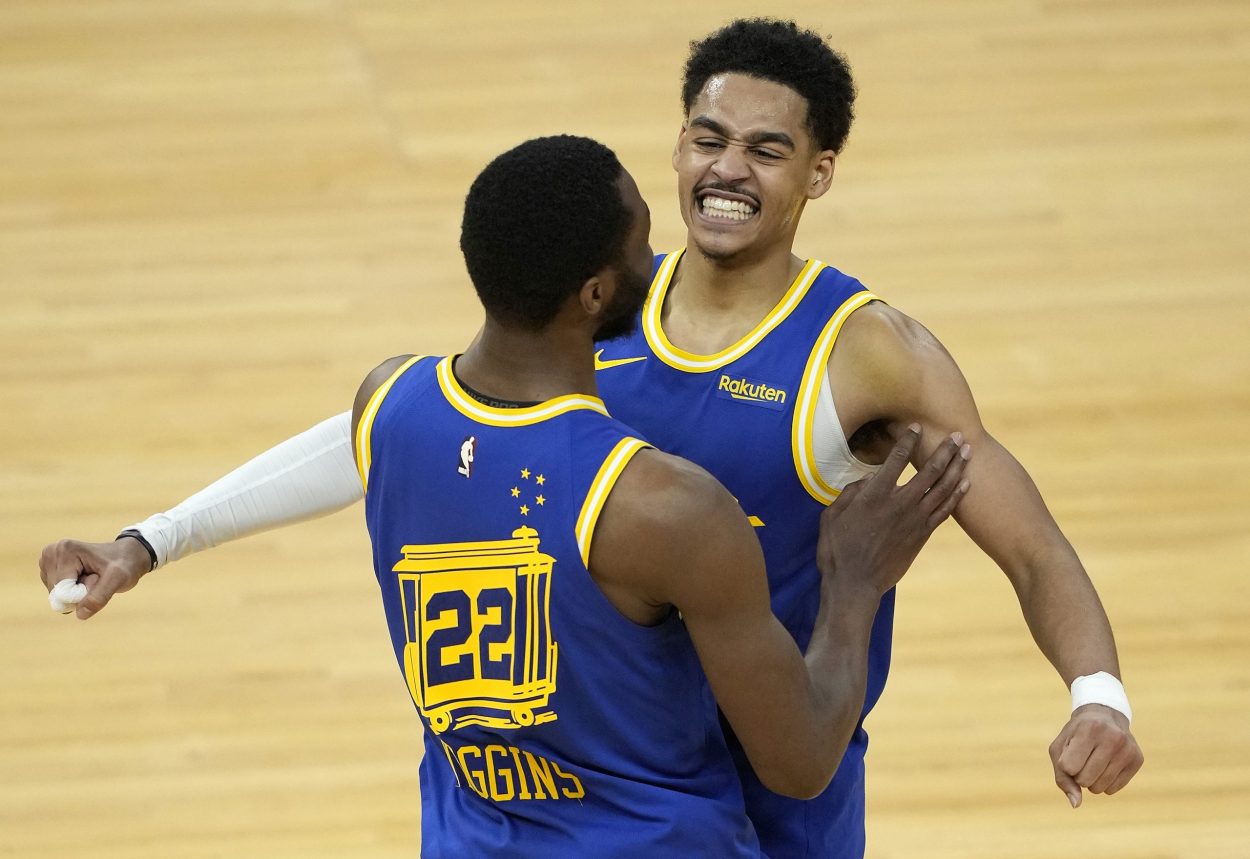 Andrew Wiggins' Horrible Slump Explains Why Warriors Must Extend Jordan Poole
Andrew Wiggins' recent struggles and Jordan Poole's continued climb explain why the Warriors must extend their rising star.
It came as quite a surprise when fans voted Golden State Warriors wing Andrew Wiggins as an NBA All-Star starter. To be clear, Wiggins certainly deserved fringe All-Star consideration. Teammate Stephen Curry adamantly lobbied for the 2014 No. 1 pick to get his first All-Star nod. However, Wiggins' recent performances are indicative of his questionable selection, and also explain why the Dubs must prioritize extending Jordan Poole.
Wiggins has critical importance to the Warriors as a floor-spacing wing who has made tons of progress on the defensive end and routinely takes on the most challenging assignments. But Wiggins' current contract is nearing its end, and Poole looks to have a higher ceiling at this point in his career.
Potential must be a consideration for a Golden State squad that eventually has to grapple with the reality of transitioning into the post-Stephen Curry era.
Andrew Wiggins has struggled mightily in recent weeks
Is Wiggins experiencing some kind of All-Star curse?
After a torrid start to the 2021-22 campaign, the 27-year-old's play has nosedived. Wiggins averaged 13.8 points on under 50% true shooting in February. He posted a -13 net rating and was -2.1 in plus-minus per 200 possessions.
Wiggins has cratered in March. In four games this month, he's -20 in net rating and has his lowest true shooting split (46.2%) of the season despite having his second-highest split in usage rate. Although Wiggins has displayed some more playmaking chops as a passer and creates turnovers defensively, he's done so at the expense of efficiency, with turnovers also becoming an issue.
Stephen Curry warned the Warriors against complacency. However, it's difficult for Golden State to build momentum when Wiggins struggles, particularly with Draymond Green still out.
One guy who hasn't been overly smug is Jordan Poole.
Jordan Poole thriving amid Wiggins' struggles, and his growth might result in a contract extension
Like Andrew Wiggins, Poole can be maddeningly inconsistent. But he's more explosive offensively and has defensive upside. Plus, Poole has really started playing at a high level.
It took time for Poole to adjust to being in the second unit with the return of Klay Thompson. However, he has found a rhythm coming off the bench. In his last eight games, Poole averaged 18.0 points, 4.1 assists, and 2.6 rebounds on 52.5% shooting from the field, including 46.2% from deep on 6.5 attempts per contest.
The former Michigan Wolverines star has shown why the Dubs are reportedly considering offering him a four-year, $80 million extension. He has demonstrated a level of comfort taking pull-up jumpers off the dribble and has done so efficiently. Additionally, Poole has developed a lot of juice on dribble drives and can finish through contact at the basket.
Despite the inconsistencies, Poole's flashes hint at a higher ceiling. He's also arguably a better fit than Wiggins next to Curry and Thompson.
Poole could have more value now, as well as in the future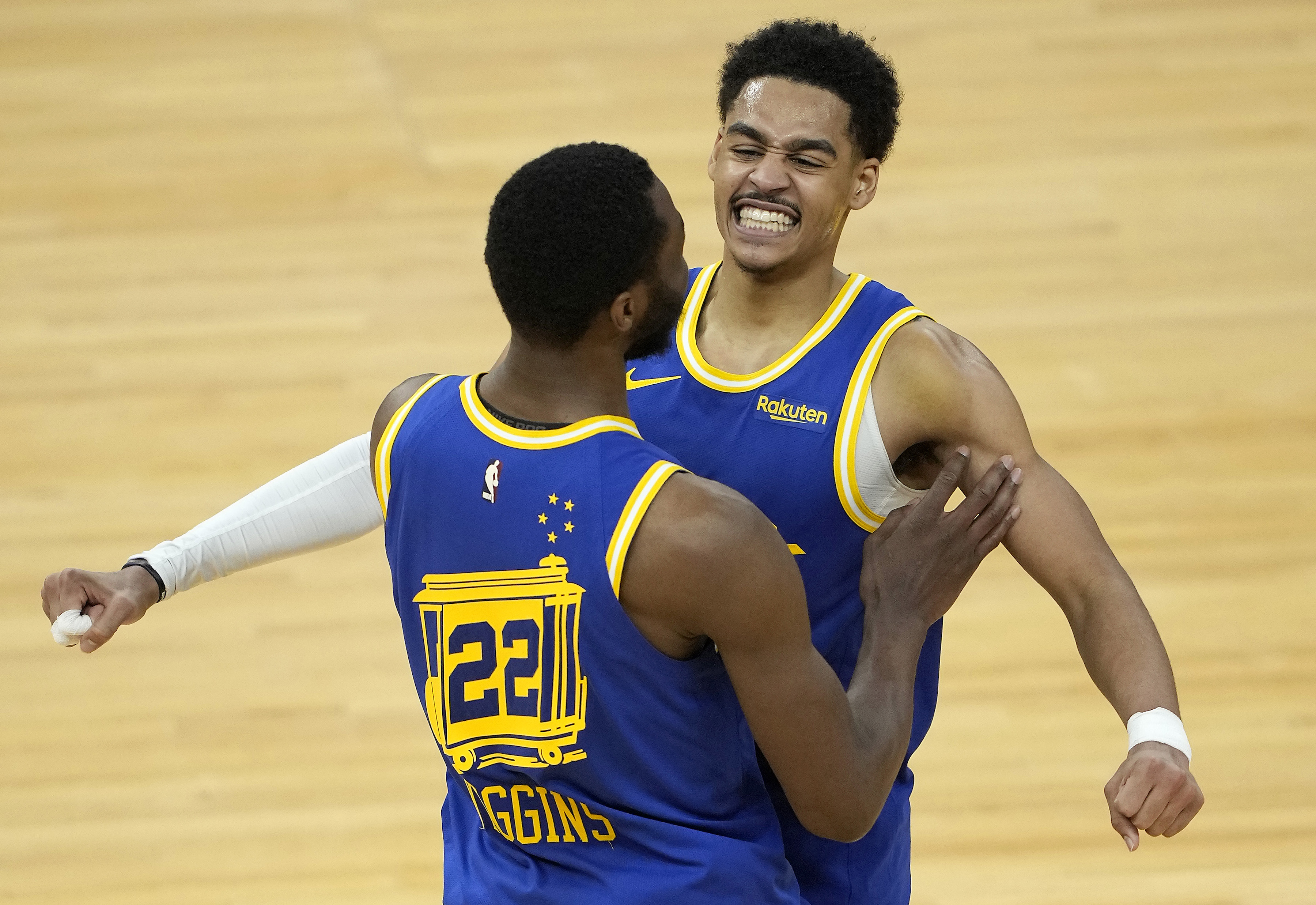 Warriors head coach Steve Kerr experimented during Tuesday night's win against the Los Angeles Clippers.
After the Clippers cut Golden State's 29-point lead to 11, Kerr went with a small-ball closing lineup of Stephen Curry, Jordan Poole, Moses Moody, Klay Thompson, and Jonathan Kuminga. That lineup shut the door on a comeback. Kerr said (h/t The Athletic) he plans to deploy more of these looks when the Dubs get Draymond Green back, especially the three-man trio of Curry, Poole, and Thompson.
"That combination, that trio, is really, really good in terms of plus/minus. We have to take it game-by-game based on matchup and defensive coverages. It's more likely to happen when we are fully healthy. If you have Draymond behind the play, you can get away with more defensively on the perimeter, get away with less size."

–Steve Kerr, via The Athletic
The Warriors are +56 when Curry, Poole, and Thompson share the court. That's pretty telling because of the sheer offensive output they provide.
Poole's fit next to the two stars makes Wiggins more expendable down the road.
Wiggins is the better and more versatile defender. But Poole gives the Dubs far more shot-creation and has a higher upside as a playmaker. He's also much more efficient as a mid-range scorer and is better off the dribble. Golden State can afford to let him catch up defensively, particularly when he's a massive net positive next to Steph and Klay.
Plus, the Warriors have Kuminga to eventually fill Wiggins' role. The 19-year-old has already displayed an advanced defensive skill set. His hyper-athletic play should continue to translate if he improves from the perimeter.
If Wiggins continued to build on his early-season growth, then the Warriors — a team in a ton of tax trouble — might have had a more difficult time extending Poole this offseason. However, Wiggins' struggles, Poole's flashes, and the team's roster construction necessitate inking Poole to a new contract.
Stats courtesy of Basketball Reference.