Andrew Wiggins Frustratingly Teases His 1st Overall Pick Talent Again, but Stephen Curry or Steve Kerr Are Foolish to Think It Will Ever Be a Regular Occurrence
Andrew Wiggins had a huge night for the Golden State Warriors on Nov. 10. He exploded for a season-high 35 points on 14-of-19 shooting, including 3-of-6 from 3-point range. That helped the Warriors improve to an NBA-best 10–1 with a 123–110 pasting of the Minnesota Timberwolves. Unfortunately for Golden State fans, it's more than likely a one-off.
Wiggins, the first overall pick in the 2014 NBA Draft, did what he's done throughout his career. He punished one of his former teams. Initially picked by the Cleveland Cavaliers, Wiggins has torched the Cavs repeatedly throughout his career. Since going to the Warriors in a trade from Minnesota, he's done the same to the Wolves. Ultimately, though, it's more fool's gold for a player who consistently teases but never quite delivers on his massive potential.
Andrew Wiggins got traded to Minnesota and made it personal against Cleveland
In 2014, the Cavaliers had the No. 1 overall pick for the second straight year. After swinging and missing badly on Anthony Bennett, Andrew Wiggins was going to set things right in Cleveland.
Then LeBron James decided to re-sign with the Cavs. Immediately, general manager David Griffin started scouting around the league for upgrades. He found one in Kevin Love, the superstar-in-residence for the lowly Timberwolves. Wiggins and Bennett were part of the package sent to Minnesota to bring Love to Cleveland.
Wiggins has abused the Cavaliers ever since. In 13 career games against his former team, Wiggins averaged 23.8 points per game on 49.6% shooting, including 44.4% from deep.
In February 2020, the Timberwolves sent Wiggins to the Golden State Warriors along with first- and second-round picks in 2021. Minnesota acquired D'Angelo Russell, Jacob Evans, and Omari Spellman.
In typical Wiggins fashion, his four games against the Wolves since the trade have been massive. He's scored 26.0 points a night, shooting 60.6% overall and hitting 8-of-20 from deep.
But it's all an illusion when you probe a little deeper.
The Golden State Warriors have gotten a better Andrew Wiggins, but not a great one
Since coming to the Golden State Warriors, Andrew Wiggins has been a more efficient player. He's shot 47.4% overall and 37.2% from 3-point range. His defense has improved to at least average levels.
His huge night against the Timberwolves included two poster dunks over former teammate Karl-Anthony Towns. Warriors star Stephen Curry has a plan to motivate Wiggins the rest of the season, per Evan Webeck of the San Jose Mercury News:
"I'm gonna text Wiggs that picture of him dunking on KAT every game, right before the game. We'll see if that helps get the juices flowing."

Stephen Curry
But that's the problem. For as well as Wiggins plays against Cleveland and Minnesota, he can't be counted on to deliver similar performances on a consistent basis.
Now in his eighth NBA season, Golden State may have to accept that Wiggins is what he is. He'll go off on certain nights against certain teams. He doesn't seem capable of delivering that sort of intensity on a nightly basis, though.
The Golden State Warriors have a key to their championship hopes waiting in the wings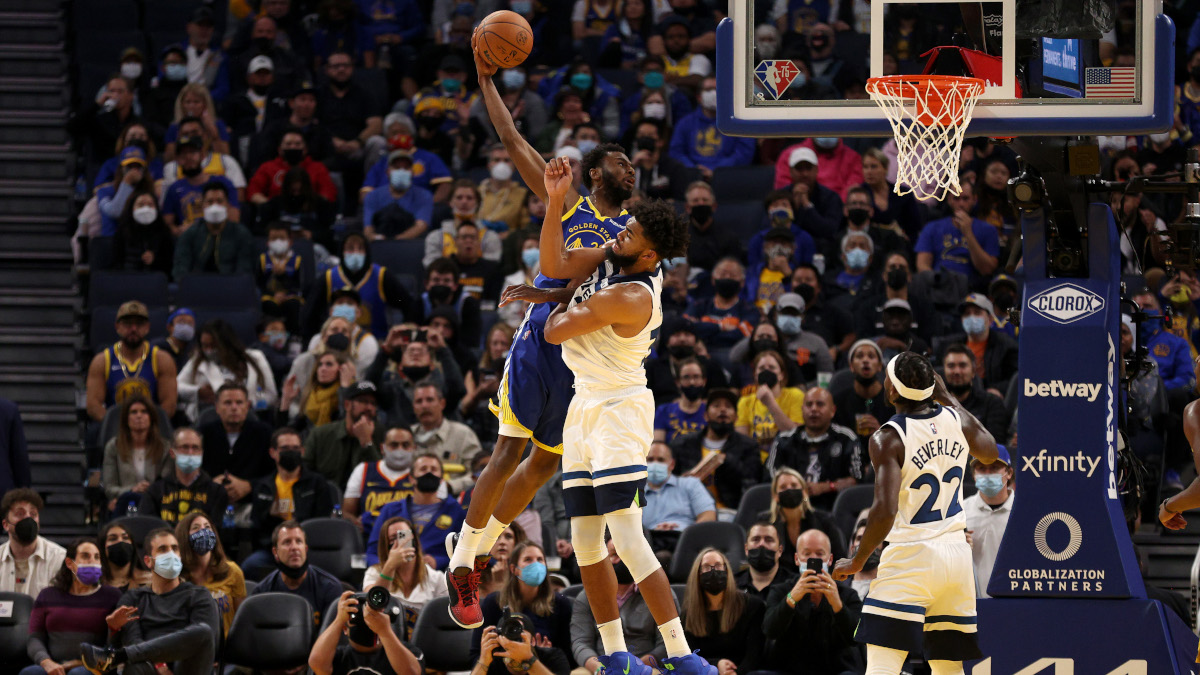 It's not realistic to think Andrew Wiggins can deliver for the Golden State Warriors as their second option behind Stephen Curry.
But if the medical reports are correct, that needed second scorer is weeks away from returning to the Warriors.
If Golden State is going to return to the NBA's elite and compete for their fourth championship since 2015, it won't be because Wiggins takes them there.
Rather, it is the impending return of Klay Thompson that is key to another ring in the Bay Area.
For his career, Wiggins averages 19.5 points and shoots 44.6% overall and 34.1% from the great beyond. Short of the NBA allowing the Warriors to make every opponent wear Cavaliers or Timberwolves uniforms, that's about all they can count on from Wiggins.
The Golden State Warriors appear to have their mojo back after two straight seasons out of the playoffs. Thompson's return will buoy their championship hopes. Andrew Wiggins will have his occasional big game (look for Nov. 18 at Cleveland as the next one). Hoping for anything else will just end in disappointment.
Statistics courtesy of Basketball Reference.