Andruw Jones Earned Nearly $130 Million and If Scouts Are Right, His Son Could Make More
For over a decade, Andruw Jones was arguably baseball's best overall defender.
A graceful center fielder and five-tool player, Jones played a crucial role alongside John Smoltz and the Atlanta Braves. Jones retired with a fascinating Hall of Fame case and plenty of Gold Gloves.
Nearly a decade after his own final MLB game, Jones has a son ready to follow in his footsteps.
Andruw Jones had a stellar MLB career
RELATED: The Tragic Death of Skip Caray Shocked the Atlanta Braves Community
A 6-foot-1, 225-pound outfielder from Curacao, Andrew Jones debuted as a 19-year-old with the Atlanta Braves in 1996. But wasn't his .217 average or five regular-season home runs that instantly made him a star, though.
When Jones homered in Game 1 of the 1996 World Series, he became the youngest player to homer in the Fall Classic.
Jones passed Yankees legend Mickey Mantle in the process. A fitting feat, because Jones accomplished the feat against the Yankees on what would have been Mantle's 65th birthday.
From there, Andruw Jones was off and running. From 1997-2006, Jones hit .268 with 337 home runs, 1,010 RBIs, 130 stolen bases, and nearly 300 doubles. He averaged 34 home runs and 101 RBIs per year.
Jones was worth 57.9 Wins Above Replacement in that time, according to Baseball-Reference's metrics.
Jones won a Gold Glove every year from 1998-07. He made the All-Star Team five times in that span, too, and hit 10 career playoff home runs.
Jones has an intriguing Hall of Fame case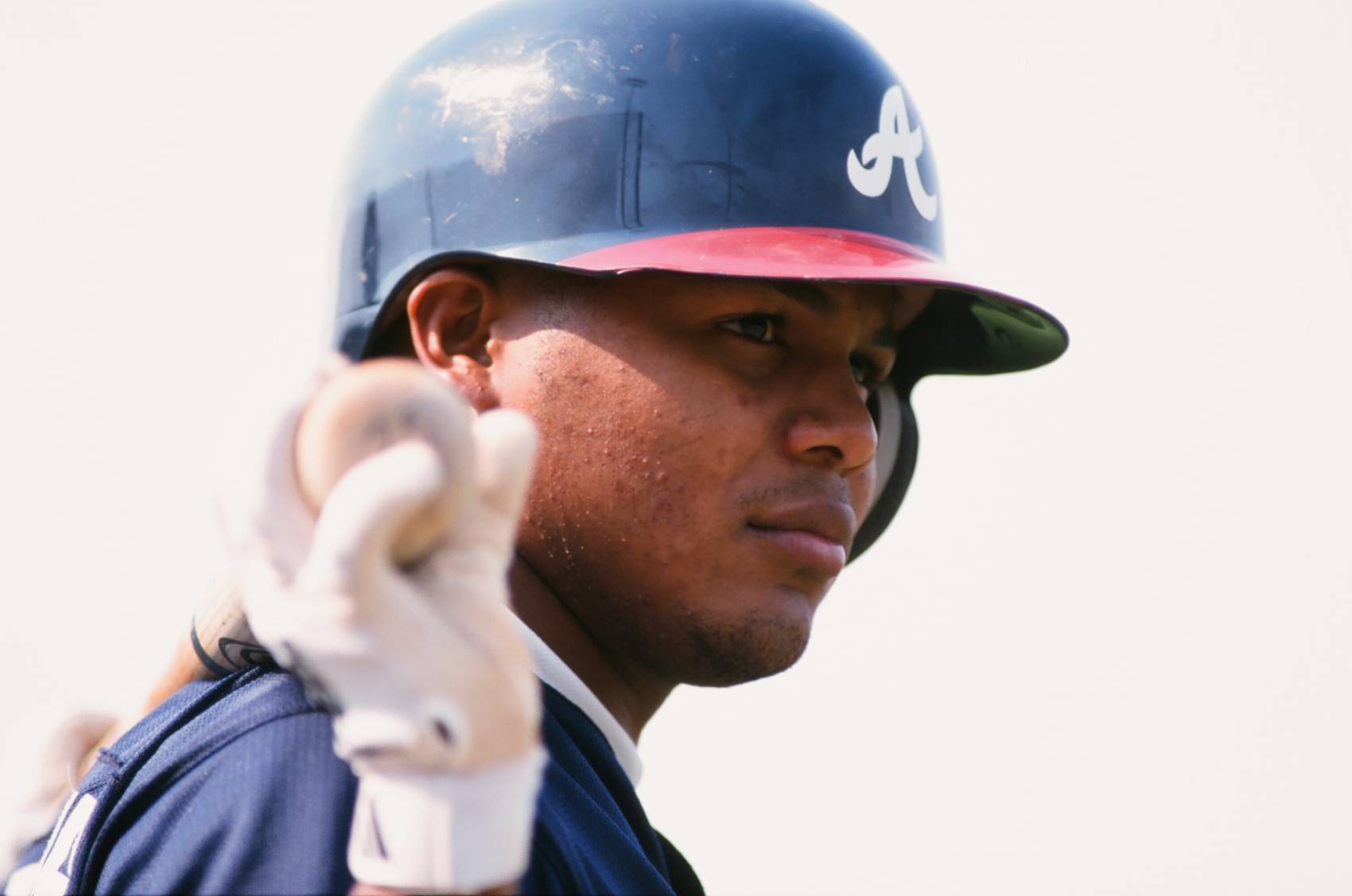 RELATED: MLB All-Star Gary Sheffield's Son Is a Rising Voice in Sports Media
Andruw Jones is the perfect example of a hitter with a Hall of Fame-peak whose best days ended too early.
Jones slumped to a .222 average in 2007, although his 26 home runs, 94 RBIs, and Gold Glove-winning defense still made him worth 3.0 WAR. After he signed with the Dodgers in 2008, though,
Jones was worth -1.6 WAR in his lone year with the Dodgers, however, and spent the rest of his career bouncing around the league. He flashed signs of his old self in 2010, posting a 1.9 WAR for the White Sox, and ended his career with two years in a Yankees uniform.
Jones received votes on 19.7% Hall of Fame ballots in 2020, a marked improvement from the 7.5% he had in 2019. He may need a few more years, but Jones is gaining steam on a ballot where several players — including Barry Bonds and Roger Clemens — have stagnated.
Andruw Jones' son, Druw, is a future MLB talent
RELATED: The Complete List of MLB Players Opting Out of the 2020 Season
Andruw Jones retired with over $128 million in career earnings, according to Baseball-Reference. The Atlanta Braves regularly paid him as one of the sport's top players.
Major League Baseball may not be far from seeing Jones' son, Druw, in the mix. The younger Jones, who like his father is an outfielder, is a rising high school junior in Georgia.
He pledged to play at Vanderbilt in college, though a team can draft him out of high school in 2022.
In a 2018 scouting report, Perfect Game praised Jones' arm and speed. It will be a few years before we potentially see Druw Jones in the majors, but he has the skill and background to make an impact the way his father did.