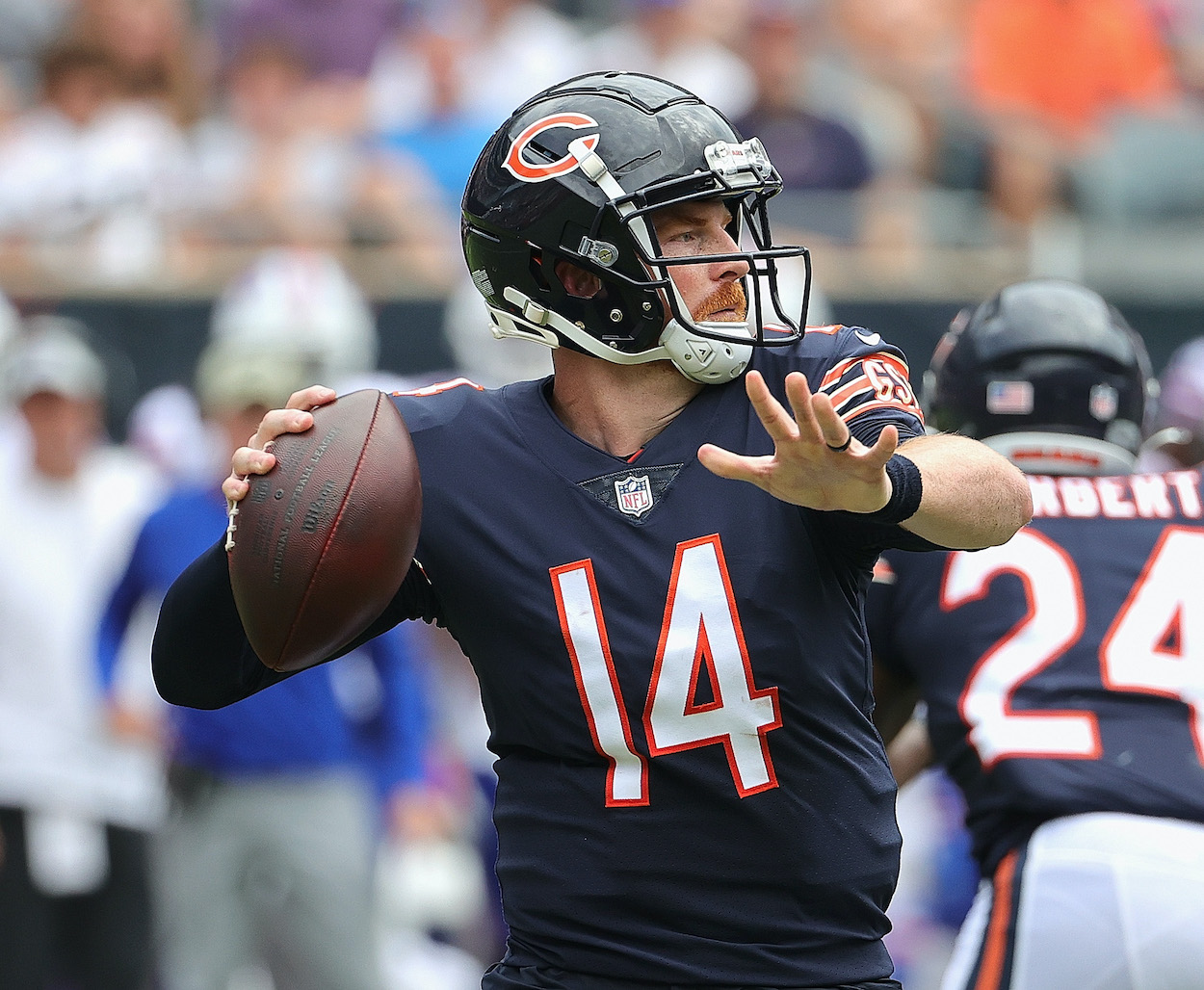 Andy Dalton and Jacksonville Jaguars Fans Brutally Roasted in Hilarious Song During Fox NFL Pregame Show
Andy Dalton and Jacksonville Jaguars fans were brutally roasted by actor/comedian Anthony Anderson in a song during the Fox NFL Sunday pregame show.
There hasn't been a more anticipated kickoff to the NFL season in years. The main reason — the fans are back. After last year's games in stadiums often filled with cardboard cutouts, fans in all NFL cities were enthusiastically ready to report for duty. 
During the Fox NFL Sunday pregame show, actor/comedian Anthony Anderson sang a song welcoming back fans at a big tailgate party. The hilarious lyrics talked about fans being eager to drink $20 beer, get drunk like Tom Brady, and paint team colors on their chests. However, the most memorable words from the ditty were devoted to roasting Chicago Bears quarterback Andy Dalton and Jacksonville Jaguars fans (or lack thereof).  
Andy Dalton and Jacksonville Jaguars fans get roasted in Fox NFL pregame show
Blackish star Anthony Anderson made a special appearance on the Fox NFL Sunday pregame show in a pre-recorded segment, where he walked through a tailgate party in a parking lot with fans from different teams, and the video correlating with his lyrics. 
"They're back to scream and cheer, and drink twenty-dollar beer," Anderson sang in one of the opening lines while sitting amongst fans and wearing Bears defensive star Khalil Mack's No. 52 jersey.
Anderson then sang about how fans are back to get crazy and drunk like Tom Brady, with the video showing the quarterback stumbling in his post-Super Bowl celebration. After singing about the Black Hole of the Raiders is back, the comedian shifted his focus to the Bears and the offseason acquisition of Andy Dalton. 
"Andy Dalton's back, Bears fans cry, they say why-y-y," Anderson bellowed, with the video showing Chicago fans throwing their pom-poms in disgust. 
The next line delivers the most brutal shot of the entire song. 
"Jags fans are back. Just kidding they never had any," Anderson sang while walking by a vacant parking spot with a pair of knocked overs chairs and several bushes of tumbleweed in between.
The segment hilariously concluded with Anderson following a bright light behind a wall, where he ends up in The Weeknd's Super Bowl halftime show. "Oh no! I can't feel my face," he said while panicking.  
Andy Dalton not first choice of most Chicago Bears fans 
Andy Dalton has had a solid NFL career, including three Pro Bowl appearances in his nine seasons with the Cincinnati Bengals. This offseason, after a year in Dallas, the Bears signed the veteran to a $10 million deal in March to become the team's starting quarterback. 
A month later, the Chicago front office selected Ohio State signal-caller Justin Fields with the 11th overall pick in the NFL draft, which sent a mixed message to the Bears fan base. 
During the preseason, Dalton saw limited action and reps with any starting skill position players. By most accounts, Fields looked better in his restricted time on the field. But coaches only put so much weight in preseason play. As a result, Dalton is the starter, but that doesn't mean the rookie won't see his first action. According to the NFL Network's Ian Rapoport, the Bears are prepared for Fields to guide the offense, if necessary.
"For these Chicago Bears, this is Andy Dalton's team, he is the starter. However, based on what Justin Fields did in the preseason, based on his readiness, I'm also told there is a small package of plays at Fields' disposal," Rapoport said.
Jacksonville Jaguars fans haven't had a lot to cheer about recently
Anderson's insult of the Jacksonville Jaguars never having any fans is a brutal shot, no doubt. And on its face, it makes sense that the Jags fans might not turn out for a team that has compiled an embarrassing 12-36 record in the past three seasons. But purely from a numbers standpoint, it's not accurate. Last season, in the cardboard cutout era when county/state health officials dictated attendance numbers, the Jags, which finished the season with a 1-15 record, averaged the second-most fans at 127,355, behind only the Dallas Cowboys and their 219,021 fans. 
However, the year before, when actual warm bodies were sitting in seats, the Jaguars sat in the bottom half of the league at just over 500,000 total fans. The numbers this season should be better just for the simple novelty of No. 1 overall pick Trevor Lawrence quarterbacking the club under the tutelage of new head coach Urban Meyer.
Regardless of the actual fan numbers, Fox and Anderson made a statement about both the Jaguars fans and Andy Dalton. It's now up to both of them to prove it wrong.  
Like Sportscasting on Facebook. Follow us on Twitter @sportscasting19.