Andy Dalton Leaves the Bengals as a Hero Despite Not Winning One Playoff Game
Andy Dalton will no longer be the quarterback of the Cincinnati Bengals. As the team looks toward the future after drafting Heisman Trophy winner Joe Burrow, they now must say goodbye to Dalton. Over the years, Dalton has received a lot of criticism for his interceptions, but he was still a pretty good quarterback at times. He will ultimately be remembered more for what he did off of the field for the city of Cincinnati, though.
The Bengals drafted Andy Dalton in 2011
In the second round of the 2011 NFL draft, the Cincinnati Bengals drafted Andy Dalton out of TCU. Dalton was going to be the future for a team that was in the middle of a messy breakup up with former QB Carson Palmer. Dalton had success right away as a rookie. He earned a Pro Bowl selection in 2011 as he threw for 3,398 yards, 20 touchdowns, and 13 interceptions. Dalton led the Bengals to the playoffs that season too.
In fact, the Bengals went to the playoffs each of the first five seasons Dalton was on the team. He also helped lead them to 10 or more wins four seasons in a row, from 2012 through 2015. The team has struggled the last four seasons, though, missing the playoffs each season.
Dalton ultimately earned two more Pro Bowls with the Bengals in 2014 and 2016. His best seasons statistically came in either 2013 or 2016. In 2013, Dalton threw for 4,293 yards, 33 touchdowns, and 20 interceptions. In 2016, he threw for 4,206 yards, 18 touchdowns, and eight interceptions.
No, Dalton did not win a playoff game for the franchise that has not won a playoff game since the 1990 season. He did, however, lead them to more playoff appearances than Carson Palmer did.
Joe Burrow is now the Bengals' future
With the team struggling so much in the last four seasons, the Bengals are looking to the future. That starts with them selecting quarterback Joe Burrow with the No. 1 overall pick in this year's NFL draft.
Burrow is coming off arguably the greatest season a college quarterback has ever had. He threw for 5,671 yards, 60 touchdowns, and six interceptions in 2019, which helped him earn the Heisman Trophy. Burrow also helped LSU win a national championship.
Because of the Bengals selecting Joe Burrow, the team decided to move on from Andy Dalton. After nine seasons, the Bengals released Dalton on Thursday. This will help the team significantly financially. Dalton was owed $17.7 million this season, according to ESPN. He still ultimately earned a lot of money while playing for the Bengals, but he was also very generous with it.
Dalton is leaving Cincinnati as a hero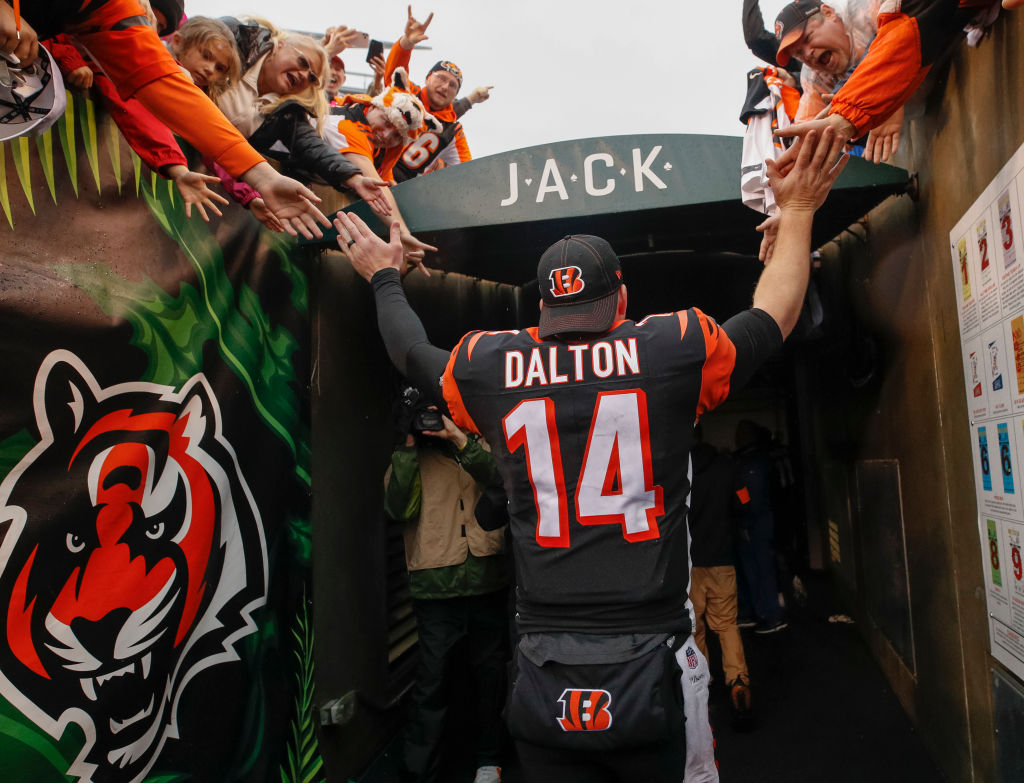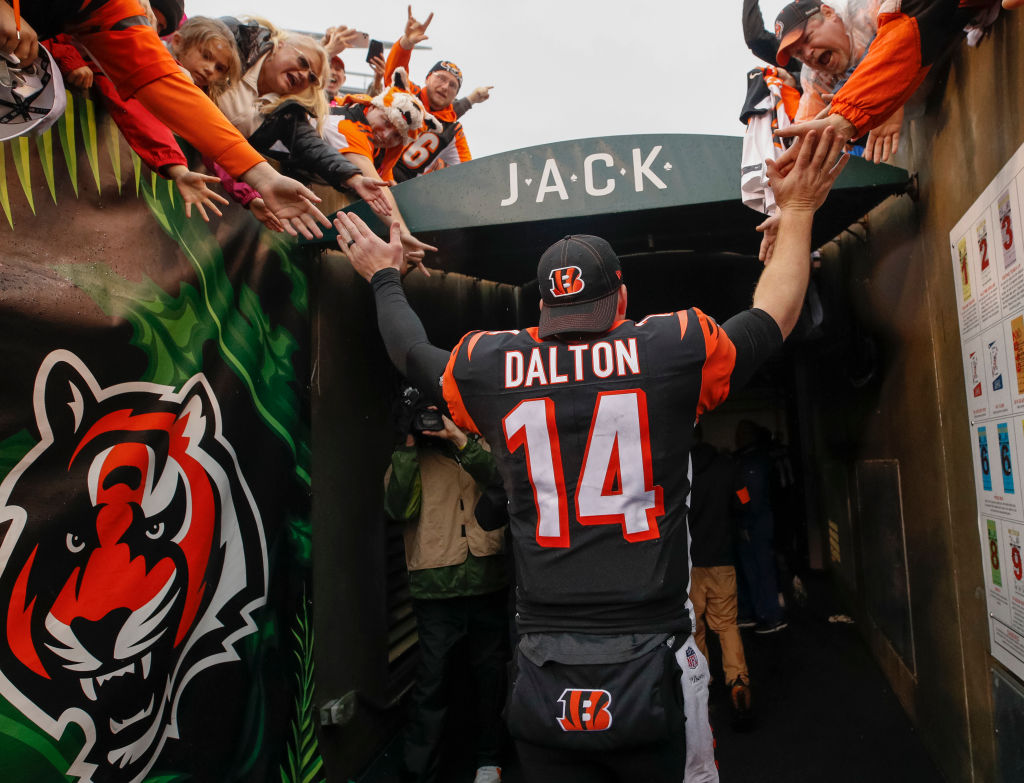 Andy Dalton earned over $83.5 million during his nine seasons with the Cincinnati Bengals, according to Spotrac. He did not keep that to himself, though. Dalton was extremely generous and helped the community immensely. 
Dalton and his wife Jordan launched the Andy and JJ Dalton Foundation in 2012, according to WCPO. The foundation raised millions of dollars to help pediatric patients in Cincinnati and Texas, according to WCPO. 
"His goal: to give children and their families an opportunity to get away from their room and forget what they're dealing with, if only for a brief while," Jake Ryle of WCPO wrote. "Sometimes, achieving that goal required a simple game of catch with a child battling cystic fibrosis. But he would do whatever it took to bring a smile, especially during the holiday season."

Jake Ryle, WCPO
In 2014, Dalton helped start a hub at Cincinnati Children's Hospital by donating iPads, DVD Players, and game consoles. He has also took children with life-threatening diseases and their families to the amusement park, Kings Island every year, according to WCPO. Then in 2016, Dalton covered the medical bills of 73 families from Cincinnati and Fort Worth, Texas, WCPO reported, and in 2018 Buffalo Bills fans sent $400,000 to Dalton's foundation after he helped the Bills sneak into the playoffs with a late-game score. He then repaid them by sending $25,000 to Buffalo's Angel Fund.
Did Andy Dalton win a playoff game with the Bengals? No. Did he still have success as the team's quarterback? Yes. No matter what he did on the field, though, what he did off of it helped him leave the Bengals as Cincinnati's hero.