Andy Dalton Is 'Not Worried' About All the Justin Fields Hype on the Bears: 'I'm Sure I'll Be Making Big Plays, Too'
We have all seen quarterback competitions in the past, but do the Chicago Bears actually have one since we all know Justin Fields is their long-term answer?
Whether you consider their situation a contest or not, Andy Dalton is Chicago's starter heading into the 2021 campaign; the Bears have made that clear all offseason. So, as Dalton prepares for his first year with his new team, he addressed all the hype surrounding Fields, and he doesn't seem too worried.
The Chicago Bears have somewhat of a quarterback controversy
After a few disappointing seasons with 2017 No. 2 overall NFL Draft pick Mitchell Trubisky, the Bears signed Dalton this offseason and subsequently named him QB1.
Dalton is a three-time Pro Bowl quarterback who has thrown for 33,764 yards in his career and 218 touchdowns. He also led the Cincinnati Bengals to five consecutive playoff appearances in his first five seasons in the NFL.
However, we have all seen Dalton's ceiling. He's a decent quarterback, who maybe received too much of the blame in Cincinnati, but he's not a guy who will change a franchise. So, it appears that fact alone led to the Bears selecting former Ohio State quarterback Justin Fields with the No. 11 pick in the 2021 NFL Draft.
Fields threw for 5,373 yards, 63 touchdowns, and nine interceptions in 22 total games at Ohio State, leading them to two College Football Playoff appearances. He proved in Columbus that he has all the potential in the world and possesses the tools NFL teams look for in a quarterback: a big arm and the ability to move around the pocket with ease.
Fields ultimately impressed at OTAs with the Bears, and the coaching staff has had a ton of praise for him so far, making many wonder if he could steal the starting job from Dalton.
But head coach Matt Nagy has said vehemently this offseason that Dalton is QB1, which has given Dalton the confidence to not worry about any of the Fields hype.
Andy Dalton isn't worried about the hype around Justin Fields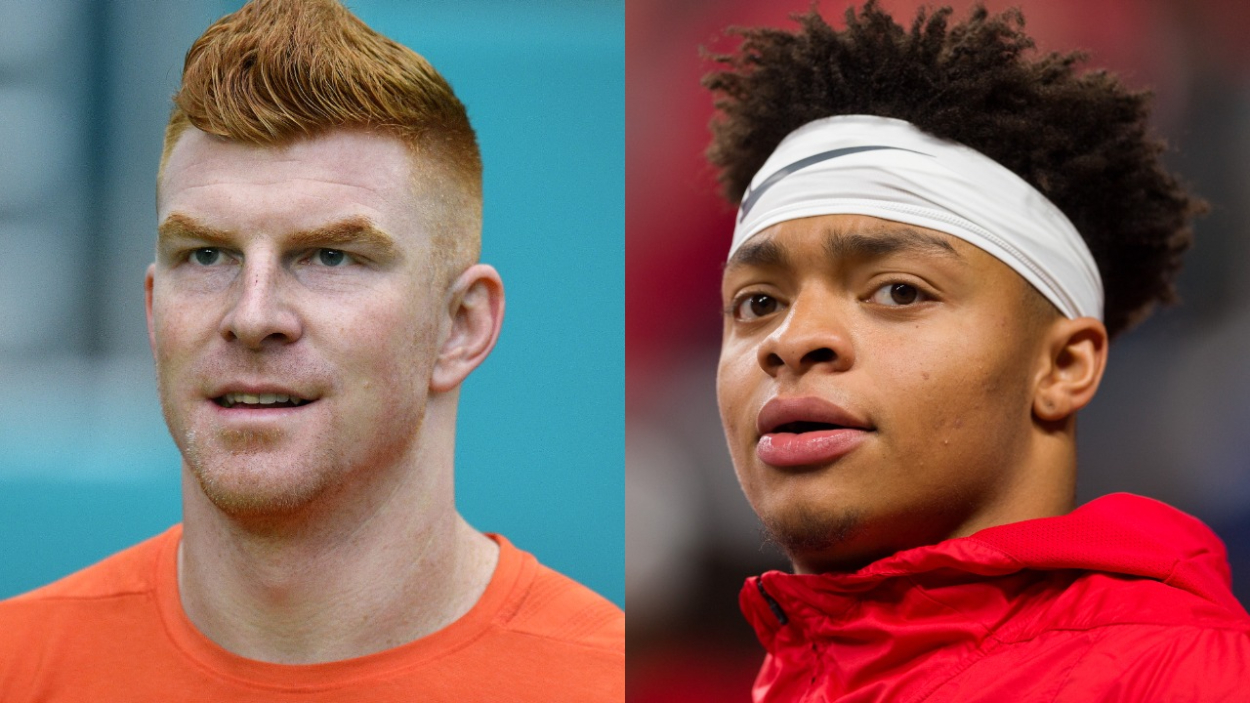 The Bears and other teams around the league, are currently kicking off training camp, so as the team prepares for the 2021 season, Dalton addressed all the hype around Fields.
"It (the attention) comes with that position," Dalton said, per ESPN. "He's a first-round pick. I understand that. But I also understand that I'm the starter. I understand that, I knew I signed a one-year deal. I knew that I was going to come in and I was going to be the starter, regardless of the situation, coming in. That's my focus."
He continued: "I'm not worried about all the stuff that's going to be going on with Justin because that doesn't affect me. At the end of the day, it's what I'm going to be doing and everything. Justin and I have a really good relationship and I'm trying to help him out as much as I can."
Dalton also seems to know that fans will be cheering Fields on throughout training camp, but he hopes they will cheer him on as well.
"I'm sure I'll be making big plays, too, and hopefully they'll be cheering at the same time," Dalton said, per ESPN. "For me being the starter, hopefully they would see that if I'm making big plays, that's good for everybody."
Dalton seems confident in his position as QB1.
Can Justin Fields beat out Andy Dalton for the Bears' starting quarterback spot?
All offseason, Nagy has made it clear that Dalton is the team's starter. Nagy was on the Kansas City Chiefs' staff during Patrick Mahomes' rookie season, so he saw firsthand how they transitioned from Alex Smith to Mahomes.
However, his latest comments kept the door open for Fields to become the team's starter this season.
According to the Chicago Sun-Times, Nagy recently embraced the notion that, with big performances in training camp and the preseason, Fields could make things interesting.
"That would be awesome. That would be awesome," Nagy said, per the Sun-Times. "Trust me, just like everybody in our city, I want Justin Fields to be electric. That's what we all want."
Nagy continued: "But we're worried about today — that's all we can [do]. You all saw that Giannis [Antetokounmpo] quote [about not harping on the past]. That's going up in all four of my kids' bedrooms, because we can't worry about the past; you can't worry about the future; today — that's all we can do."
As of right now, it appears Dalton has the edge over Fields for this season. But we know Fields is the Bears' quarterback of the future, and the door for him to become the team's starter in 2021 appears to be slightly open.
Stats courtesy of Sports Reference and Pro Football Reference