Andy Reid and the Chiefs Can Overcome the Clyde Edwards-Helaire Injury By Rescuing Another Running Back From A Crowded Backfield
The 2021 version of the Kansas City Chiefs looks completely different than the team that has been dominant for the past several years. The Buffalo Bills dominated Andy Reid's squad on Sunday Night Football. They showed why Kansas City can't win a Super Bowl with the current construction of their roster. The defense is terrible, but the offense also took a hit with an injury to Clyde Edwards-Helaire.
The Chiefs should consider looking for a replacement running back on the trade market.
The Kansas City Chiefs placed Clyde Edwards-Helaire on IR
Clyde Edwards-Helaire suffered a sprained knee in the Chiefs' Week 5 loss to the Bills. The team has placed him on injured reserve, which means he will miss at least three games.
Kansas City drafted Edwards-Helaire with the No. 32 overall pick in the 2020 NFL Draft out of LSU. There was some intrigue surrounding the selection. CEH excelled for LSU's national championship team.
CEH ran for 1,414 yards and 16 touchdowns as a junior for the Tigers. He also caught 55 passes. His all-around skill set as a running back seemed to fit Andy Reid's offense perfectly. Not to mention, the Chiefs were already loaded on offense with Patrick Mahomes, Travis Kelce, and Tyreek Hill.
Edwards-Helaire had a decent rookie season, but his play left much to be desired. The Baton Rouge, Louisiana native carried the ball 181 times for 803 yards and four touchdowns.
Despite a lack of scoring numbers in a high-powered Chiefs offensive scheme, CEH's raw talent provided a reason for hope moving forward. He's had an up-and-down start to the 2021 season but showed flashes with two 100-yard games and two receiving touchdowns.
Marlon Mack's talents are being wasted in Indianapolis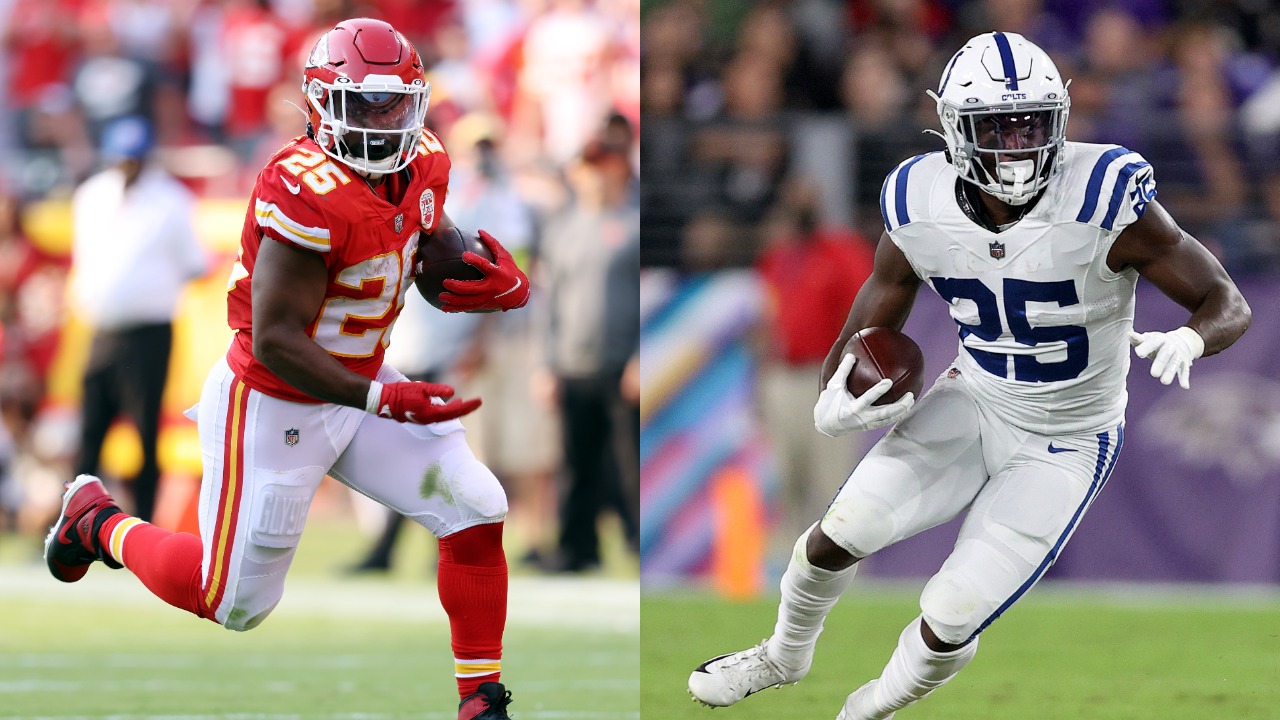 The Indianapolis Colts have a logjam at running back. Second-year back Jonathan Taylor is a stud and the clear No. 1 back in their offense. Nyheim Hines is heavily involved in the passing game.
Marlon Mack has had a limited role so far in 2021. The South Florida product has carried the ball just 20 times for 85 yards and zero touchdowns. More than half of his yards came in the Colts' Week 5 loss to the Baltimore Ravens.
Indianapolis drafted Mack in the fourth round of the 2017 NFL Draft, and he's shown flashes of being a legitimate No. 1 running back in the NFL. His best statistical season came in 2019 when he ran for 1,091 yards and eight touchdowns.
Mack has dealt with injuries, most notably a torn Achilles in Week 1 of the 2020 season. The burst he showed against Baltimore was promising, though. He carried the ball only five times but averaged 9.4 yards on those limited carries.
Mack's current role in Indianapolis is as a change-of-pace back. That doesn't seem like it's going to change either, especially considering how good Jonathan Taylor has looked.
The only way the fifth-year tailback may see more volume is if the Colts trade him. The Chiefs could be a suitor.
Andy Reid can replace CEH with Mack
The injury to Clyde Edwards-Helaire is not a back-breaker for Andy Reid and the Kansas City Chiefs. However, it's not something that the front office can overlook.
Darrel Williams, a fourth-year back out of LSU, is talented. However, we've never seen him as a lead back who gets the lion's share of the carries. Jerick McKinnon has never been a No. 1 either. The Chiefs may need to make a move.
ESPN's Jeremy Fowler reported that the Chiefs have "looked into" acquiring Marlon Mack from the Colts via trade. The move would make plenty of sense.
Even though Mack is a former 1,000-yard rusher, he's also coming off of a significant injury. Kansas City likely wouldn't have to give up a considerable haul to land him.
Between Mack, Williams, and McKinnon, the Colts' running back is more talented right now. Andy Reid and Eric Bieniemy should be able to get the most out of his abilities.
If the Chiefs can land Marlon Mack, they get a capable Clyde Edwards-Helaire replacement for a bargain.
Stats courtesy of Pro Football Reference
RELATED: Kansas City Chiefs' Brutal Injury Blow to Clyde Edwards-Helaire Means More Pressure for Patrick Mahomes After Disappointing Start to the Season