Andy Reid's Kids: The Kansas City Chiefs Head Coach Shares 5 Children With Wife Tammy
With an extensive background as an NFL coach, it's safe to say that Andy Reid is an institution in the football world. His career spans over two decades as a head coach, to include stints with the Philadelphia Eagles and then the Kansas City Chiefs. However, there is more to Reid than his football career. A husband and father of five, Andy Reid has been sure to prioritize his wife and kids throughout his career. Keep reading to learn more about his family.
Andy Reid has five kids — and more than one has made football a central part of their lives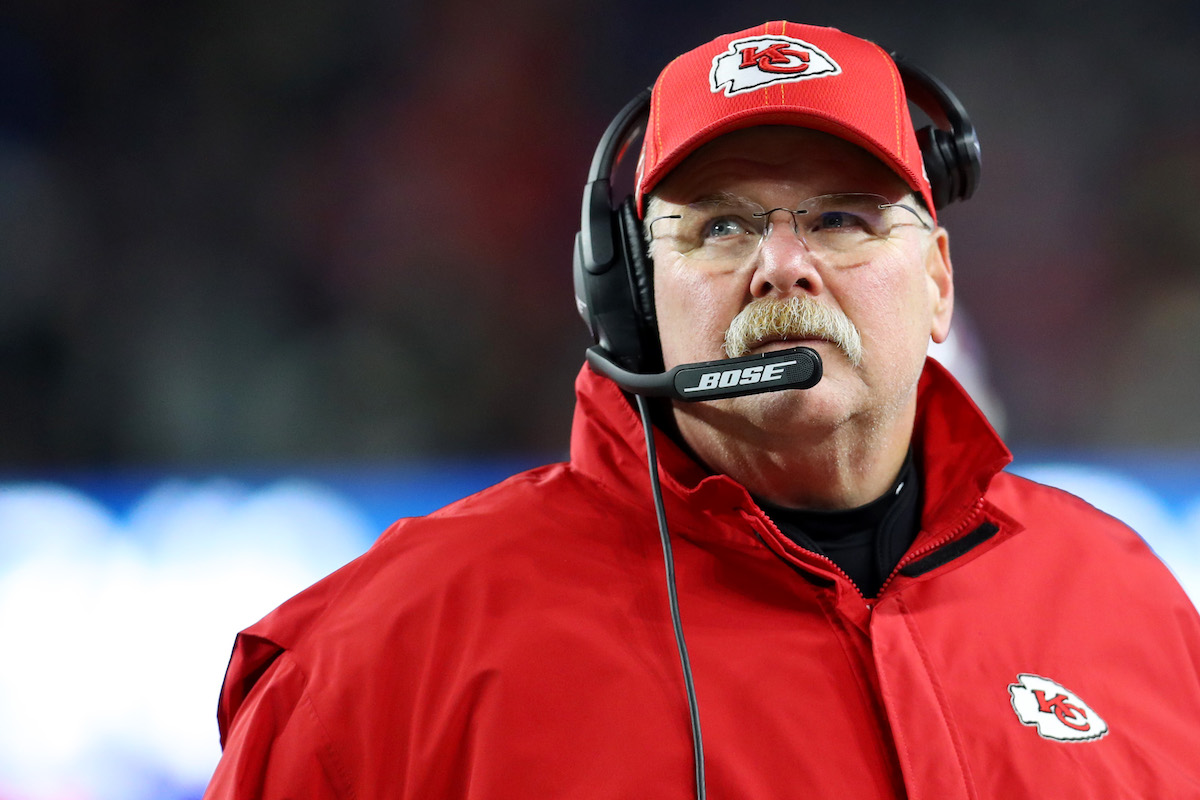 According to Just Jared, Reid met his wife Tammy while attending BYU, and they married in 1981. While she had no idea what she was getting into, she leaned into her new role as football wife. Tammy once said, "I had no idea what our lives were going to be like. I was just a roll-with-the-punches kind of girl, and I'm a bloom-where-you're-planted kind of girl. So we'd move. I'd get everybody ready, I'd get the house ready, we'd sell the house, do whatever we needed to do, jump in the U-Haul, and we'd just move." Together, Andy and Tammy Reid went on to welcome five kids: Britt, Spencer, Crosby, Garrett, and Drew Ann.
Reid's career has taken them to a wide array of places. Starting as a graduate assistant at BYU, Reid would bounce around to different offensive line jobs within the NCAA until 1992. In that year, he would garner his first pro gig, working as an assistant for the Green Bay Packers. From here, he would continue to rise through the ranks of the NFL. Despite a successful career and being named one of the nicest people in football, Reid has faced his share of family struggles.
Garrett Reid died in 2012
Garrett, Andy's oldest son, sadly suffered extensively from drug addiction for many years. In 2007, he went to prison for involvement in a car crash while under the influence of heroin. During his sentencing, he said to the judge, "I don't want to die doing drugs. I don't want to be that kid who was the son of the head coach of the Eagles, who was spoiled and on drugs and OD'd and just faded into oblivion."
In an attempt to help his struggling son, Andy gave him the opportunity for some structure by working unofficially with the Eagles strength and conditioning coaches at training camp. Sadly, it was here Garrett met his end, dying of an accidental heroin overdose on Aug. 5, 2012, in a dorm room at the training facility. When the Kansas City Chiefs made it to the Super Bowl, his brother Britt offered this quote:
"We all miss him. He would love this. He loved sports, he loved football. He would have been in heaven right here. It is what it is, but it would have been special, definitely."
Britt, the current outside linebackers coach for the Kansas City Chiefs, is no stranger to these types of challenges himself. He also found himself in trouble and went to jail on drug-related charges at the age of 22, long after he got involved with painkillers following a high school football injury. This was also not his only run-in with law enforcement. While Britt has since seemingly overcome his drug addiction and worked his way up from an entry-level position with the Chiefs, he is still finding himself in the midst of controversy.
Britt missed Super Bowl LV this year following a car crash
According to USA Today, Britt Reid hit two other vehicles not far from the team practice facility, just days prior to the team's championship appearance. Three people were injured in the accident, including a 5-year-old and 4-year-old, with the 5-year-old sustaining life-threatening injuries. When police searched the vehicle and smelled alcohol, Reid told police that he had consumed two or three drinks. This was a sad development for Andy Reid's son, who had come so far following his drug addiction struggles.
Despite these various struggles, Andy Reid has leaned on his faith and kept his family close throughout the years. When he secured his first Super Bowl win, the whole family gathered together in an emotional moment, mostly as they thought of their missing son and brother. "It was a moment with our family where we all got to cry and really feel my brother looking down on us," Crosby told The Philadelphia Inquirer. "Garrett's spirit was there. It was a huge family moment seeing my dad's dream finally come true."
How to get help: In the U.S., contact the Substance Abuse and Mental Health Services Administration helpline at 1-800-662-4357.
RELATED: Andy Reid Has Achieved Something No Coach has Done in NFL History