Andy Reid Plans To Use His New Super Bowl Ring To Get Free Food
For Andy Reid and the Kansas City Chiefs, last year's Super Bowl victory was a long time in the making. Now the team can enjoy the fruits of their labor. With a Super Bowl win comes a lot of benefits.
You typically get to host the opening game of the next NFL season (not as much of a prize this year, but still an honor). Of course, you get a gaudy ring as well. But as far as Reid is concerned, there's one NFL offseason perk he's really hoping for: free food. 
Andy Reid's career before he won a Super Bowl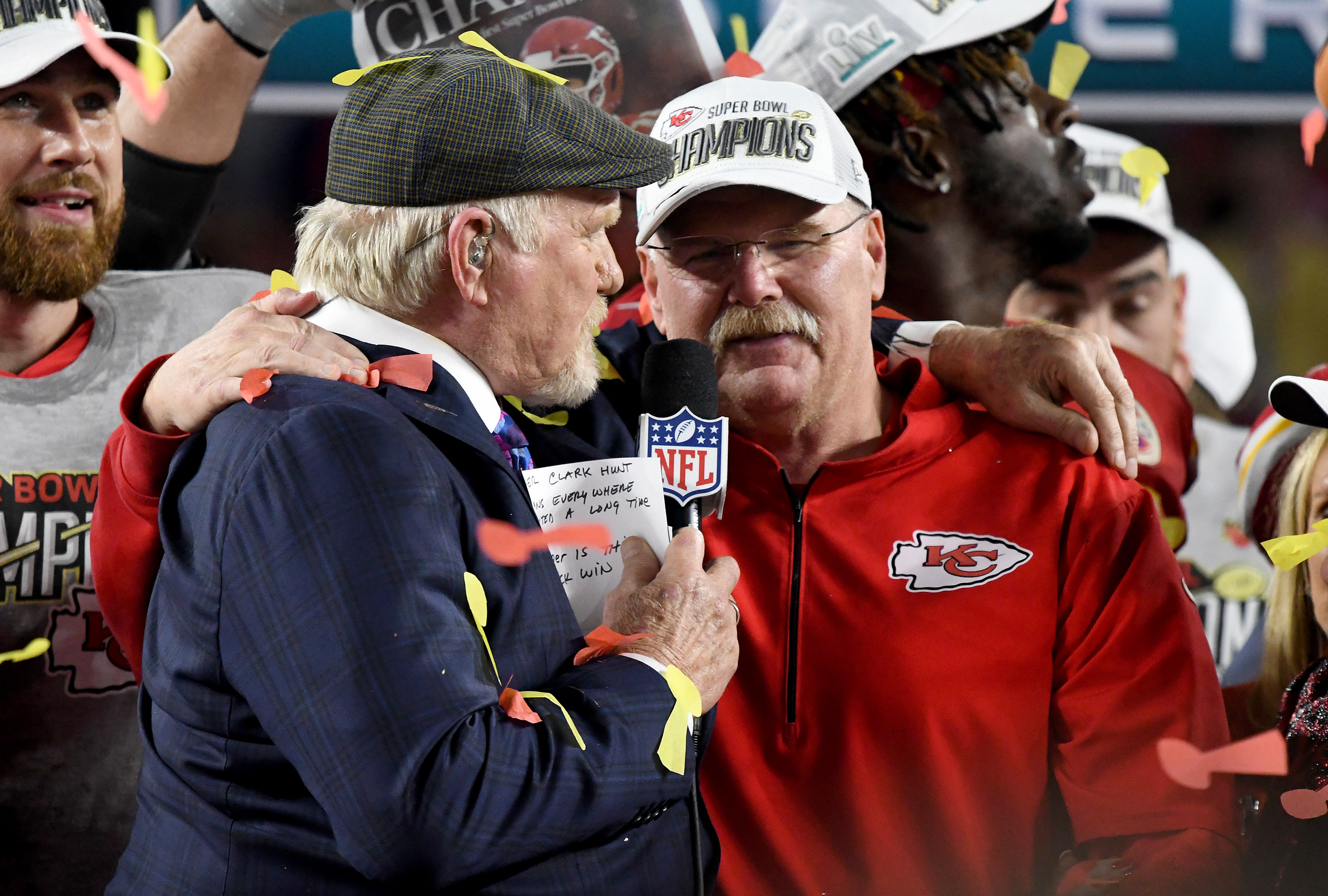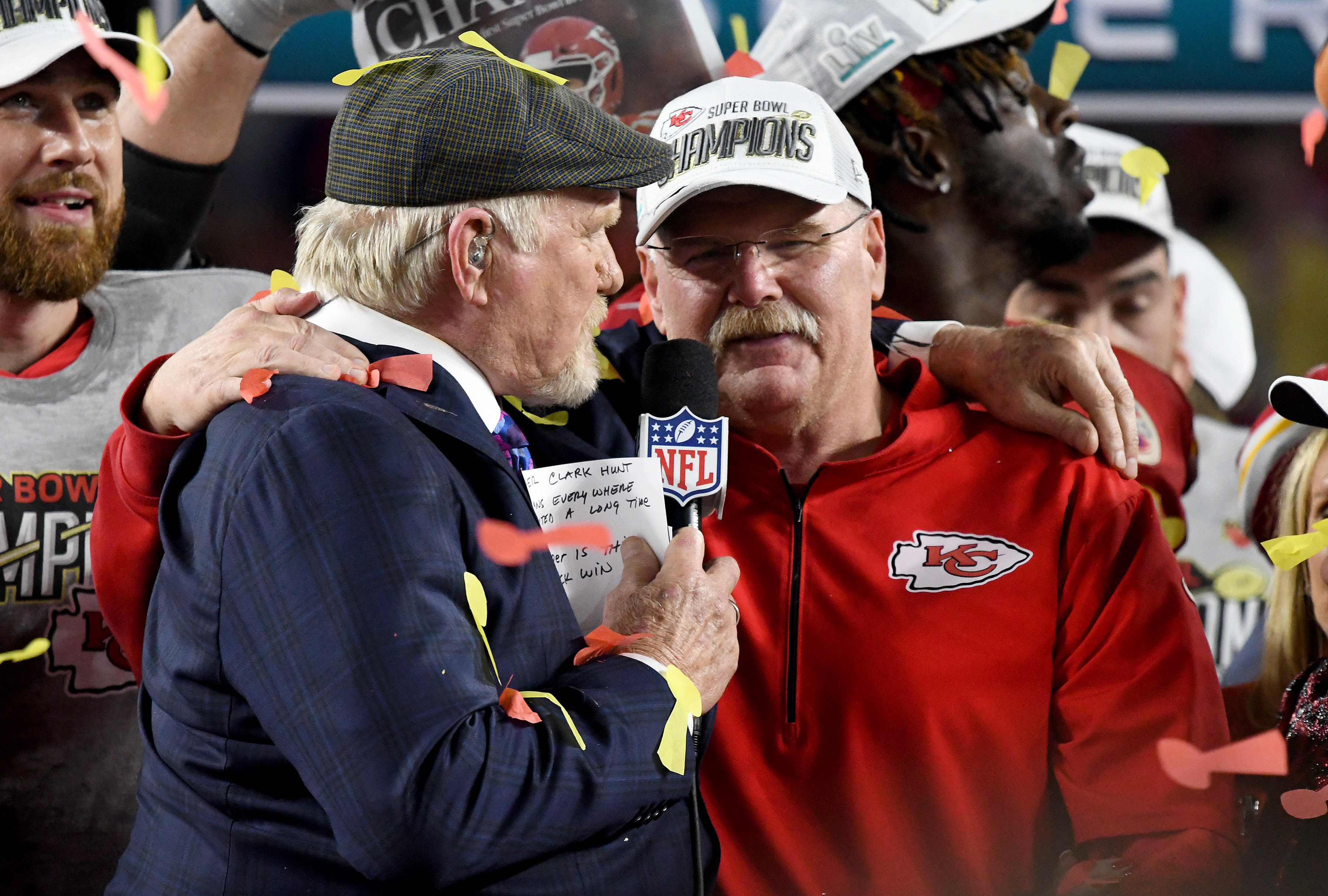 Reid is one of the longest-tenured coaches in the NFL. He's had two head coaching stops after years as an assistant. Reid's first stop was in Philadelphia. According to Pro Football Reference, he spent 14 years coaching the Eagles.
Reid's teams were competitive most of the years he was there. While Reid struggled at times with clock management in individual games, he was known for being an exceptionally talented offensive coach who got his teams to elite levels.
He was also particularly adept at mentoring quarterbacks. Reid helped enable Donovan McNabb to become one of the best playmaking quarterbacks in football during his run. He also took a chance on signing Michael Vick after Vick got out of jail. Reid helped Vick continue his development and extended his career with several productive years under center in Philly. 
In 2013 Reid went to Kansas City, where alongside quarterback Alex Smith he made the Chiefs nearly instant Super Bowl contenders and a perennial playoff team. Smith was thought by many to be a lost cause after playing well in San Francisco but losing his job to Colin Kaepernick. Smith experienced a career renaissance in Kansas City, and it's not hard to tie that back to Reid's expert tutelage. 
Reid was then responsible for drafting Texas Tech quarterback Patrick Mahomes. In his first season as a starter, Mahomes won the MVP while throwing for over 50 touchdowns. In his second season, he and Reid guided the Chiefs to a Super Bowl victory. 
The many near misses of Andy Reid
Consider how many times Reid nearly tasted championship success prior to actually winning one: 
He appeared in multiple NFC championship games with the Eagles, losing the game four times (2001-2003, 2008). 
He made it to one Super Bowl in Philadelphia, losing to the New England Patriots in 2004. 
The Kansas City Chiefs made it to the AFC title game in 2018 under Reid's watch, but couldn't hold onto a late lead and lost to Reid's recurring rivals, the Patriots. 
Much like the Buffalo Bills, Reid got a reputation as someone who was gifted but couldn't win the big game. It was an unfair label — after all, how many coaches even make it as far as Reid had?
Football is a team game that requires a lot of men to come together in order to succeed. But Reid finally got over the hump during the 2019-2020 season, defeating the San Francisco 49ers in the Super Bowl. 
Plans for his new Super Bowl ring
When asked how he planned to celebrate his victory, USA Today reported that Andy Reid claimed he wanted to eat "the biggest cheeseburger you've ever seen." He also expressed hope that he'd be able to use his ring to get a free one: 
"You wear it for special occasions…Or if you want a free cheeseburger, you just point right there and show 'em that ring and you might get one."
Forget free cheeseburgers: if Reid goes anywhere in the greater Kansas City area, Super Bowl ring or not, he can expect to receive free meals for quite a long time.