Andy Reid Can Turn Back the Clock If He Brings a Familiar Face to Kansas City to Help Patrick Mahomes
The Kansas City Chiefs have been one of the most surprising teams of the 2021 NFL season, but for all the wrong reasons. Currently sitting at 3-4, Patrick Mahomes and company are reeling, but there may be light at the end of the tunnel. With the trade deadline looming, the Chiefs should make a move for DeSean Jackson to see if he can relive the past in Andy Reid's offense.
The Los Angeles Rams are looking to trade DeSean Jackson
The Los Angeles Rams signed wide receiver DeSean Jackson to a one-year contract before the 2021 season. Jackson spent his previous two seasons in his second stint with the Philadelphia Eagles.
Jackson seemed to be entering an ideal situation at this stage of his career when he joined the Rams. Matthew Stafford's arrival brought excitement as he was a clear upgrade over Jared Goff. Having a speedster like Jackson who can stretch the field should've led to a match made in heaven.
Head coach Sean McVay also has a history with the three-time Pro Bowler. McVay was Jackson's offensive coordinator for his three seasons in Washington.
Jackson raved about the opportunity to link up with his former offensive coordinator once more. "There were other options out there. I could have went to other teams, other places," he said. "But my focus was really reuniting with Sean McVay."
However, things didn't work out exactly how they planned. Jackson appeared in seven games for LA but recorded just eight receptions for 221 yards and one touchdown. The Rams' crowded wide receiver room features Cooper Kupp, Robert Woods, and Van Jefferson. McVay also wants to see what he has in rookie Tutu Atwell.
According to USA TODAY Sports, the Rams are looking to find a trade partner for DeSean Jackson.
Andy Reid could reunite with the former Eagles Pro Bowler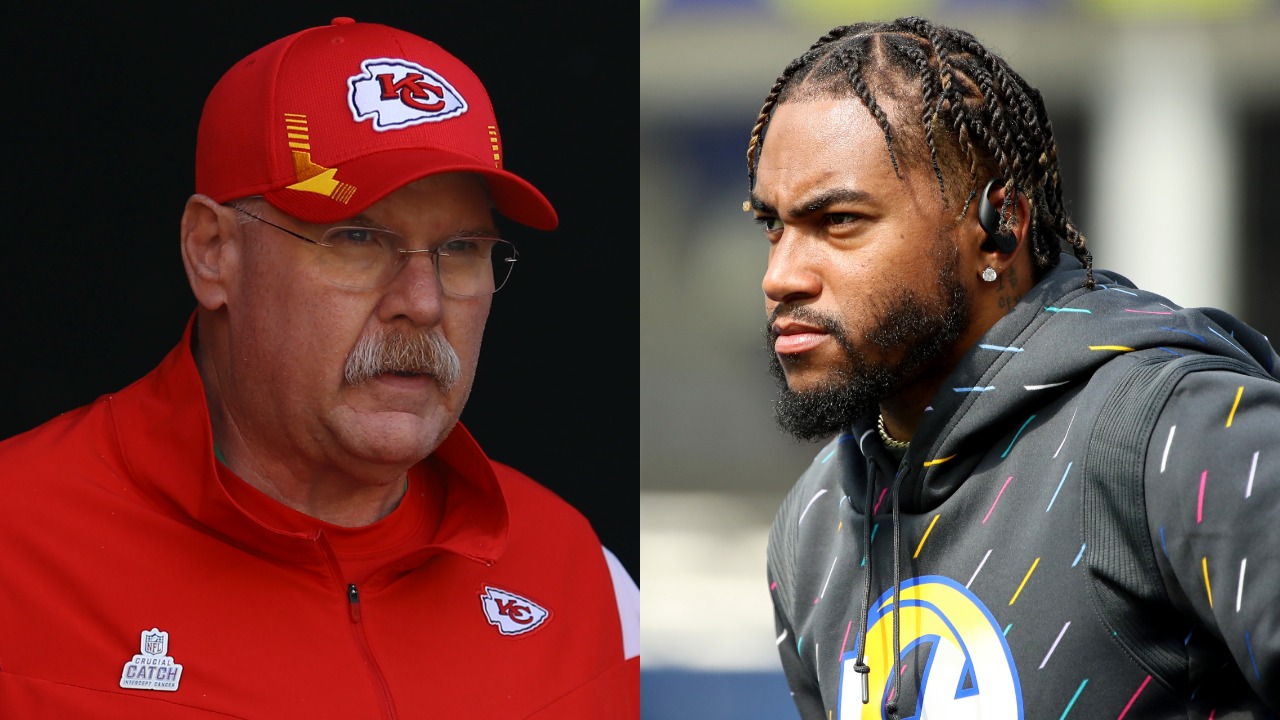 Andy Reid's Chiefs have struggled through the first seven weeks of 2021. Still, with Patrick Mahomes running the show, Kansas City is far from out of the hunt.
The news of the Rams putting DeSean Jackson on the trade block has to bring up fond memories for Reid. He and Jackson made magic happen during their time together with the Philadelphia Eagles.
Jackson spent five seasons under Reid in Philadelphia before the head coach departed for Kansas City. The LA native did some of his best work catching passes from Donovan McNabb and Michael Vick in Reid's offense.
Jackson caught 274 passes for 4,785 yards and 23 touchdowns from 2008 to 2012. The former California Golden Bears standout earned two Pro Bowl selections during that span.
The veteran wide receiver speaks highly of his first NFL coach. "Father figure," Jackson said of Andy Reid via the All the Smoke podcast. "Andy Reid was really like a second father for me. … He respected me, was there for me. He didn't really care if he was too hard on me."
The two have a close relationship, so it wouldn't be far-fetched for the Chiefs to trade for DeSean Jackson.
Patrick Mahomes could use another reliable weapon
Some may look at Kansas City acquiring DeSean Jackson as the rich getting richer. However, the Chiefs aren't enjoying their riches so far in 2021.
On paper, the offense is still lethal. Still, something is off with this football team. Andy Reid and Eric Bieniemy cannot turn down the opportunity to add Jackson to this offense.
Patrick Mahomes hasn't been as dominant as he's been in years past. The Chiefs offense goes as he goes, and his poor decision-making has hurt the team.
Mahomes has thrown 18 touchdowns, but he's also tossed nine interceptions. His talent hasn't declined, but the overall talent on the Chiefs' roster has. Adding Jackson to the fold could give the team a significant boost.
Kansas City signed Josh Gordon, but he's provided hardly any returns. In three games, he's caught one pass for 11 yards on just two targets. Coach Reid, however, would find a way to get Jackson involved.
In Jackson, Mahomes would get a reliable veteran receiver who can still take the top off defenses and stretch the field. He appears to be a much more natural fit in this offense than Gordon. Teams would still need to account for Tyreek Hill and Travis Kelce, too.
At 34 years old, DeSean Jackson won't return to Pro Bowl form. However, finishing out his career with Andy Reid would be beneficial for both sides.
Bringing in a familiar face could be the key for Patrick Mahomes and company to return their offense to dominance.
All stats courtesy of Pro Football Reference.
RELATED: DeSean Jackson Declares Patrick Mahomes and Tyreek Hill's Explosive Connection Is a Blast From the Past For Andy Reid's Offense