Andy Reid's Highly-Anticipated Return to Philadelphia Is Already off to a Troubling and Worrisome Start
Andy Reid is one of the greatest head coaches in NFL history and a lock to be a first-ballot Hall of Famer.
He finally achieved his goal of winning a Super Bowl with the Kansas City Chiefs two years ago and is now attempting to stack up a few more with Patrick Mahomes as his quarterback. He failed to knock off Tom Brady and the Tampa Bay Buccaneers this past February. However, there's nothing to say the Chiefs won't be back in that position later this year.
Andy Reid and the Chiefs play the Eagles in Week 4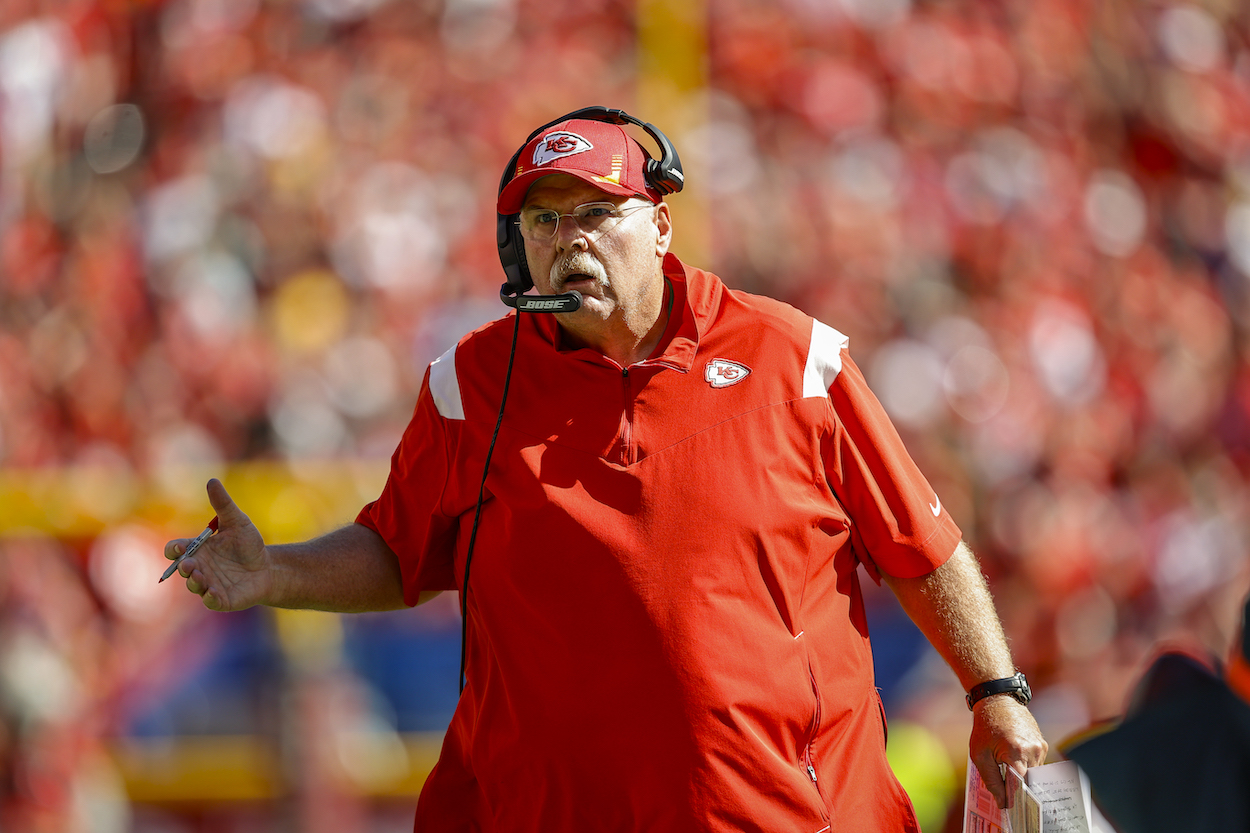 Before evaluating the Chiefs' Super Bowl odds, they first have to get through the regular season. Believe it or not, the Chiefs are actually off to a pretty lackluster start this year. They're 1-2 and sit dead last in the AFC West.
They just recently lost a pivotal matchup at home against Justin Herbert and the Los Angeles Chargers. Many view Herbert and the Chargers as Reid and the Chief's biggest competition this season — beating them in their rematch later this year will be a must.
The good news for Reid and the Chiefs is that they're playing a far easier opponent in Week 4. They're scheduled to face the Philadelphia Eagles, who are coming off an absolutely embarrassing loss on Monday Night Football.
This will be Reid's first trip back to Philadelphia, the team he coached from 1999-2012, since 2013. It's a highly anticipated return for both Reid and the entire Eagles fan base. However, recent complications are already putting the return in jeopardy.
Andy Reid was rushed to the hospital after Week 3's game
Following the Chiefs' Week 3 loss to the Chargers, Reid was rushed away to the hospital. It's been reported that this was just a precautionary event due to Reid feeling ill. However, it's concerning nevertheless.
Reid has since been released from the hospital and is back at Chiefs practices and workouts. With that said, the last thing you'd want to see is Reid falling ill again and being unable to travel to Philly this upcoming weekend.
Not only do the Chiefs need their head coach in attendance from a morale/play-calling perspective, but the Eagles fan base presumably wants to honor him with a standing ovation. Most Eagles fans are incredibly fond of their former head coach and would love to show him respect, especially after his recent Super Bowl win.
The Chiefs should dominate
Assuming Reid remains in good condition and can lead his team to Philadelphia, it should be a pretty fun homecoming for the veteran head coach.
The Chiefs are coming off a frustrating loss and are looking to bounce back in a major way, whereas the Eagles have looked poorly coached two weeks in a row. First-year Eagles head coach Nick Sirianni has really struggled with play-calling duties, and quarterback Jalen Hurts is coming off back-to-back bad performances.
This is the type of opponent Reid, Mahomes, and the rest of the Chiefs should be able to feast on.
Fingers crossed Reid can remain in good condition between now and Sunday. He really does deserve to experience the special moment of returning to Philly.
All stats courtesy of Pro Football Reference.
RELATED: Patrick Mahomes Almost Teamed up With an NFL Legend if Not for the Kansas City Chiefs' Extremely Risky Trade