Andy Reid's Life Is Unfortunately Tragic
Andy Reid is one of the most respected coaches in the NFL. He is also one of the highest-paid. He has been a head coach in the NFL since 1999, first with the Philadelphia Eagles and currently in his role with the Kansas City Chiefs. His career has spanned decades, helping to develop both legendary players and championship teams. Unfortunately, his personal life has not been quite as prosperous.
Andy Reid's sons have histories of abusing drugs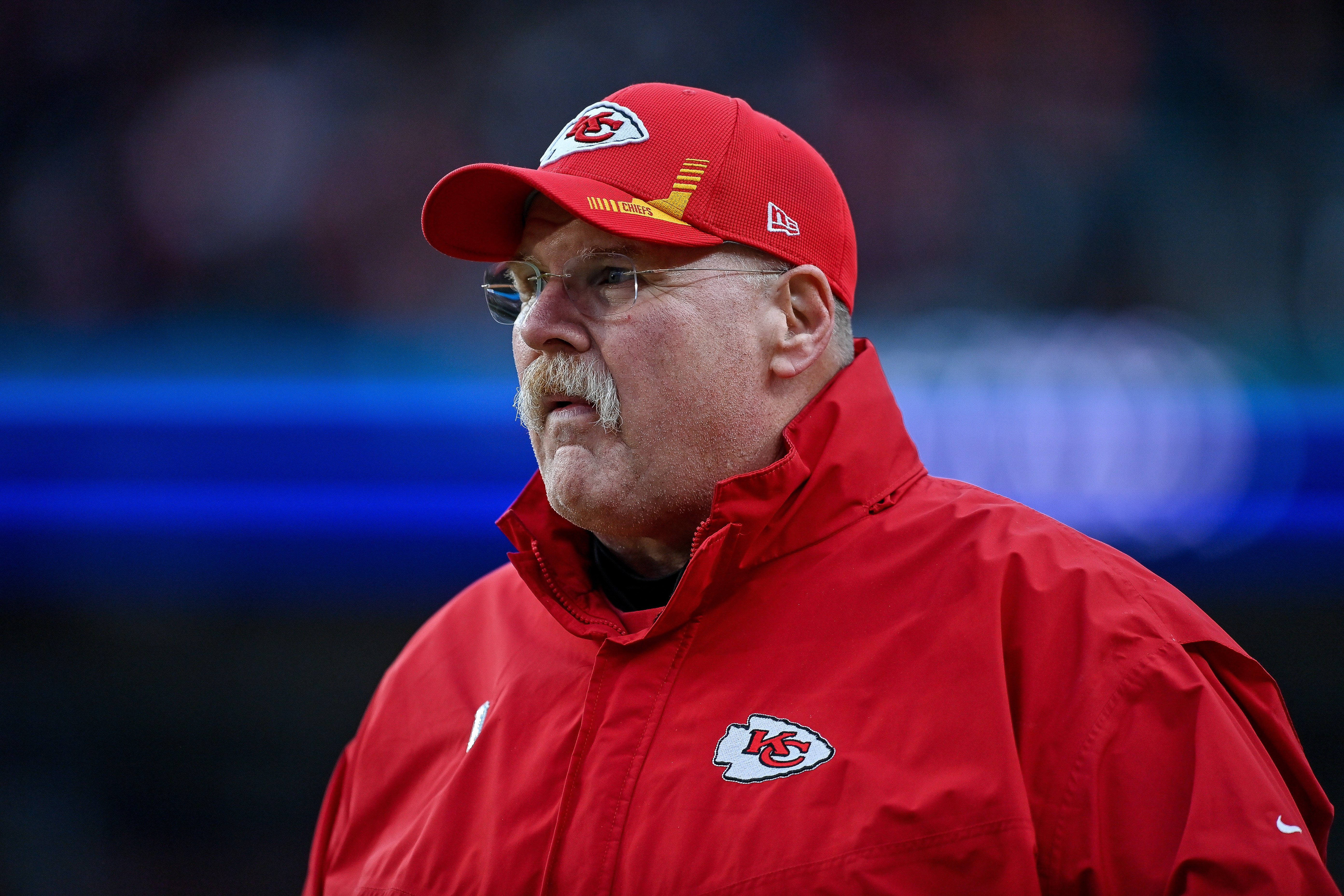 Andy Reid is the father of five children. Two of his sons, Garrett and Britt, both had troubled pasts. In 2007, the men were arrested for drug-related crimes.
At the sentencing hearing, the judge referred to the Reid household as a "drug emporium," Heavy reported. A search of their home uncovered a plethora of prescription and illegal drugs.
Coach Reid and his wife were present in the courtroom for sentencing but declined to comment. The judge acknowledged that the couple loved their boys and that it was obvious they had tried to get them help to no avail.
But that didn't get in the way of Andy Reid coaching the Philadelphia Eagles
Andy Reid rarely missed practice and claimed that his boys' legal and personal problems would not affect his coaching of the Philadelphia Eagles. He had no intention of resigning from a game he loved so dearly. He did take a five-week leave in the offseason in 2007, but when it was game time Reid was nothing but business.
Reid agreed to an interview with Philly Magazine, during which he and his wife talked about getting their sons into rehab. They discussed the struggle of being parents to two children who had become drug addicts. 
Britt Reid is facing a felony DWI charge
When he was 22 years, Britt was sentenced to 8 to 23 months jail time plus probation, according to ESPN. At a young age, he started using painkillers after getting hurt in a high school football game. That led to serious drug addiction over the coming years. In 2007, he pointed a gun at someone during a case of reported road rage. He was charged with a felony of carrying a firearm without a license.
In January 2021, Britt Reid was involved in an accident involving his and two other vehicles. A blood test found that his blood alcohol concentration was .113, higher than the .08 legal limit, according to the Jackson County, Missouri, Prosecutor's Office. Among those injured in the crash was a 5-year-old girl.
Reid pleaded not guilty in June 2021 to a felony DWI charge; his trial was postponed until September 2022, according to USA Today.
Garrett Reid died of an accidental overdose in 2012
Reid's older son, Garrett, was a known drug user and dealer. He was also sentenced to 23 months in prison in 2007 for his involvement in a car crash while under the influence of heroin use. At sentencing, according to ESPN, he told the judge:
"I don't want to die doing drugs. I don't want to be that kid who was the son of the head coach of the Eagles, who was spoiled and on drugs and OD'd and just faded into oblivion."
Tragically, Garrett was unable to beat his drug addiction and struggled for many years to overcome it. The Reid family did everything they could to support him.
In 2012, Coach Reid arranged for Garrett to work in an unofficial capacity with the Eagles strength and conditioning coaches at training camp. It was during that time that he lost his battle with drug addiction. On Aug. 5, 2012, he died of an accidental heroin overdose in a dorm room at the training facility at Lehigh University in Pennsylvania. He was 29.
Andy Reid's life is a lesson in overcoming tragedy
The Reid family leaned on their Mormon faith to overcome this unthinkable tragedy. The Philadelphia Eagles players and fans offered their support and condolences were sent from throughout the NFL league. The pain, however, seemed too much to bear and in December 2012, Andy Reid was fired as head coach of the Philadelphia Eagles.
It took Reid only four days to find a new position with the Kansas City Chiefs. In 2013, he gave his son Britt an entry-level position with the Chiefs coaching staff. Unfortunately, Britt was put on administrative leave following his January 2021 accident, and his contract was allowed to expire.
It's safe to say that at age 63, Andy Reid has faced — and overcome — plenty of personal tragedies in his lifetime.
How to get help: In the U.S., contact the Substance Abuse and Mental Health Services Administration helpline at 1-800-662-4357.