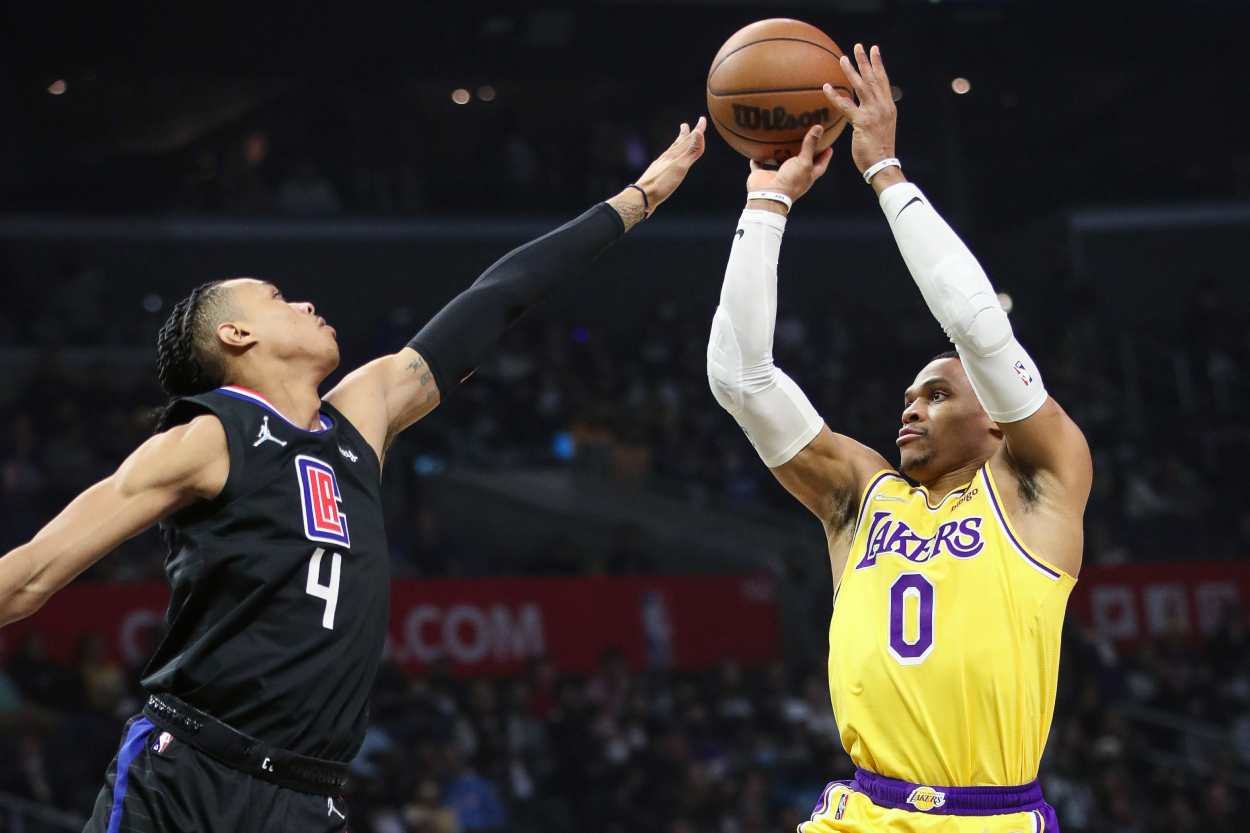 Another Game, Another Benching and Another Embarrassing 'Shaqtin-A-Fool' Moment for Lakers guard Russell Westbrook
Los Angeles Lakers guard Russell Westbrook struggled through a 1-of-10 shooting night on Saturday and got benched for a second time on the season.
Another day, another embarrassing 'Shaqtin-A-Fool' moment for Russell Westbrook. Another day, another crunch-time benching for the slumping Los Angeles Lakers guard.
Finally, at long last, the Lakers are seeing what GM Rob Pelinka should have envisioned months ago when he traded for the mercurial point guard with the wayward shooting stroke: LA is better off without Westbrook.
Westbrook had another horrid shooting night for the Lakers and heard the boos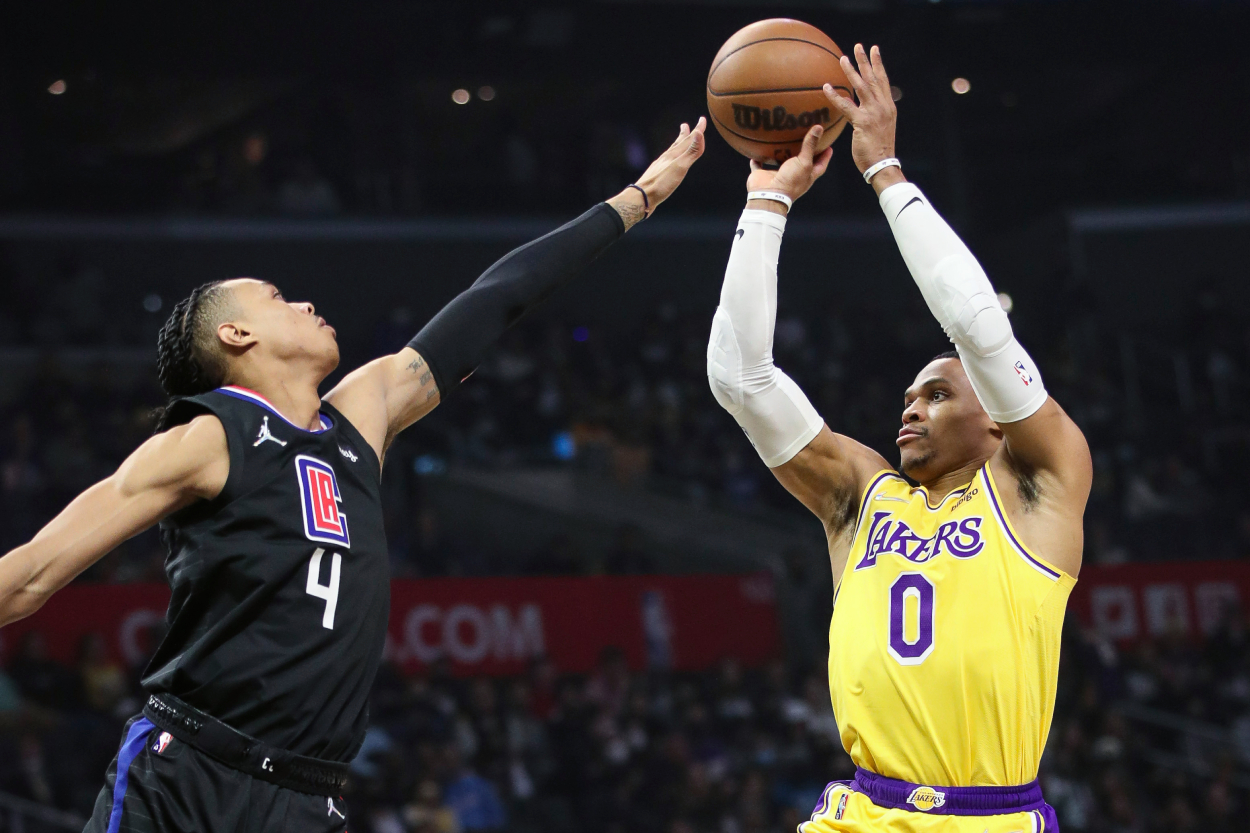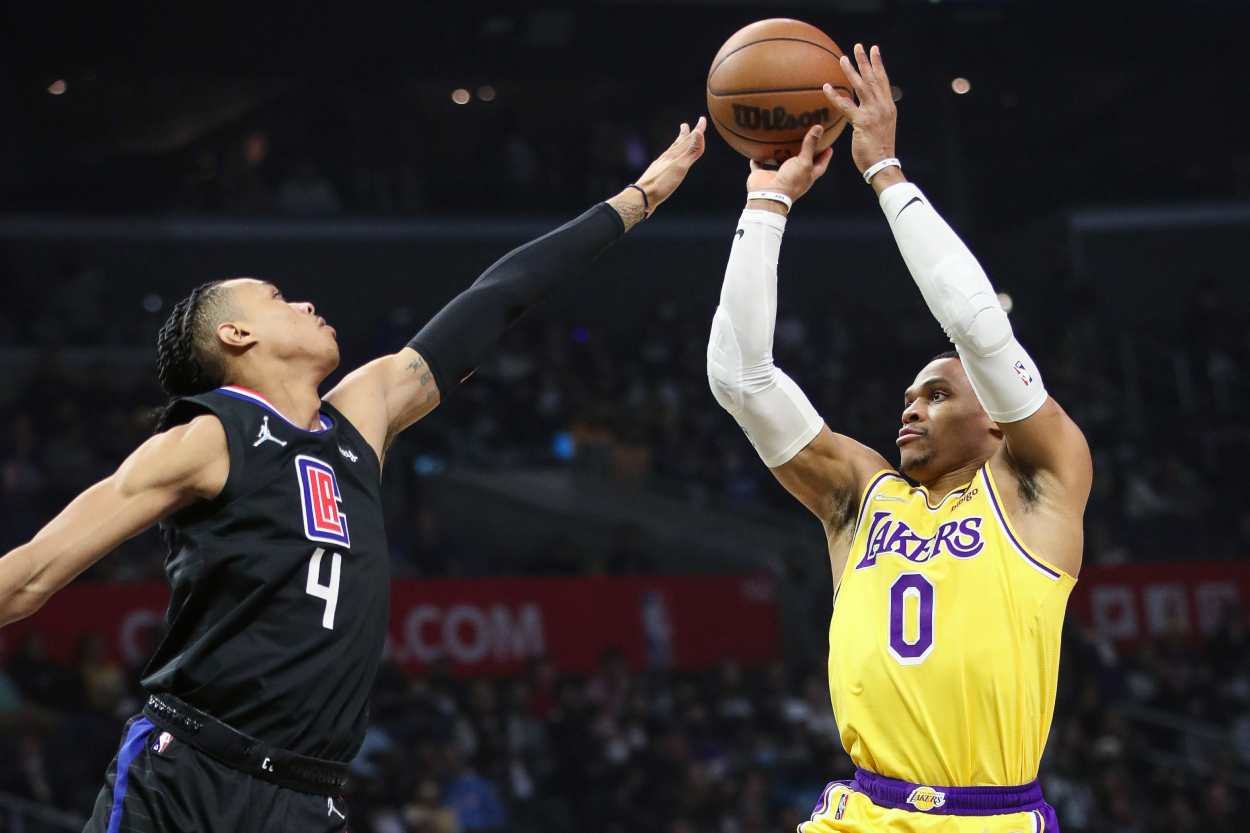 Russell Westbrook endured yet another hide-your-eyes, dismal shooting night on Saturday as the LA Lakers rallied from a 21-point deficit to beat the New York Knicks in overtime.
Westbrook made just 1 of 10 shots for the game and scored only five points. One of those misses was another hideous bank attempt from the left wing that caused the Jerry West-like NBA logo on the backboard to duck for cover. When Westbrook's missle of a shot hit off the backboard, missed the rim, and ricocheted to a surprised New York defender, ABC play-by-play man Mike Breen pointed out the disgusted groans emanating from Lakers fans at Crypto.com arena. Not to be outdone, the famed "Shaqtin-a-Fool" Instagram handle had the wayward missed shot posted by halftime.
Westbrook is averaging 18.4 points, 7.8 rebounds, and 7.7 assists for the season. The problem, however, is his shooting. His field goal percentage is down to 43.7%, and he is a total non-factor from three-point range at 30.5%. Westbrook has made just 11 of his 40 shots (27.5%) and only 2 of 12 three-pointers (16.7%) in three games this month.
Russell Westbrook was benched again, and the Lakers were better off without him
In mid-January, LA Lakers coach Frank Vogel pulled the plug on Russell Westbrook's on-court struggles. On Jan. 19, Vogel pulled Westbrook in the fourth quarter of an eventual loss to the Indiana Pacers and never went back to the former MVP down the stretch.
Following that benching, Westbrook left the bench area seconds before the final buzzer, stormed out of the arena, and refused to speak to the media. Two nights later, Vogel addressed the matter and stressed that he has full autonomy to decide whether or not to bench players during games when they struggle.
On Saturday, Vogel played his trump card again to save the Lakers from another humiliating loss. Vogel kept Westbrook out of the game for the first 6 1/2 minutes of the fourth quarter before sending the guard into the game. That's when the Lakers proceeded to squander a six-point lead. Two Westbrook free throw misses played a role in the meltdown, and the Knicks got the game to OT on a dramatic 3-pointer by RJ Barrett.
LA gutted out the game in overtime, but only because of the brilliance of LeBron James. In his first game back after missing five straight because of swelling in his left knee, James had 29 points, 13 rebounds, and 10 assists as LA topped New York 122-115.
Afterward, a usually argumentative Westbrook had a subdued tone. He tried putting a positive spin on the night by saying the final result was all that mattered to him.
"It happens," Westbrook said in his postgame news conference as reported by ESPN. "I missed some shots that I normally make. Like I said, I don't want to keep making it about me. When I play bad, you guys ask me (an expletive) ton of questions. And then, when I shoot the ball well, I don't hear too many of those questions. So I don't want to keep making it about me and what I'm doing. We won the game, and that's the most important part."
The Lakers can't unload Westbrook, and they might have to resort to more benchings
The final box score said what everyone already knew: The Lakers were better off without Westbrook. Sadly, that's how it's been most of the season with a guard who clearly can't play well in an LA offense where the ball is not in his hands a majority of the time.
With Westbrook on the floor for 29 minutes on Saturday, the Lakers were a minus-15 on the scoreboard. Meanwhile, Talen Horton-Tucker (plus-22), Trevor Ariza (plus-11), and Malik Monk (plus-8) were much more effective options.
Afterward, Vogel said what NBA experts have known for years on teams that have LeBron James running the show. The dynamic forward will have the ball in his hands, and he functions at his best when elite shooters surround him. GM Rob Pelinka, whose job was to construct the roster around James, should have known that. That's why TNT analyst Charles Barkley blasted Pelinka a few weeks ago for LA's struggles.
Vogel was right to bench Westbrook again on Saturday because he doesn't fit on this roster. The Lakers will likely be saddled with the guard the rest of the season because Westbrook is so polarizing and so roster-specific to succeed.
James and Anthony Davis wanted the Lakers to trade for Westbrook last summer. The franchise gave them their way and now look at the mess with which they are stuck. LA is a mediocre 10-7 when the three stars have played together this season. That's not good enough to win a championship, and it might not be good enough to win a playoff series.
There is no easy fix or solution to the Lakers' dilemma. They're stuck with Westbrook, and their only move from here might be to continue benching the guard in crunch time so he can't take the season down with him.   
Statistics are courtesy of ESPN.com.