Anthony Davis-Dwight Howard Altercation Overshadows Legitimate Concerns for Stumbling Lakers
The Los Angeles Lakers haven't had the start they hoped for after a busy offseason. Most notably, the Lakers added former NBA MVP Russell Westbrook. They brought in a bevy of veteran role players, including Carmelo Anthony, Rajon Rondo, Dwight Howard, Kent Bazemore, Trevor Ariza, and Wayne Ellington. But LA stumbled to an 0–6 preseason and have struggled in the first two games that counted, as well.
In their Oct. 22 loss at Staples Center to the Phoenix Suns, big men Anthony Davis and Dwight Howard scuffled during a timeout. While that fracas captured national attention, two competitors having a momentary disagreement obscures more fundamental problems cropping up in Tinseltown.
The Lakers have health and quality concerns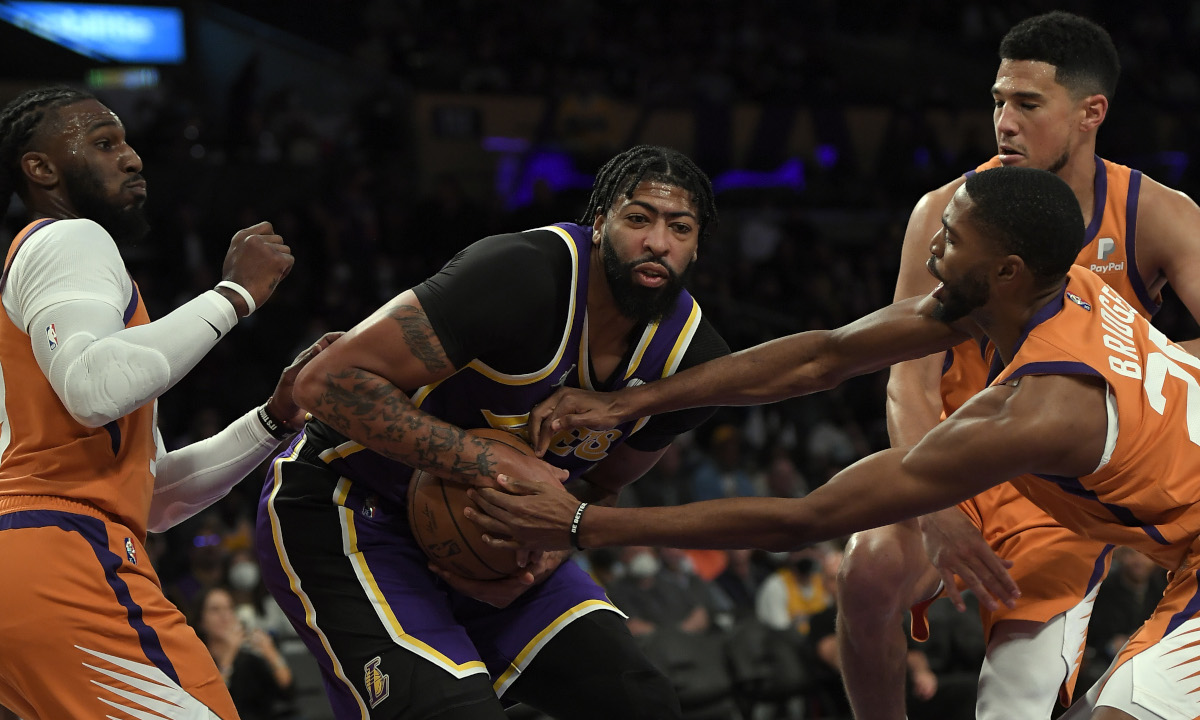 One of the most common criticisms the Lakers faced this offseason was their age. They are the oldest team in the NBA with an average age of 32.3, more than a year older than the next most senior group in the league, the Brooklyn Nets (31.0).
LA's average age is more than three years higher than last year's oldest club, the Los Angeles Clippers, who checked in at 28.8 years on average.
While the Lakers have waved off concerns about their collective longevity, their current average age would be the oldest in NBA history. Only two other teams posted an average age of 32.0. They were the Houston Rockets in 1997–98 and the Utah Jazz in 2000–01. While both of those teams made the playoffs, neither survived the first round.
Two of the old heads, Ariza and Ellington, haven't played this season. Ariza is out until at least early December after ankle surgery, while Ellington tweaked a hamstring during the preseason.
But LA is also without two of its younger players. Talen Horton-Tucker had surgery to repair a torn thumb ligament. He's out until at least mid-November. Kendrick Nunn, a free-agent addition from the Miami Heat over the summer, is out for two to three weeks at least because of a bone bruise on his knee.
The Davis-Howard dispute is not a big deal moving forward
The optics weren't good when Howard and Davis jawed and pushed each other during a first-half timeout. Both players described it as a one-off after the game, per NBA.com. So, too, did coach Frank Vogel.
"We're competitors and just want to win games," Davis said. "It's over with."
Howard was more vocal about the incident but made the same point.
"We were upset about a play. We both had a disagreement, we both just got into our feelings. It happens. We're grown men. We're trying to figure things out."
Per Sports Illustrated, Vogel dismissed the scuffle:
"Dwight and AD had a miscommunication on a coverage, and they talked it out, but you know, when you're getting you're a** kicked, sometimes conversations get heated. Those guys love each other, they talked it out, and that's something that is going to happen time from time. I'd rather our guys care than not care."

Lakers coach Frank Vogel
The altercation being as public as it was drew a lot of attention. But there's issues far more concerning for the Lakers.
Westbrook says a little adversity isn't a bad thing for the Lakers
Turnovers were a concern for Westbrook and the Lakers during the preseason. In four games and 101 minutes, Westbrook coughed the ball up 23 times against just 20 assists. In two regular-season games thus far, the ratio is a bit better, but 13 assists and eight giveaways aren't terrific, either.
According to Dave McMenamin of ESPN, he's not panicking.
"I'm OK with adversity, honestly," Westbrook said. "I never panic throughout the course of a season. Especially at the start of the season. There's really no need to. The season is too long, and nobody is winning nothing right now."
LA is turning the ball over on 16% of its possessions right now, ranked in the bottom 10 in the NBA. Their net rating per 100 possessions is minus-6.5. Vogel said during the offseason that the Lakers wanted to play fast, and they've done so. Their 106.75 possessions per game are tied for the league's second-fastest pace, trailing only the Golden State Warriors.
But LA is shooting only 43.6% overall, negating their solid 39.5% mark from 3-point range. Westbrook is 10-of-28 so far and has bricked all seven of his deep tries. Advertised as a 3-and-D wing, Bazemore is only 3-for-11 from long range through two games.
Davis and LeBron James are holding up their end, averaging 27.5 and 29.5 points, respectively. But Anthony is their third-leading scorer at 12.5 a night, and Westbrook (11.5) is their only other double-figure scorer.
The Lakers are a veteran-laden team with a roster packed with players who have won at the highest levels. The odds are good; they'll figure it out. But until they do, it's going to be ugly.
Statistics courtesy of Basketball Reference and NBA.com.
RELATED: Lakers Legend James Worthy Sends Stern Message to Anthony Davis: 'Needs to Get Damn Nasty And Do It Every Night'