Anthony Davis Delivers an Honest Admission About LeBron James' Latest Absence from the Los Angeles Lakers
LeBron James has already missed half the 2021-22 NBA campaign. Now, LBJ has entered the league's health and safety protocols. After learning the news, Los Angeles Lakers running mate Anthony Davis got real about what The King's time away will mean for LA.
The Lakers have learned to play without LeBron in the lineup, Davis explained. So even though it's obviously a huge loss, LA is prepared for the four-time MVP's latest absence.
LeBron James has entered the NBA's health and safety protocols
Before LA's game against the Sacramento Kings (which it won 117-92 to move one game above .500), the team announced that James was entering the league's health and safety protocols. LeBron tested positive for COVID-19 and could be sidelined for 10 days or more.
If that's indeed how long he's out for, the Lakers franchise superstar will miss four games, including a matchup with the Clippers at Staples Center.
He's already missed 12 of the team's first 23 games. He's been dealing with an abdominal strain in recent weeks and was also suspended for a game after his fist connected with the face of Detroit Pistons forward Isaiah Stewart.
If he's out for four games, that would mean LeBron will have missed 16 out of LA's first 27.
We're past the quarter mark of the season at this point. The Lakers are barely afloat.
But Davis admitted after the win over the Kings that the Lakers who are on the floor on a regular basis have become accustomed to playing without their floor general.
Anthony Davis admitted LBJ has missed so much time the Lakers are prepared to deal with his absence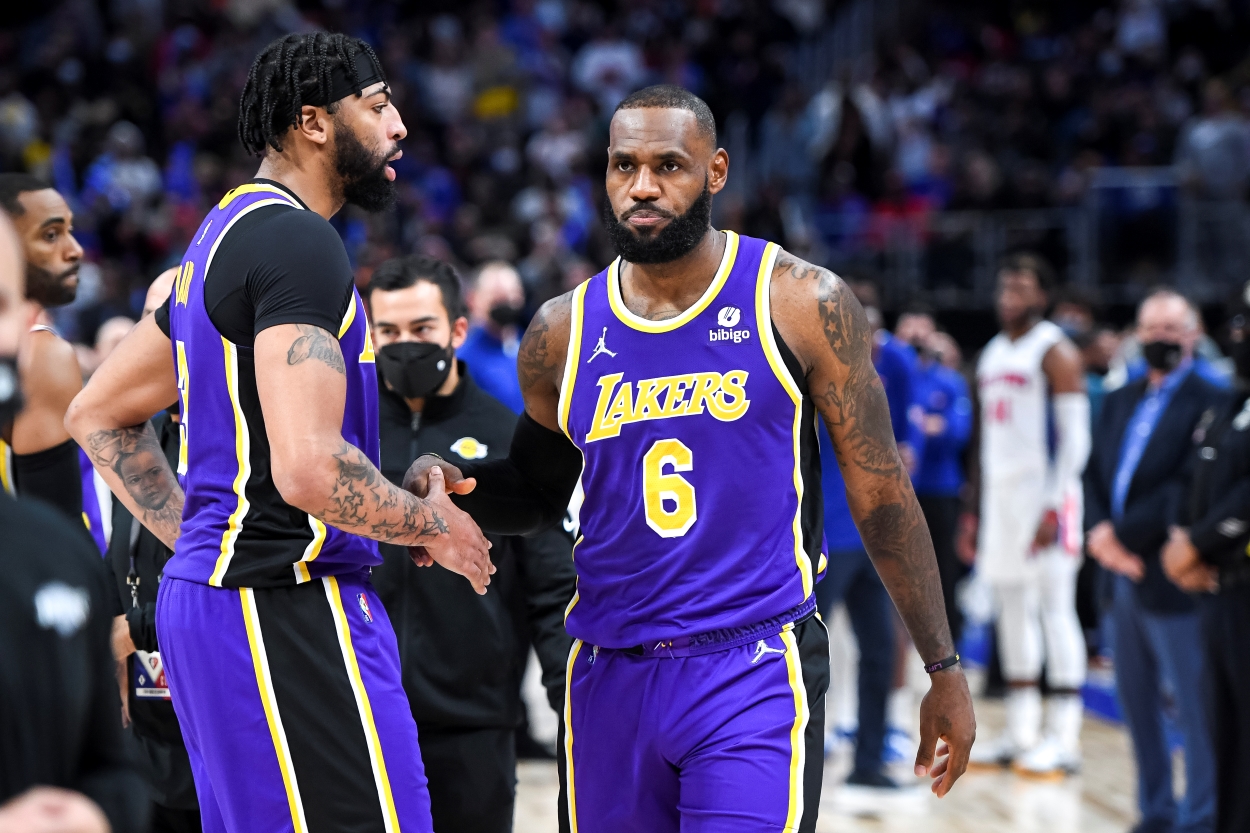 Davis has had to carry the team in James' absence. He's done so to mixed results. This season, the purple and gold are 7-4 with LeBron in the lineup and 5-7 without him.
In the team's wins, AD is averaging 25.8 points, 11.2 rebounds, and 2.9 blocks. In LA's losses, he's averaging 22.7 points, 8.8 rebounds, and 1.6 blocks. That's not a dramatic difference, but when you factor in how much time James has missed, Davis needs to up that production for the team to win.
Still, the eight-time All-Star believes that the Lakers are capable of winning games sans LeBron, via ESPN:
We can't catch a break. But we still got to find ways to win. We can't let that affect us. Obviously he's a huge part of our team, but we've played a huge amount of games without him, so we kind of know how that is already. But we gotta continue to play like we did on the defensive end until he's able to come back.

Anthony Davis on winning games without LeBron James
AD isn't getting much help. Russell Westbrook is averaging 4.7 turnovers per game. Only one Laker other than Russ is averaging more than 14.3 points (Carmelo Anthony).
LA is one of the worst rebounding teams in the league in terms of percentage — Davis is averaging 10.0 boards this season, Westbrook 8.2, and DeAndre Jordan is next at 6.0 in 14.7 minutes a night.
Davis can't carry the Lakers by himself, but he needs to play at an MVP level with James out for the team to win games.
In order for LA to win long-term, LeBron has to get healthy
Twelve out of 27 games (if James is out for the next four) is a significant chunk of contests to miss. It's early in the year, so better to get it out of the way now if that ends up the case.
But Bron-Bron is also in his 19th season. He'll soon pass Dirk Nowitzki to move into third all-time in minutes played. LBJ is obsessive about taking care of his body, but it's going to break down at some point.
Is that happening now? Maybe, maybe not. But if the 17-time All-Star keeps missing time, the Lakers' chances of winning another title are stuck on the bench with him.
All statistics courtesy of NBA.com.