Anthony Davis Came Away Extremely Impressed With Cleveland Cavaliers Super-Rookie Evan Mobley: 'Kind of Has Some of the Same Things I Had When I Was Coming Into the League'
Los Angeles Lakers star Anthony Davis got a first-hand look at the future on Oct. 29. He liked what he saw. Cleveland Cavaliers rookie Evan Mobley reminded Davis of a player he's somewhat familiar with after the 20-year-old put up 23 points with six rebounds, three assists, and two steals in LA's 113–101 victory at Staples Center.
Mobley played a team-high 36 minutes, hitting 10-of-16 from the floor and splitting his two deep tries. Not that single-game plus/minus is a particularly enlightening statistic overall. Still, Mobley was a net zero in a game when every other Cavaliers starter played to a negative number.
Evan Mobley is off to an encouraging start for the Cleveland Cavaliers
Through seven games, Mobley has played a team-high 32.0 minutes per game and is averaging 13.4 points, 7.6 rebounds, 2.6 assists m 1.4 blocks, and 1.1 steals. He's also shooting 50.0% overall and is an 80.0% foul shooter. His long-range game is a work in progress, with a 2-of-7 showing from behind the arc.
Mobley is 7-feet and only 215 pounds. Adding strength will be a focus moving forward. He's a bit behind the young Anthony Davis there. The Brow entered the NBA with 220 pounds on his 6-foot-10 frame but is now at 253 pounds.
Mobley was the third overall pick in the 2020 NBA Draft after a single season at USC, where he averaged 16.4 points, 8.7 rebounds, 2.9 blocks, and 2.4 assists in 33.9 minutes a night.
Through seven games, he's been deadly around the rim, shooting 82.8% (24-of-29) in the restricted area. He's got stretch-big potential, even if he's not showing great touch on his jumper yet, and is playing more than half of his minutes at the 3 spot. His defensive versatility allows the Cavs to go enormous, with 6-foot-11 Jarrett Allen at center and 7-foot Lauri Markkanen at the 4.
Anthony Davis sees a lot of himself in Mobley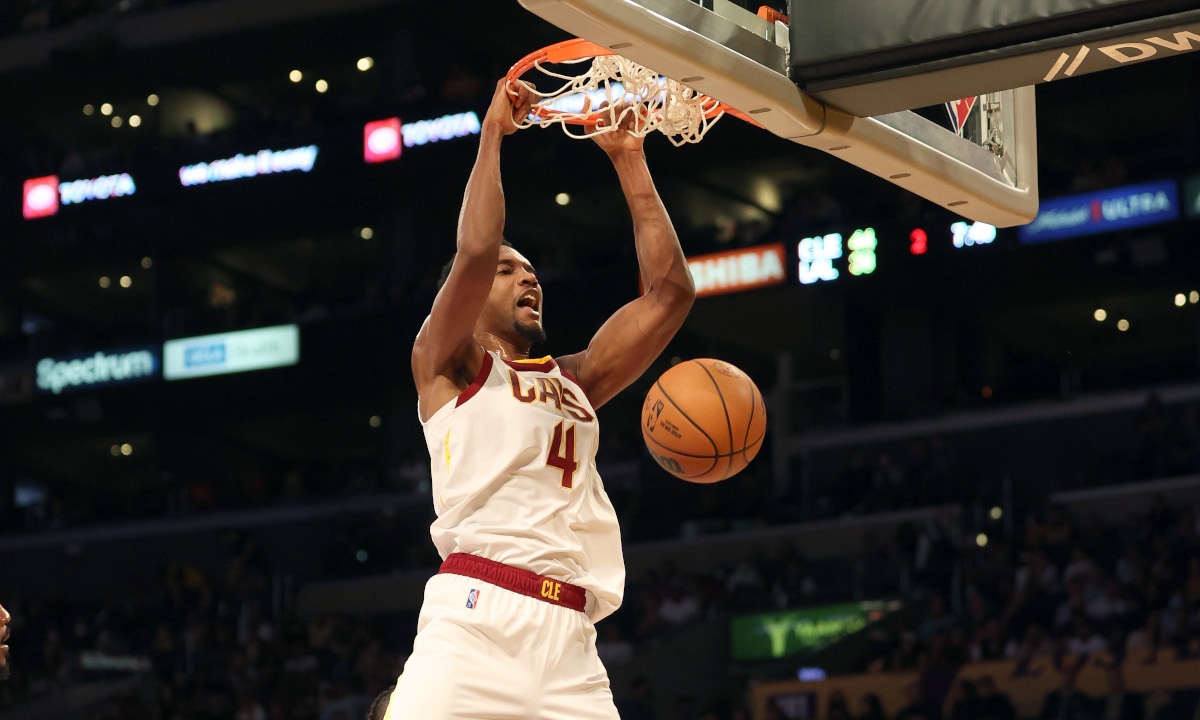 After going head-to-head with Evan Mobley in the Lakers' Oct. 29 victory, Anthony Davis said he saw some resemblance to the rookie version of himself that debuted with the New Orleans Hornets in 2012 after going No. 1 overall in the draft.
Per Chris Fedor of Cleveland.com, a player from a Cavaliers opponent already invoked the Davis comparisons when talking about Mobley. Davis agreed:
"This is my first time seeing him play, to be honest. He's probably the same size I was coming into the league. Pretty skinny. Elite shot-blocker. Lob threat. Kind of has some of the same things I had when I was coming into the league. But probably shot it a little bit better than me.
"His game is going to progress. He's going to keep getting better and better. You see the potential to be a three-level scorer, watching film on him a little before the game. I seen him shoot the 3. He hit one tonight. I seen him hit the midrange and floaters. He'd go to the post a lot in the game I've watched. He has the potential to be very good. It takes time. But I don't really compare myself to anybody."
Lakers star LeBron James was more succinct.
"He's going to be a damn good basketball player in this league," James said. "It's so crazy because he was just playing against my son a couple years ago."
Mobley could do worse than patterning his development after Davis, with a tiny exception.
Durability is an essential ability for Evan Mobley moving forward
Last season, Evan Mobley was the Pac-12 Player of the Year and helped USC to the Elite Eight before they ran into top-ranked Gonzaga. He added the conference's Defensive Player of the Year and Rookie of the Year trophies to his collection while earning consensus All-America honors.
This season, Mobley is carrying the heaviest workload for the Cavaliers, and that's where he can separate himself from Anthony Davis.
Davis is a four-time All-NBA and All-Defensive selection and has a ring. But he's also developed a reputation for being injury-prone. TNT analyst Charles Barkley has taken to referring to Davis by a less-than-complimentary nickname, "Street Clothes."
AD has never played more than 75 games in a season and missed less than 10 games just three times in his first nine seasons. It can make building around Davis difficult. Last season, he missed half the season — 36 games — and his 32.3 minutes per game was his lowest since playing 28.8 minutes a night as a rookie in 2012–13.
We live in the injury-maintenance era of the NBA. Playing 82 games isn't the badge of honor it once was. But Evan Mobley is taking on a heavy workload already and is holding up well. He's showing signs of being the versatile big man with wing skills that teams around which teams can build. He's already made an impression on Anthony Davis, the prototype to whom he's most often compared.
Statistics courtesy of Basketball Reference.
RELATED: Cleveland Cavaliers Rookie Evan Mobley Spent Part of His $26 Million NBA Contract on a Heartwarming Birthday Gift for His Brother