Anthony Davis Is Now a Casualty in the War Between LeBron James and the Lakers
Things used to be so easy in La La Land. LeBron James was playing MVP-caliber basketball, Anthony Davis was the perfect number two, and the Los Angeles Lakers were the cream of the crop.
A lot has changed since LA's bubble championship in 2020. Between injuries and the ill-fated Russell Westbrook deal, the Lakers are now 27-31. And if barely clinging onto a playoff spot wasn't bad enough, James and the Purple and Gold are becoming more and more at odds.
Following a quiet trade deadline, LeBron has pushed back against the Lakers for not giving in to his will. The result is a potential Civil War between the King and the franchise he once vowed to never leave. But Davis, the injury-prone big man, is now caught in the crossfire between his own team and the superstar that brought him there.
LeBron James and the Los Angeles Lakers are now going head-to-head
Across 19 seasons, James has held a certain level of power over his teams. The majority of it was with the Cleveland Cavaliers, a franchise that before him had very little success to boast. But he's also managed to take control of a decorated Lakers organization that was stuck in a five-year rut and in desperate need of saving.
LeBron ultimately delivered, bringing a title to the Purple and Gold. But the honeymoon period is over for good, especially after the King's demands fell on deaf ears.
Bill Oram of The Athletic detailed some of the drama happening behind the scenes in LA and why one of his sources likened the budding feud to "the early days of a war."
"So far, the Lakers haven't shown a particular willingness to engage in battle with their superstar, with sources saying that [general manager Rob] Pelinka has insisted internally that there are no hard feelings between the two sides.

But even if it is for now a one-sided war, by digging their heels in and not giving James everything that he wants has the potential to be received as a form of aggression — a battle tactic in its own right."

Bill Oram
Additonally, Oram writes, "It's obvious that James wanted him to do something. But Pelinka no doubt remembered that the last time he yielded to James' management instincts, he got saddled with Russell Westbrook. … It is notable that maybe for the first time in James' tenure, he did not get what he wanted out of Pelinka."
LeBron, now in his fourth season with the Lakers, is signed through the end of next season. Should LA make it clear that it no longer wants its roster dictated by James, the future Hall of Famer could conceivably want out as soon as this summer.
Anthony Davis will be forced to choose between LeBron James and the Lakers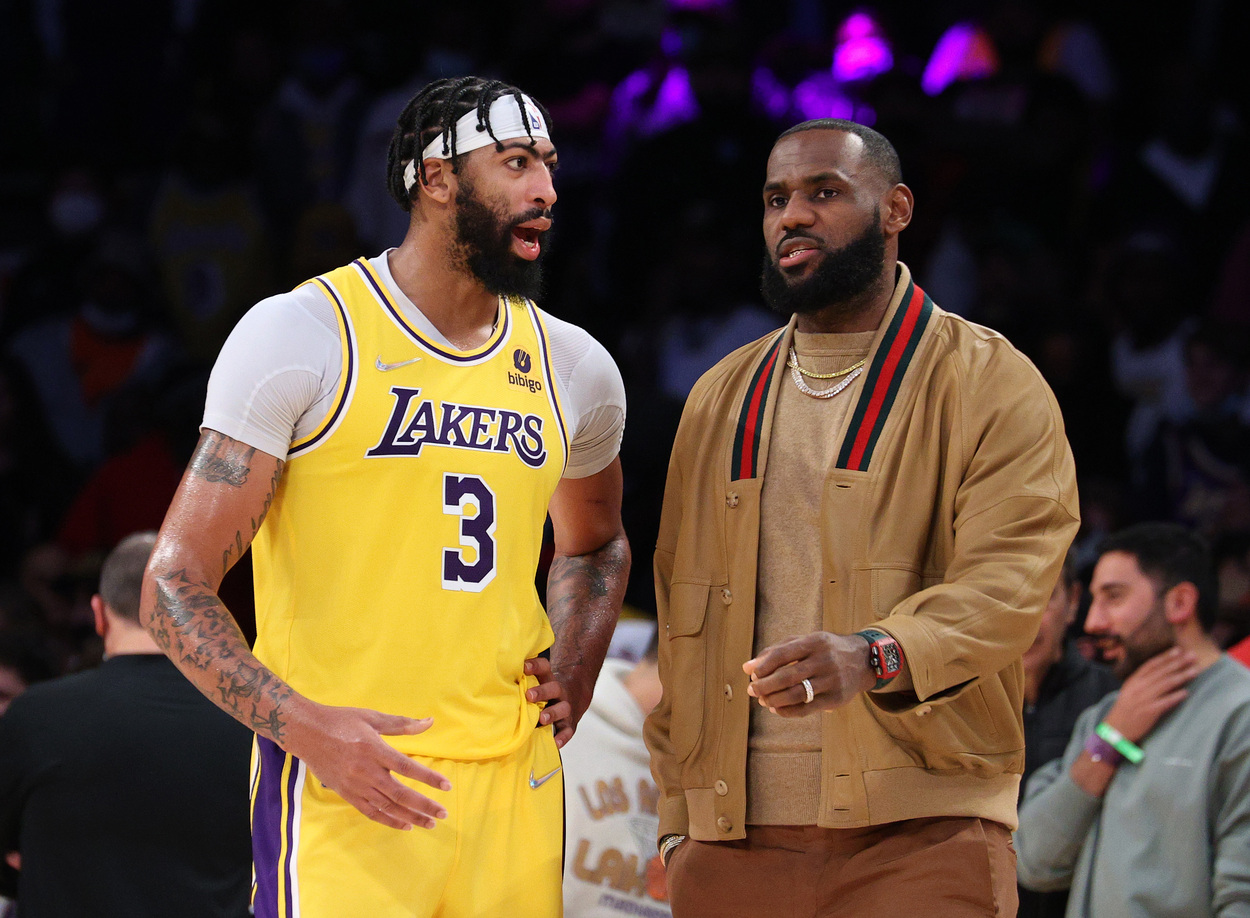 Given the backlash on Westbrook and the latest drama surrounding James, it's easy to forget about AD. The 28-year-old has missed 21 games due to a sprained MCL and sprained mid-foot, the latter of which is currently sidelining him for a few more weeks. When healthy, the eight-time All-Star is averaging 23.1 points and 9.7 rebounds.
While Davis aims to get back on the court as soon as possible, he's have to rehabilitate something else entirely: The fractured relationship between LeBron and the Lakers.
As this rift escalates, Davis is in a very uncomfortable position. On one side, there's James. The King was the driving force behind AD arriving in Hollywood in 2019. LeBron rightfully convinced both Davis and the Lakers this partnership would result in a championship, elevating the big man's career to new heights after years wasting away with the New Orleans Pelicans.
However, AD owes a debt of gratitude to Pelinka and the Lakers too. LA punted on its future to acquire Davis and then handed him a five-year, $190 million extension in 2020. Since signing the dotted line, Davis has struggled with constant injuries and failed to live up to his deal.
Would the four-time All-NBA forward side with LeBron, agreeing that LA should build the roster in their image? Or will he remain loyal to the Lakers, sticking with the Purple and Gold even if things escalate with the unhappy James?
Either way, it's a bad spot for the 28-year-old to be in.
Davis' health could be the deciding factor in ending this feud
At the end of the day, all anyone wants to do is win.
LeBron wants to win a fifth title and believes that can only happen if Pelinka takes his roster recommendations seriously. The Lakers also want to add a record-setting 18th banner to the rafters, but feel LeBron's suggestions got them into this mess in the first place.
However, you can make a convincing argument that if Davis stays healthy, none of these issues are happening.
A strained Achilles cost AD half of the 2020-21 season, which ended in a first-round exit at the hands of the Phoenix Suns. However, LA was still up 2-1 in that series before AD's groin injury in Game 4 blew a chance to defeat the eventual Western Conference champions.
Ths point is, a long playoff run likely keeps LeBron and the Lakers from pursuing Westbrook in the offseason. Perhaps that leads to a more complete roster that's in contention this season, rather than the dumpster fire they have now. Additionally, a healthy AD this season would make the Lakers much more likely to skip the play-in round altogether.
Rather than attacking one another, LeBron and the Lakers should be doing everything they can to keep the fragile big man healthy. Whether that's a new conditioning regiment, monitoring his playing time, or anything else. Because if LA gets a full season from Davis like it did in 2019-20, this "war" becomes much ado about nothing.
All statistics courtesy of Basketball Reference and contract figures courtesy of Spotrac.
RELATED: Anthony Davis Injury: How AD's Latest Ailment Might Impact the Lakers on the Buyout Market