Anthony Davis Is Playing Like an MVP but Needs to Make a Crucial Adjustment to Coexist With Russell Westbrook
The Los Angeles Lakers are laboring to start the 2021-22 NBA season. However, Anthony Davis' superstar play on both ends is seemingly keeping LA afloat.
Head coach Frank Vogel is buying into playing AD more and more, and The Brow is taking the position change in stride. He's also showing tremendous leadership in trying to light a fire under a struggling veteran team.
But despite the individual gains, Davis must keep finding ways to enhance his on-floor chemistry with Russell Westbrook and alter his game slightly to help make The Brodie more dangerous. That starts with better efficiency from beyond the arc.
Anthony Davis is putting up MVP-caliber numbers thus far…
Nobody can blame Anthony Davis for the Lakers' poor start. He's been one of the best players in the NBA thus far.
Davis' two-way dominance is on full display this season. Through 18 games, the 2012 No. 1 overall pick is averaging 24.6 points, 10.5 rebounds, 3.1 assists, 2.3 blocks, and 1.2 steals. He ranks eighth in the NBA in player efficiency rating (PER) and, according to NBA.com, eighth in player impact estimate (PIE). In other words, Davis contributes an overwhelming amount to LA on both ends.
Granted, these are the numbers Lakers fans might expect from a man who earned a controversial selection to the NBA 75 roster. Davis has been one of the most talented bigs in the game for years now. His three-level scoring ability and defensive playmaking are notable.
But the issue is that while Davis is putting up strong numbers, he's also inadvertently making things harder for Russell Westbrook. Although AD is the furthest thing from a paint-bound big, he's certainly playing like one.
… except from beyond the arc, which minimizes Russell Westbrook's effectiveness
One of the qualities that made Davis even more dominant in recent seasons is the ability to stretch the floor and knock down triples.
Davis shot over 33% from deep in his final two seasons with the New Orleans Pelicans and 33% on a career-high 3.5 attempts per game in his debut campaign with the Lakers. But the numbers are trending down.
The Brow shot just 26% from beyond the arc last season. He's cratered this season, making just six of his 35 3-pointers this season and averaging his fewest attempts (1.9) since the 2016-17 season. Conversely, AD leads the NBA in two-point field goals attempted (300) and made (169).
On the one hand, Davis' efficiency in the paint is encouraging. But his inability to expand the range harms Russell Westbrook.
Westbrook is at his best when he can share the court with floor-spacers who make it hard for help defense to cut off driving lanes to the basket. It's one of the reasons he had his most efficient scoring season ever with the 3-point-happy Houston Rockets in 2019-20.
Unfortunately for The Brodie, Davis is having a tough time stepping out and hitting jumpers. That reinforces a desire to stay in the paint with LA's small-ball lineups and makes it harder for Westbrook to find avenues to the basket.
Davis could otherwise play a role in pulling opposing bigs out to the perimeter and making them guard. Instead, defenders can sag off him and provide help on straight-line drives.
There's hope for Davis-Westbrook compatibility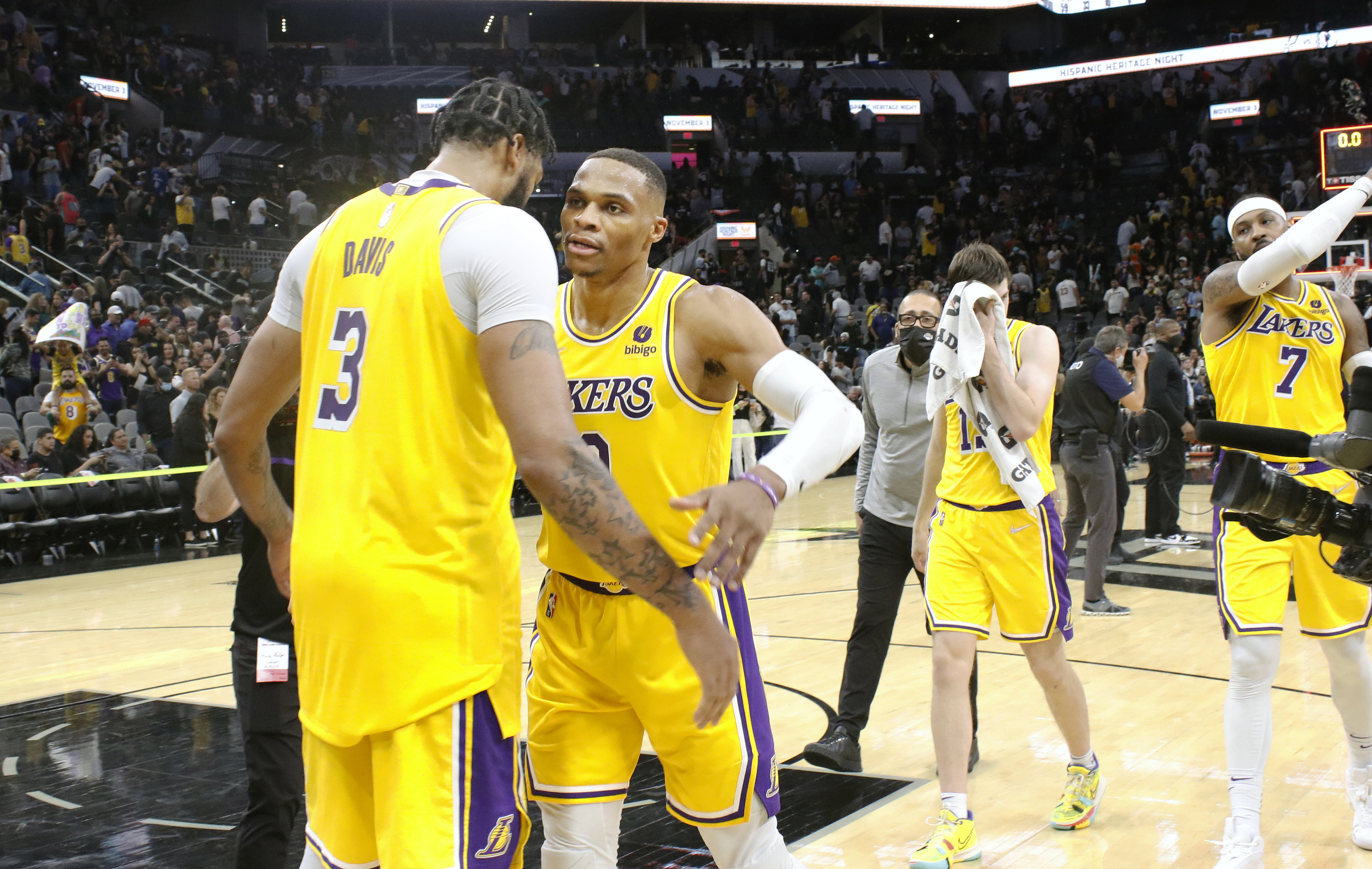 Fans might look at the -59 plus-minus attributed to the duo of Anthony Davis and Russell Westbrook and suggest they're not compatible basketball players. But, that's not necessarily true.
Realistically, Davis should be a boon for Westbrook. He's a big who can run the floor with Russ in transition and ducks into the lane for finishes around the basket. The Brow can also curl or roll to the basket as a screener, though he hasn't been able to "pop" because of the shooting inefficiency. It should be interesting to see if Davis can build some momentum for a Nov. 23 tilt with the New York Knicks, especially considering the Lakers will be without LeBron James following his viral clash with Isaiah Stewart.
Although AD shouldn't be forced to cater to Westbrook's needs, it's also true that the Lakers desperately need to find ways to make things easier for the former league MVP. Davis himself can help that cause by taking and making more triples.
Stats courtesy of Basketball Reference unless otherwise noted.