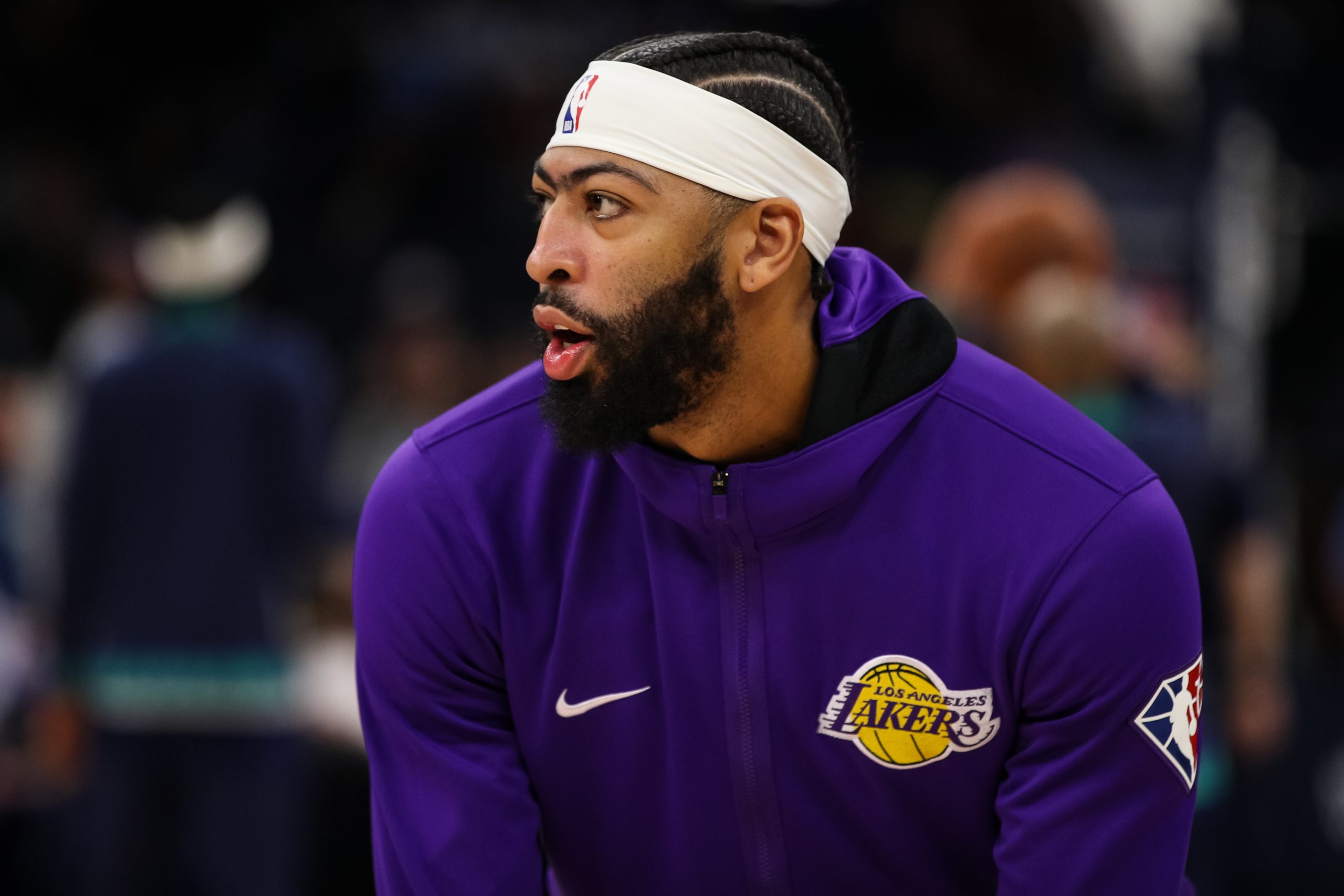 Anthony Davis' Return Shows What the Los Angeles Lakers Can Become, but the Superstar Must Stay Healthy
Los Angeles Lakers star power forward Anthony Davis returned on Tuesday night from a 17-game layoff because of a knee injury and made an immediate impact right away.
It took all of 18 seconds for Los Angeles Lakers superstar power forward Anthony Davis to announce his return in a big, bold way on Tuesday night. What followed over the next 47 minutes and 42 seconds should send fear into the hearts of the top teams in the Western Conference.
Davis was finally back on Tuesday in Brooklyn, and so too was a Lakers team that has mostly slogged through this season in an uninspired fashion. With a healthy Davis swatting shots, patrolling the paint, and catching a lob pass for a dunk — as he did 18 seconds into Tuesday's game — the Lakers might be ready to contend again.
The Los Angeles Lakers went 7-10 without Anthony Davis, and the roster was exposed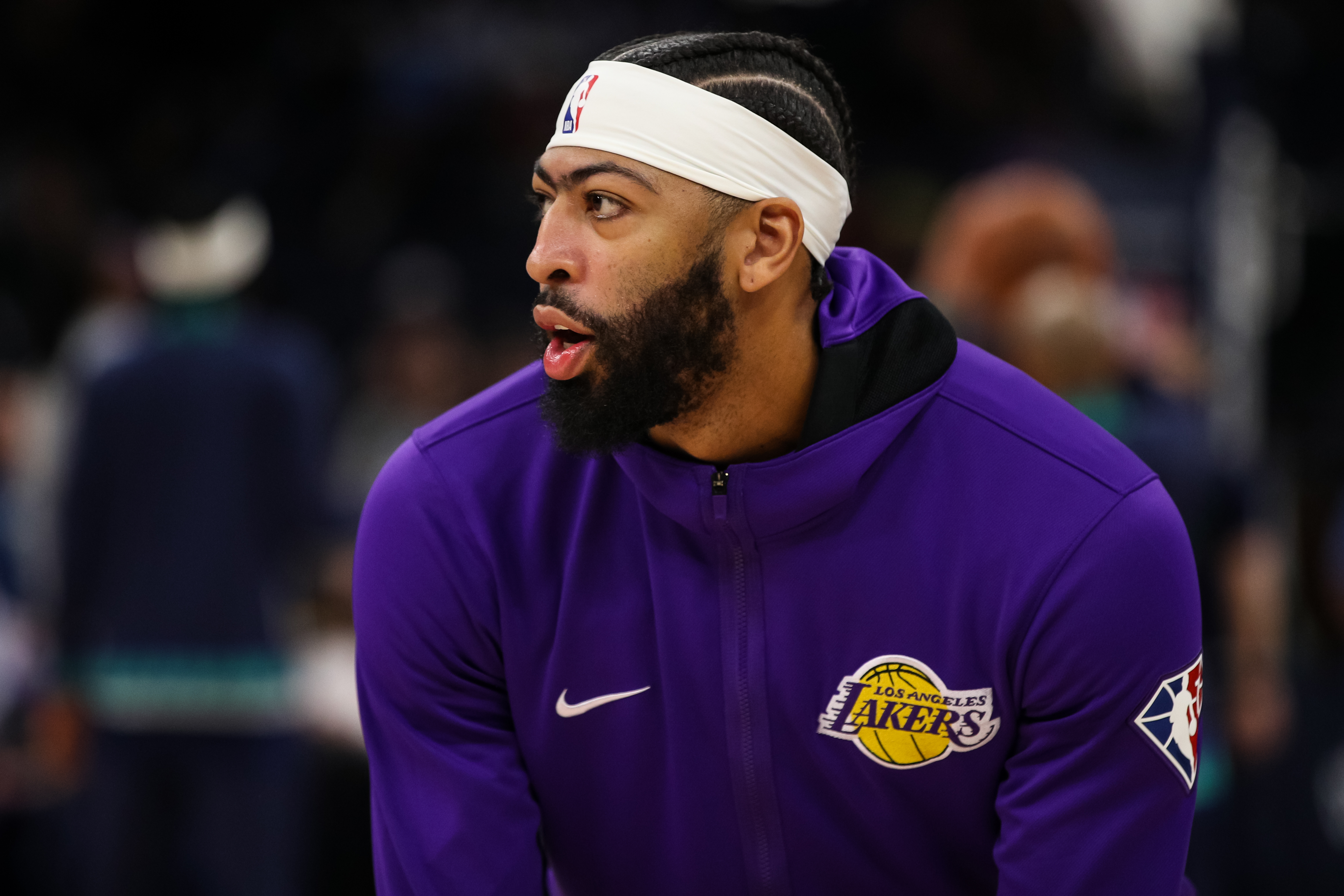 All-Star big man Anthony Davis was back in the starting lineup on Tuesday for the Los Angeles Lakers for the first time since Dec. 17. That was the night Minnesota's Jaden Daniels accidentally fell into his knee, sending Davis sprawling and the Lakers into a nosedive. In the 17 games that Davis missed, the Lakers went a forgettable 7-10 and endured plenty of controversies. 
While LeBron James did his best to pick up the slack with the second-longest streak of his career of scoring at least 25 points, Davis' absence exposed the flaws in the Lakers' roster construction. Russell Westbrook struggled in the spotlight and got benched by Frank Vogel. Stanley Johnson, who was out of basketball a month, became LA's second-best player for an extended stretch. All of that put heat on GM Rob Pelinka for caving to the wishes of James and Davis to trade for the mercurial Westbrook last summer.
Anthony Davis was back in the lineup for a Lakers team that desperately needed him 
Whether by design or not, the Lakers wasted no time testing Davis's previously injured knee and getting the 6-foot-10 center involved. 
After Davis won the opening tip, he ran a dribble-handoff play with James from the left wing. As James drove the ball hard into the center of the floor to command the defense's attention, Davis rolled baseline to the rim. James, of course, found the big man with a perfect lob pass for a thunderous dunk to announce Davis' return in a big way.
"I feel ready," Davis said afterward in his postgame news conference as reported by The Associated Press.
He proved that again and again in his 25 minutes on the floor. He scored eight points, grabbed two rebounds, and handed out two assists. But his most significant impact came on the defensive end of the floor, where he swatted four shots — three of them coming in the first quarter — and swiped a steal. 
The Lakers were a plus-10 while Davis played, but much of that had to do with James and his brilliance. James had 33 points, seven rebounds, six assists, and two steals that came within about 15 seconds of one another. 
The two plays, which ended in spectacular dunks for James, provided the only moment of concern on an otherwise feel-good night for the Lakers. While celebrating James' two dunks, Davis ran onto the floor and threw jumped into his teammate's body. The usually rock-solid James bounced back a bit following the playful hit.   
"Can't think about it. When I'm on the floor I try not to think about it," Davis said of his previous knee injury. "I was what, a month, five weeks, doing a lot of weightlifting. So, I hit (James), he kind of like fell over. I was more worried for him than my knee."
Can Anthony Davis play at a high level, stay healthy, and make LA contenders again?
Of course, the burning question regarding Davis' return is what it does for the Lakers going forward? That is assuming, of course, that the oft-injured Davis can avoid other dings to his body and stay upright. 
The Lakers were a top-five defensive team with him on the floor the past two seasons. With him in and out of the lineup early this season, the Lakers ranked ninth in the NBA defensively. With him missing the last 17 games, LA was mostly porous on the inside, and it plummeted to 19th in the league in defense. That's undoubtedly not a championship-level defense and maybe not even playoff-caliber defense.
For the Lakers to function at their best, Davis also has to get back to being the multitalented big man who can dominate down low and burn defenses from the perimeter. When the Lakers won the championship two seasons ago, Davis was a 38% shooter from 3-point range. He has arguably been the league's most inefficient shooter from 3-point range this season while making just 10 of 57 tries (17.5%).
Tougher tests lie ahead for Davis and the Lakers and Davis, starting with Thursday's showdown against MVP favorite Joel Embiid and Philadelphia. For the Lakers to get back into the hunt for a top seed in the Western Conference, Davis must be aggressive and active and, of course, healthy. 
The Lakers' margin for error is much smaller than most would think for a team built around three superstar players, but that's their reality with an aging supporting cast. 
Most importantly, Davis has to help shoulder some of the load that James has been carrying the past five weeks with the Lakers furiously trying to stay afloat. Sure, James is on one of the best offensive streaks of his career, but all that work can't come at the cost of the 37-year-old superstar fraying come playoff time. It's up to Davis now to stay healthy and work in tandem with James to get the Lakers back in contention in the Western Conference.
"Obviously, right away, you see what he's capable of," James said in his postgame news conference as reported by The Associated Press. "We draw a play right to start the game, I was able to turn the corner and threw a late lob that he was still able to throw home. So, very exciting to have him back."
Statistics are courtesy of ESPN.com.