Anthony Davis Reveals How He Feels About His Time With LeBron James and the Lakers This Season
It would be an understatement to say that the trade for Anthony Davis has worked out for the LA Lakers. Davis has helped the Lakers get to the Western Conference Finals, and they are in an excellent position to win an NBA championship. However, Davis holds a player option for next season and is expected to become a free agent, so his happiness is extremely important for the franchise.
While the Lakers are now preparing for the Western Conference Finals, though, Davis just revealed his feelings about how this season has gone for him and LeBron James in LA.
Anthony Davis has had an excellent season with the LA Lakers
After going to New Orleans with the No. 1 overall pick in the 2012 NBA draft out of Kentucky, Davis has ultimately become one of the NBA's best players.
In just his second season, Davis earned an All-Star selection. He has been an All-Star in every season since. During his career in New Orleans, Davis led the NBA in blocks per game three times and averaged 28 points per game or more twice. His best season there probably came in 2017-18. Davis ultimately averaged 28.1 points per game, 11.1 rebounds, 2.6 blocks, and shot 53.4% from the field that year.
During the 2019 offseason, though, New Orleans traded Davis to the LA Lakers to pair him up with LeBron James. They have immediately became one of the best duos of all-time this season too. Davis averaged 26.1 points per game, 9.3 rebounds, and 2.3 blocks this season, and James averaged 25.3 points per game, 7.8 rebounds, and 10.2 assists.
In the playoffs so far, the Lakers defeated the Portland Trail Blazers in five games in the First Round. They also beat the Houston Rockets in five games in the Western Conference Semifinals, and they are now awaiting their opponent for the Western Conference Finals.
Davis has averaged 27.6 points per game, 10.9 rebounds, and 4.1 assists in the playoffs, while James has averaged 26.6 points per game, 10.3 rebounds, and 8.8 assists.
He revealed how he feels about this season
Davis has a player option for next season, but he is expected to decline it. So, his future with the Lakers after this season is not guaranteed. It looks promising, though. In January, Chris Haynes of Yahoo Sports reported that "no one within league circles anticipates Davis leaving the Lakers" after the 2019-20 season.
However, it is still important to make sure he is happy, and it appears that he is, in fact, just that.
"It just feel like everything is falling into place," Davis said after the Lakers' Game 5 win over the Rockets, according to Silver Screen and Roll. "When I got here obviously the goal was to win championships, and we're eight wins away. It's been a great process for me. It's been great being around the guys that we have, obviously it's been great being around 'Bron, him helping me through it all."
He also said, "Obviously, at this point now, the Western Conference Finals is new for me, so that process is going to be fun, but it's everything that I envisioned."
Davis certainly appears to be enjoying himself. He will probably enjoy himself even more, though, if the Lakers can win an NBA championship.
Can Anthony Davis, LeBron James, and the LA Lakers win it all?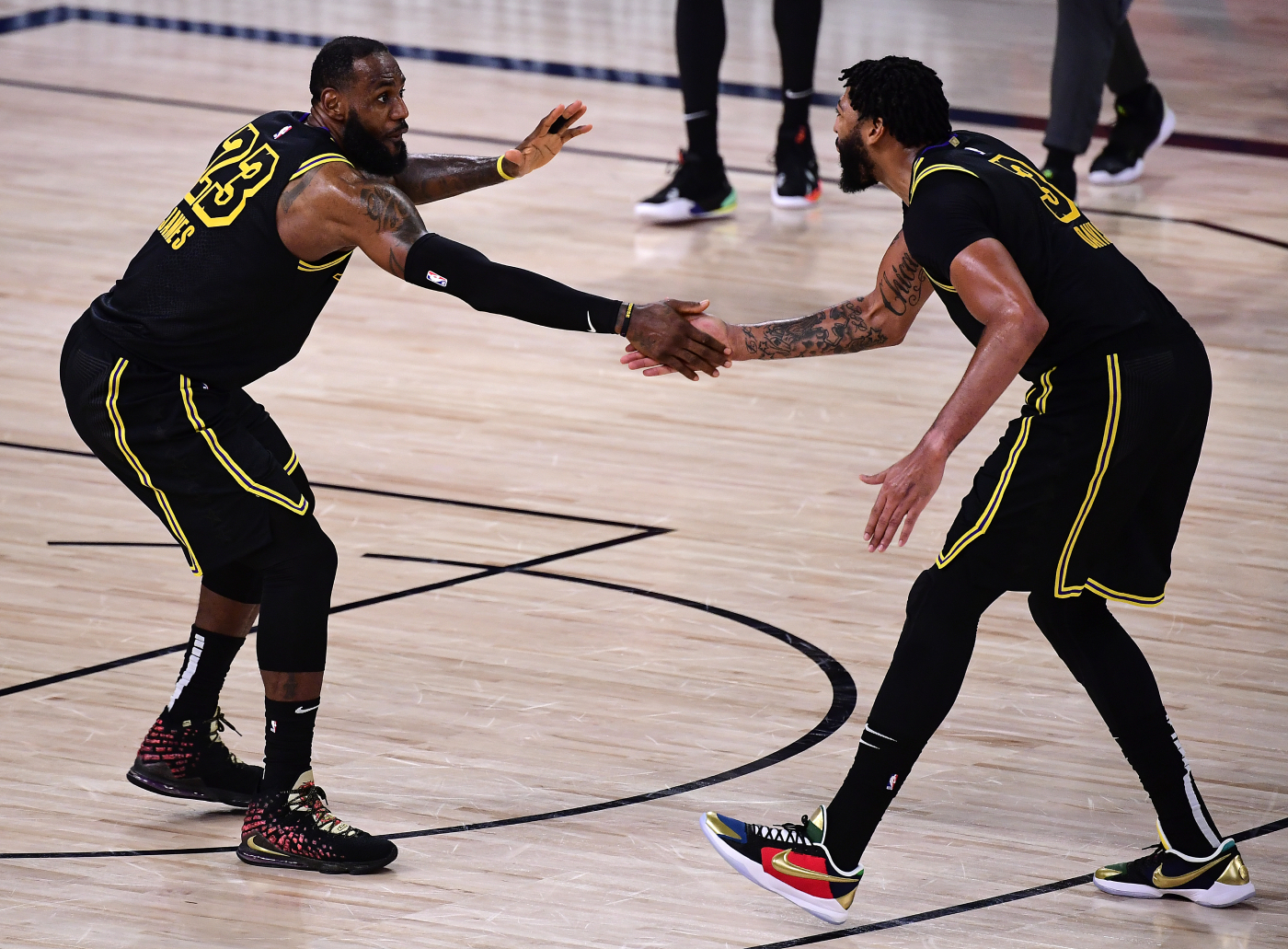 While the Lakers struggled in the NBA bubble at first, they appear to be in a great position to win it all.
After losing in Game 1 of the Western Conference Semifinals to the Houston Rockets, LA really clicked the rest of the series. Of course, James and Davis were the two main guys. They both averaged over 25 points per game in the series. 
However, their role players really stepped up. Kyle Kuzma averaged 11.2 points per game, and Rajon Rondo averaged 10.6 points per game and seven assists. Additionally, Danny Green averaged nine points per game and shot 42.3% from 3-point range while Markieff Morris averaged 8.6 points per game. Alex Caruso also averaged 8.4 points per game.
Whoever the Lakers play in the Western Conference Finals, though, will be tough to beat. Kawhi Leonard, Paul George, and the LA Clippers are an extremely talented team, as are Nikola Jokic, Jamal Murray, and the Denver Nuggets. Additionally, the Boston Celtics and Miami Heat could both be a tough opponent in the NBA Finals.
The Lakers are, however, playing as good as anyone right now and have two of the world's best players in LeBron James and Anthony Davis. They are going to be tough to take down the rest of the season.
Stats courtesy of Basketball Reference