Anthony Edwards Makes $10.2 Million but Still Weirdly Uses an Outdated Piece of Technology: 'That's My Baby'
Anthony Edwards has become a flat-out star, as the Minnesota Timberwolves forward is flourishing in his second NBA season out of Georgia.
If Edwards continues his ascension to the top of the basketball universe, though, he will likely make millions and millions of dollars while doing it. But while his bank account may already have plenty of cash in it, Edwards is still surprisingly using an ancient flip phone. In fact, it even went off during a recent press conference.
Anthony Edwards is a $10.2 million NBA star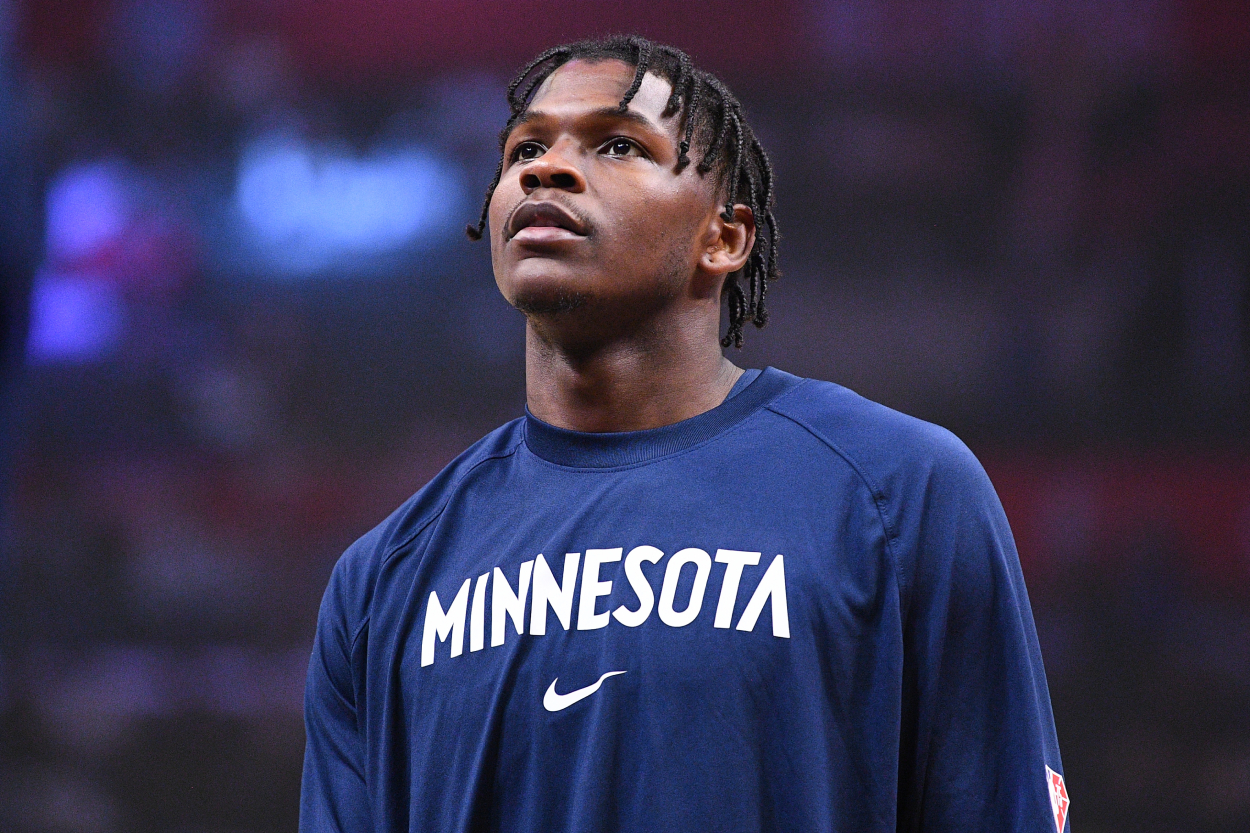 Anthony Edwards initially proved he had unreal NBA potential in college with the Georgia Bulldogs, averaging 19.1 points and 5.2 rebounds in his lone season there. His success then led to him becoming the No. 1 pick in the 2020 NBA Draft with the Timberwolves, and, as first overall picks typically do, he followed that up by signing a massive contract.
According to Spotrac, Edwards' rookie deal is worth $44.27 million over four years. He made $9.7 million in his first season and is making $10.2 million this year.
The 20-year-old will likely make plenty more in his career, too, as he averaged 19.3 points and 4.7 rebounds as a rookie before recording 22.0 points and 6.7 rebounds per outing through 21 games so far this year.
But despite all the millions he has already made and will continue to earn, Edwards still has an outdated piece of technology.
The Timberwolves superstar has a flip phone
In addition to his high-flying athleticism, Anthony Edwards' hilarious personality has also taken the NBA by storm throughout the past couple of years.
So, while his phone of choice recently surprised everyone, it, at the same time, didn't shock anyone.
Even with the $20 million he has made so far, not counting any additional endorsement money, Edwards apparently has a flip phone. The phone even went off during a recent press conference, and he ended up answering it.
The former Bulldog then received a question about it, and his response was unreal.
"Yeah, that's my baby," he said, according to Timberwolves reporter Dane Moore.
Incredible. He knows he's wealthy enough to buy an iPhone every time Apple releases the newest one, right?
Maybe he still has one. Just because he has a flip phone doesn't mean he can't have an iPhone or Android as well. It just might be difficult to keep track of different phone numbers.
But whether he's up to date with the latest cellular technology or not, he isn't the only sports star with a flip phone.
Anthony Edwards isn't the only sports star using a flip phone
Believe it or not, there are actually several wealthy sports stars who still use flip phones.
Golden State Warriors superstar Klay Thompson said in 2020 that he has one, per NBC Sports reporter Kerith Burke. Dallas Cowboys owner Jerry Jones also used one as of 2019 (per Sports Illustrated), while former NFL quarterback Andrew Luck famously had one during his career with the Indianapolis Colts.
"One, I like it. It's a comfort thing," Luck said to USA Today in 2016, per Colts.com. "I think anybody can appreciate that, if you're used to that. … Two, I don't think I want to be connected 24/7, and this phone is maybe sort of a reminder that you don't have to be connected. And it's nice to get away. It's nice to turn your phone off."
Whatever the reasoning, it appears some people just can't give up their old lifestyles. Maybe, though, we'll eventually get more of an explanation from Anthony Edwards in the near future.
Stats courtesy of Basketball Reference