Anthony Edwards Does His Best Michael Jordan Impression for a Playoff-Starved Timberwolves Team
Anthony Edwards isn't Michael Jordan, but he has MJ's scoring ability and the brash confidence of His Airness to boot.
Minnesota Timberwolves star Anthony Edwards is just 20 years old, but he already maintains the swagger of a multiple-time All-Star. After all, this is the same man who, in September, proclaimed he could be just like Air Jordan if he grew to 6-foot-6.
Sure, Edwards made a bold statement. Still, about five months later, he really is beginning to resemble Michael Jordan.
Edwards has made a pretty sizable leap in his sophomore season. The Atlanta native is flashing the explosive three-level scoring ability and supreme confidence that many basketball fans might associate with Jordan.
Anthony Edwards shines in his second season with the Timberwolves
Anthony Edwards' stellar athleticism and scoring upside made him the No. 1 overall pick in the 2020 NBA Draft. The Timberwolves guard is beginning to channel those tools more effectively.
Edwards has continued building momentum since his tremendous post-All-Star showing last season. He's averaging more points (22.9, up from 19.3), rebounds (5.2, up from 4.7), and assists (3.7, up from 2.9) while boosting his true shooting percentage by over 4%.
Ant-Man technically isn't the No. 1 option in Minnesota. However, he's as dynamic a scorer as any in the NBA.
Edwards exploded for 40 points in a Jan. 25 win over the Portland Trail Blazers. He knocked down five triples and netted 11 free-throw attempts. The Georgia product also displayed his ceiling as a defensive playmaker, recording three steals and three blocks.
A few nights later, Edwards flashed his improved playmaking chops. He handed out a season-high 10 assists in a loss to the Phoenix Suns, proving himself every bit as capable a facilitator as a gifted shot creator.
Though he's held in higher regard because of his historic scoring exploits, Edwards has increased his output in essentially every facet of the game. One thing is for sure: Ant-Man knows how much he's improved.
Edwards displays insane confidence
The Timberwolves are in the playoff hunt partly because of Edwards' rapid maturation. If Ant has anything to say about it, they could soon find themselves in the title picture.
Edwards said immediately following his 40-piece against the Blazers that he "for sure" expects to win NBA MVP next season. Some will surely add this quip to the growing list of Edwards quotables. But the T-wolves star is unmistakably consistent.
As Jon Krawczynski of The Athletic detailed, Edwards labeled himself "Black Jesus." The statement left teammate D'Angelo Russell simply shrugging his shoulders. Edwards' coach, Chris Finch, said (per The Athletic) that Edwards welcomes any and all challengers.
Indeed, Ant-Man's unshakable confidence, paired with his on-court progression, should only elicit more comparisons to Michael Jordan.
Like Mike?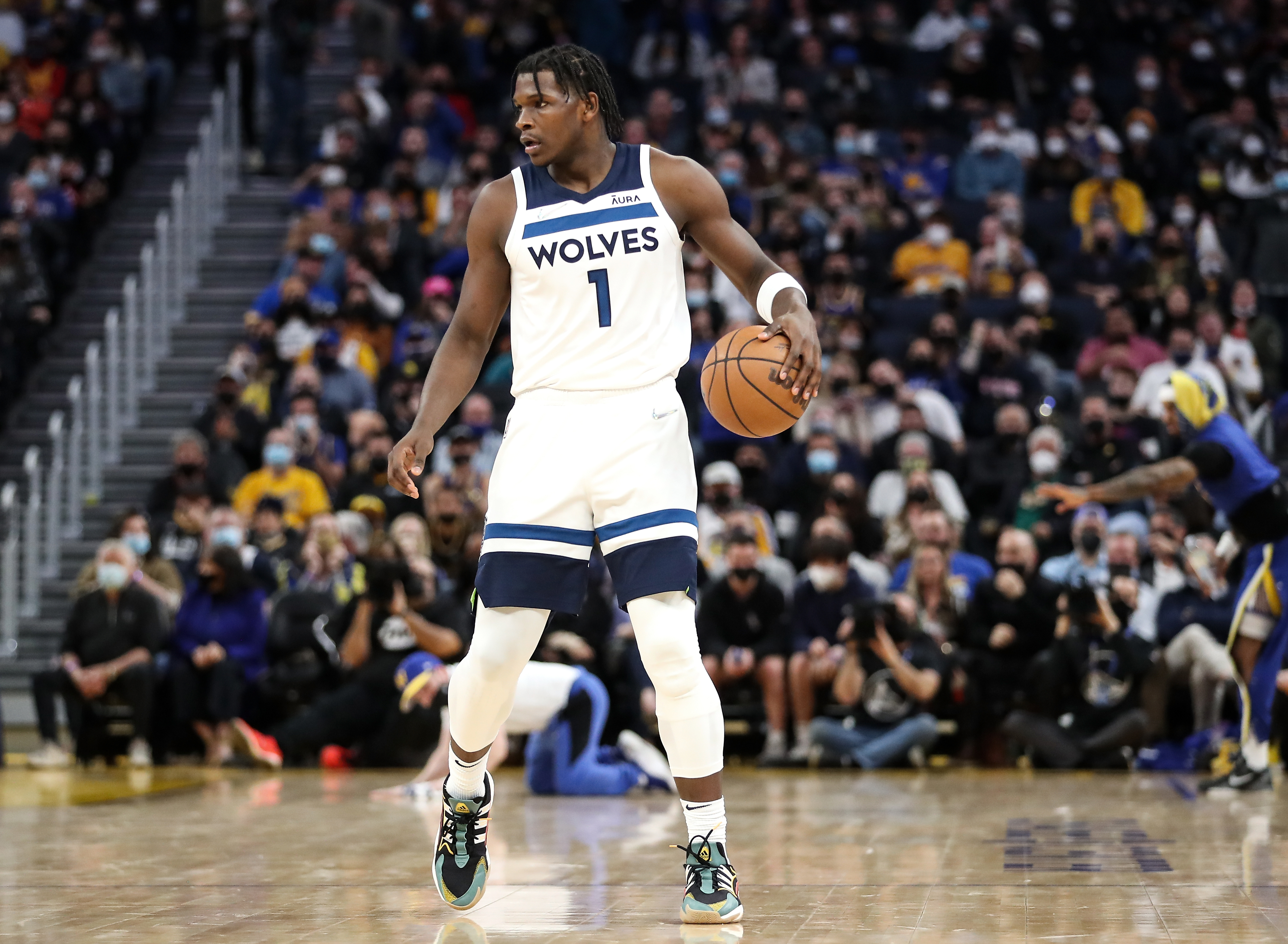 The Athletic reported that LaMelo Ball's attitude during the predraft process left the Timberwolves feeling like he didn't want to be in Minnesota. Meanwhile, James Wiseman reportedly had little interest in playing behind Karl-Anthony Towns.
Anthony Edwards, on the other hand, told the team he felt ready for whatever they might throw his way. That mentality has been a real separator thus far, and it's a parallel to Michael Jordan.
Edwards can manifest space with the jab or off the bounce. Much like a young MJ, Ant-Man has the speed and quickness to blow by defenders and the athleticism and body control to finish over rim protectors. He also feels perfectly comfortable stopping on a dime and pulling up for jumpers.
But the relentless desire to improve and be the best really sets Edwards apart. He's still a bit of a subpar defender. That said, his defensive box plus-minus is 1.6 points per 100 possessions better than last season. The gains he's made on that end have helped spearhead a surprisingly strong Timberwolves defense.
Edwards has the ability and the physical tools. He's also backing up his brash talk with spectacular performances, and he's doing so with a Jordan-esque killer instinct.
Stats courtesy of Basketball Reference.