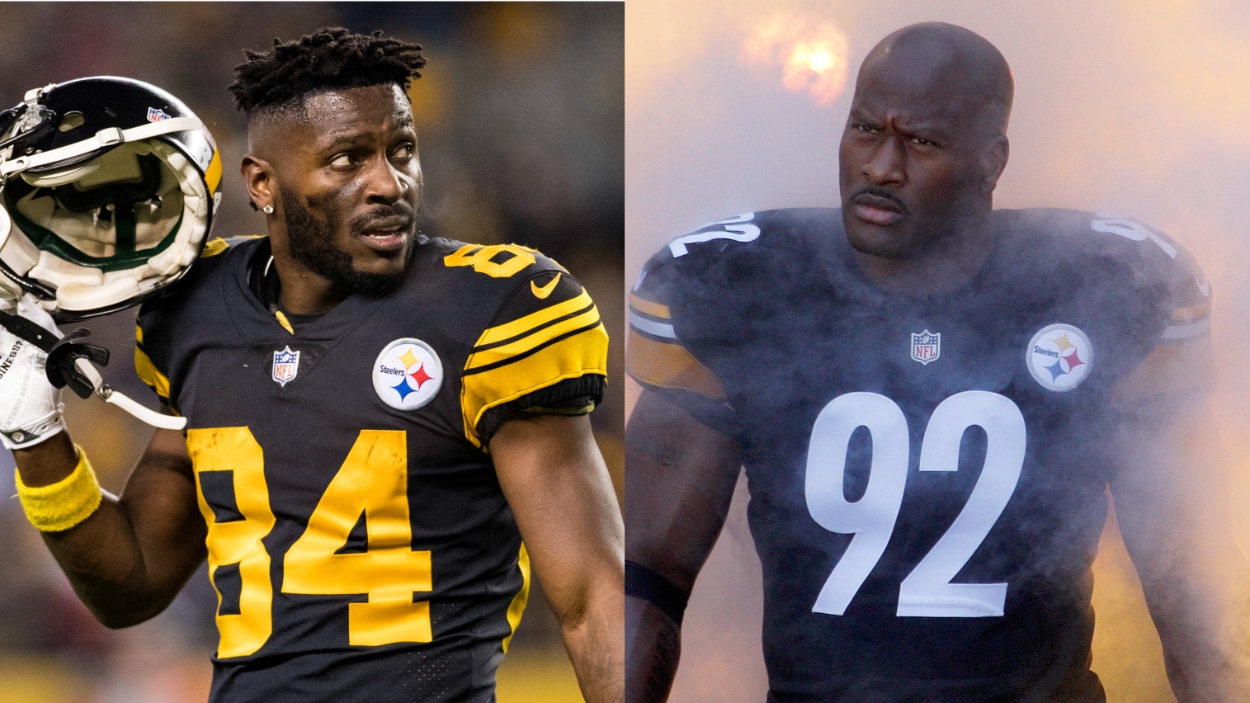 Antonio Brown Blames a Former Teammate's 'Illegal Helmet' for Giving Him CTE
Antonio Brown claims he has CTE and is blaming his former Steelers teammate James Harrison and his 'illegal helmet' for the problem.
Former NFL wide receiver Antonio Brown has demonstrated erratic behavior throughout his career and into his post-playing days. From live streaming Mike Tomlin's postgame speech from the Pittsburgh Steelers locker room to skipping out his last NFL game shirtless in the third quarter to sharing Tom Brady's personal messages to him, Brown has been a bit of a loose cannon for a long time. Now, the former WR is blaming his behavior on CTE, and he says former Steelers teammate James Harrison gave it to him.
Antonio Brown believes James Harrison and his 'illegal helmet' gave him CTE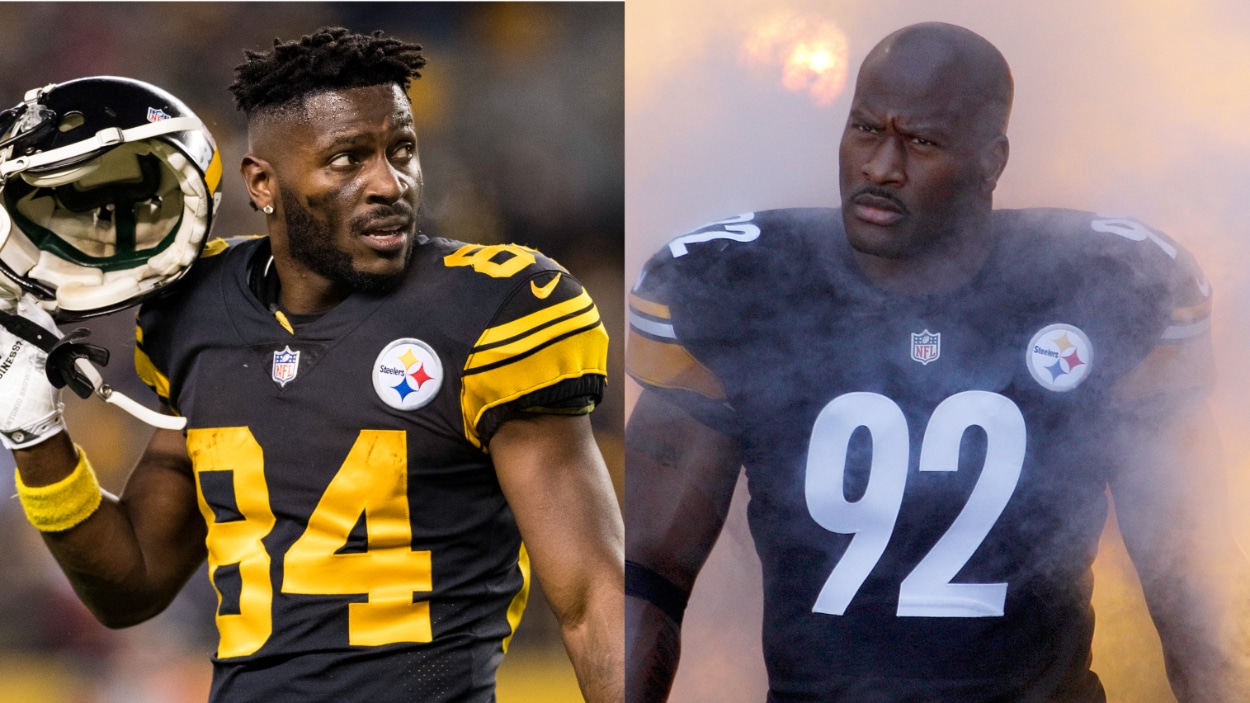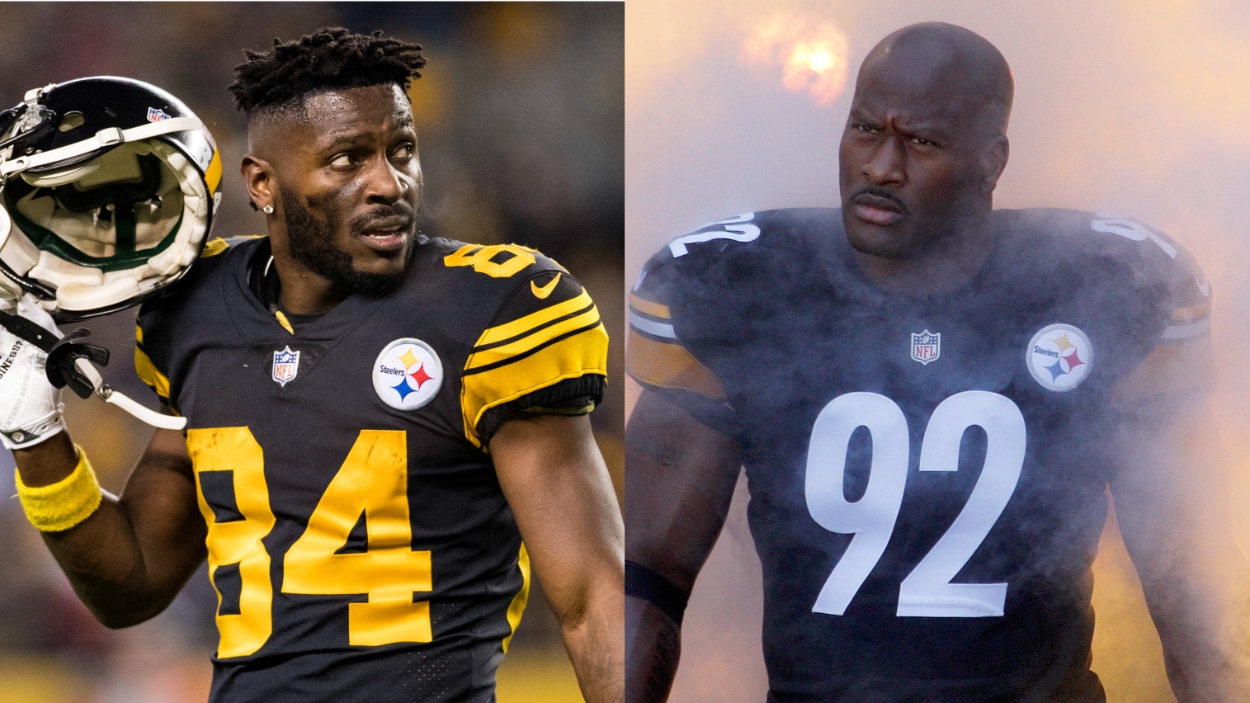 Chronic traumatic encephalopathy (CTE) is a "degenerative brain disease associated with repeated blows to the head has been found in the brains of more than 320 former N.F.L. players," according to the New York Times.
Doctors can only diagnose CTE posthumously and have in many high-profile cases involving ex-NFL stars and horrific acts of murder and suicide. Junior Seau, Dave Duerson, Jovan Belcher, and Aaron Hernandez were all found to have CTE after their deaths.
On an Instagram Live video on Saturday, Antonio Brown not only shared that he believes he has CTE but that his former teammate, James Harrison, gave it to him.
"I wanted to tell you guys that I think James Harrison gave me CTE," Brown shared. "James Harrison had an illegal helmet for over 20 years in the NFL. And he hit me one time. And ever since he hit me, I've been super aggressive. So, blame James Harrison for my CTE."
There is no further evidence Brown provided to back this up. And from what medical professionals currently understand, "One concussion in the absence of other brain trauma has never been seen to cause CTE," per concussionfoundation.org.
For his part, Harrison responded on Twitter, writing, "Me realizing why I had 150 text messages this morning." Followed by an Idris Elba meme from Hot Ones.
Others on social media were quick to point out that a hit from Harrison wasn't Brown's only source of head trauma. In the AFC Wild Card game in the 2015 season, Cincinnati Bengals linebacker Vontaze Burfict infamously delivered a vicious hit to Brown's head, knocking him out cold.