Antonio Brown Demands Release After Oakland Cancels His Guarantees
Perhaps someday we will get to a point where Antonio Brown's drama with the Oakland Raiders isn't the top story on every sports news and opinion site, every day. But that day isn't today as the three-ring circus that Mike Mayock, Jon Gruden, and Antonio Brown are running is open for business on Saturday morning.
If you've missed out on this week's activities, the Raiders fined Brown for missing time during training camp earlier this week. Brown proceeded to lash out at GM Mike Mayock in an angry tirade on Wednesday, leading to reports that the Raiders would issue Brown a suspension that could lead to his contract being voided. Antonio Brown apologized on Friday, and the Raiders caved in, stating that not only would Brown not be cut, but he'd also be playing on Monday.
But less than 24 hours later, it would appear that the plan has changed again.
Oakland's latest fine annuls the guaranteed money in Antonio Brown's contract
In response to Brown's actions on Wednesday, the Oakland Raiders have fined Antonio Brown $215,073. They sent him two letters on Friday night; one to inform him of the fine, and one to inform him that because the fine was for conduct detrimental to the team, the guarantees in his contract were no longer valid.
By making this statement, the Raiders effectively voided the $29.125 million that Brown was previously guaranteed to make. This gives them the right to cut Brown at any time and to not be on the hook for any of his remaining salary.
Brown has no intention of playing under these conditions
Antonio Brown emailed ESPN's Jeff Darlington Saturday morning saying that the Raiders "took away my (contract) guarantees" and that there was "no way I play after they took that and made my contract week to week."
Brown also took to his Instagram page, posting an image that said: "you are gonna —- a lot of people off when you start doing what's best for you." He added a caption to the photo, stating: "And that's fine! I have worked my whole life to prove that the system is blind to see talent like mine. Now that everyone sees it, they want me to conform to that same system that has failed me all those years. 'I'm not mad at anyone. I'm just asking for the freedom to prove them all wrong.' Release me Raiders."
The Raiders tried to have their cake and eat it too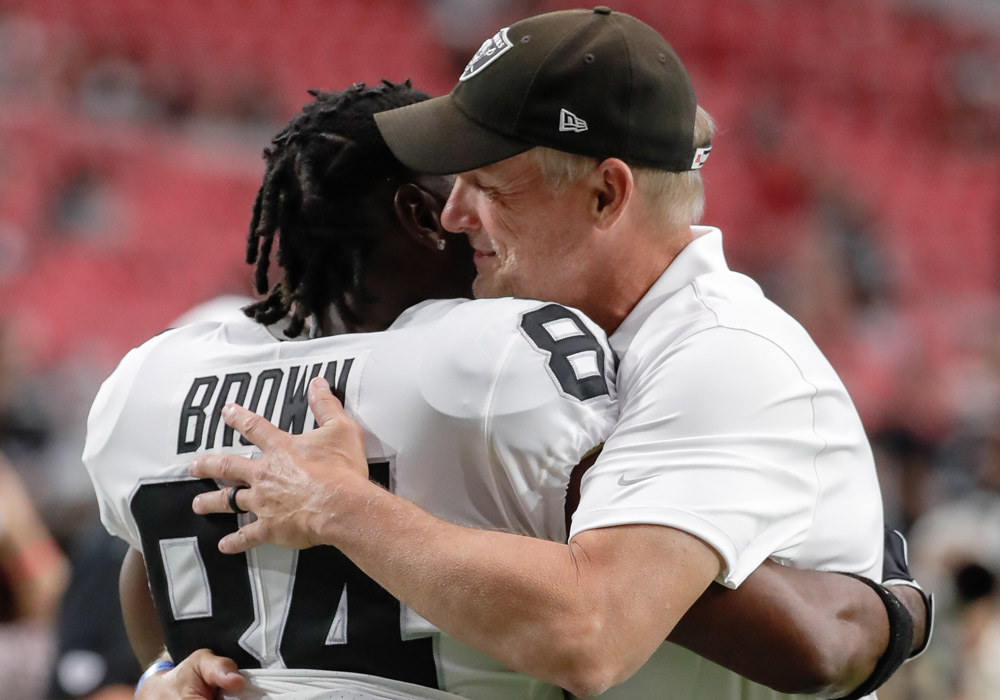 For as often as Antonio Brown has been wrong this offseason, he's not wrong to be upset with this. Are the Raiders committed to him or not?
Oakland can't have it both ways. Jon Gruden and Mike Mayock should have taken a stand and cut ties with Brown on Wednesday. Instead, they accepted his apology and decided not to suspend him. Only to then let him know that they'd voided his guarantees and he could be cut at any time by them with no termination pay?
How did they think that Antonio Brown was going to take this? When the original fine for missing training camp of $53,950 was met with an angry Instagram post and a tirade that included a racial slur and threats of violence, did the Raiders think that a fine for nearly four times more and a letter voiding $29.125 million in guaranteed money was going to be met with humility and joy?
What an incredibly embarrassing saga for both Antonio Brown and the Oakland Raiders. It's hard to believe they have an actual football game against the Denver Broncos coming up this Monday night. It feels as though they've all retired from the sport and gotten into reality TV full time.