Antonio Brown Explains the Origins of His Alter Ego 'Tony Toe-Tap'
Antonio Brown has been one of the best wide receivers in the NFL over the past decade, and he has a big personality — which has helped him become a household name but has also given him a notorious reputation. Brown has played with some of the best quarterbacks of his generation, too, including Ben Roethlisberger and Tom Brady, who have helped him put up impressive stats. And that's why AntonioBrown came up with an alter ego: Tony Toe-Tap. Keep reading to learn. more about the origins.
Antonio Brown has had an impressive NFL career so far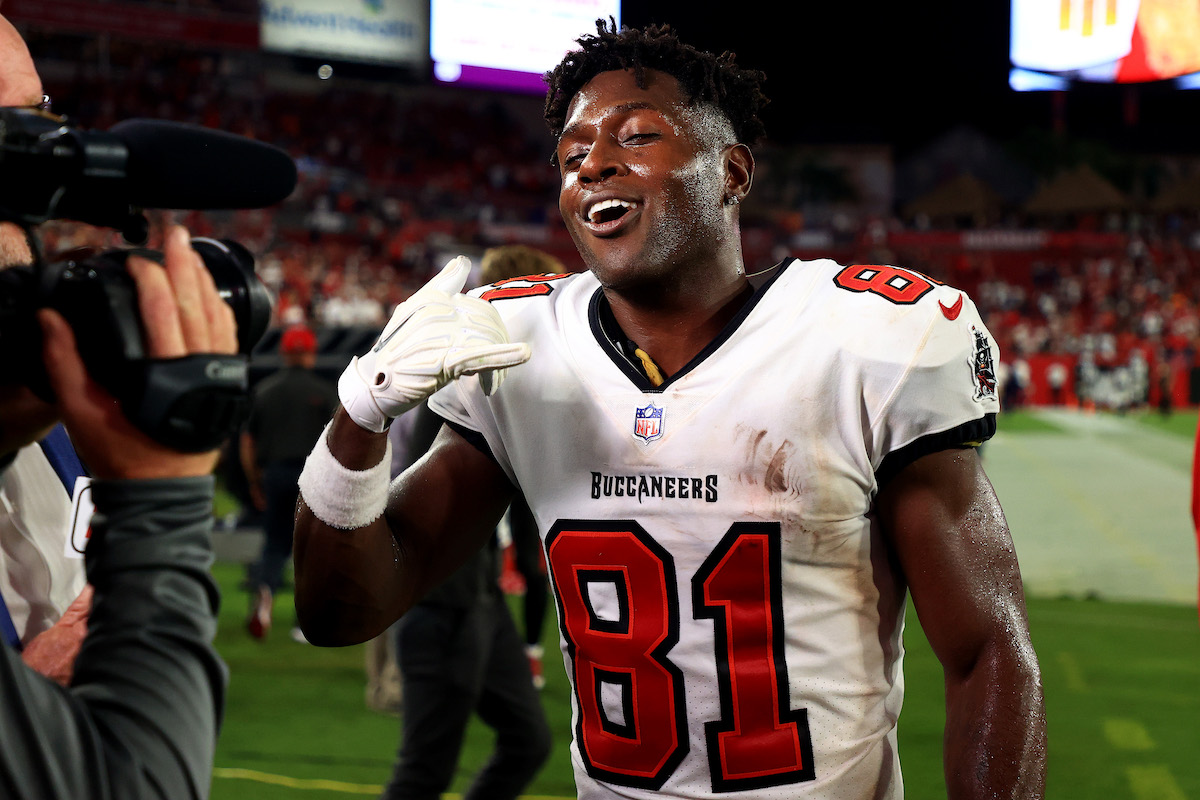 Pro Football Reference shows us what Brown has done in the NFL to date. The 33-year-old is in his 12th season in the league, second with the Buccaneers. He played nine seasons with the Steelers and was in the discussion of the best receivers in the league at that time.
In 130 games with the Steelers, Brown caught 837 passes for 11,207 yards and 74 touchdowns. He played a single game with the Patriots in 2019, scoring a touchdown on four receptions, and in his first season with the Bucs last year Brown totaled 45 receptions for nearly 500 yards and four scores. He already has another touchdown added to his ledger in his first two games of this season, giving him 80 for his career. Brown is a seven-time Pro Bowler, and he earned his first Super Bowl ring last season.
Antonio Brown created the alter ego Tony Toe-Tap
As with many wide receivers with a diva-style attitude before him, Brown likes to play up his big personality. But he has taken it a step further than other receivers before him, creating an alter ego for himself. Tony Toe-Tap, as Brown named the character, gets the moniker from the toe-tap move that football players use when training to help them develop their ball control using the soles of their feet.
The name first became known to fans during a Steelers-Vikings game when NFL Films microphones overheard Brown telling the Vikings' Xavier Rhodes, "I'm Tony Toe-Tap." When asked if Tony Toe-Tap is different from Antonio, he responded by saying that "Tony is a little bit more flashy. Antonio is chill, is like nonchalant." Brown went on to explain that Antonio is "at peace" much of the time, having a constant demeanor without many highs or lows in his personality. Tony, on the other hand, "is a little up and down."
Brown has other nicknames besides Tony Toe-Tap
Tony Toe-Tap isn't Brown's only nickname, though it may be the only one that comes with a fully fleshed alter ego for the receiver. Traditionally, fans called him by the rather pedestrian nickname AB, but that apparently wasn't exciting enough for Brown. One of the first nicknames he gave himself was Ronald. The Pittsburgh Post-Gazette wrote in 2016 that Brown told reporters in the locker room after a practice to address him by that name, with no reason given. It turned out that Ronald referred to Ronald Ocean, a character that later became a part of Brown's web series, as the Post-Gazette later reported.
Perhaps a more famous nickname that Brown gave himself is Mr. Big Chest, announcing in an Instagram live video that's how we wanted to be known going forward. That is an interesting nickname to bestow upon himself because Brown is fit and in shape, but he's not exactly the biggest player in the league. At 5'10" and 185 pounds, Brown has a slimmer build than the average NFL player and doesn't have a big chest physically. If he's talking metaphorically, however, Brown is definitely big-chested in terms of his personality.
RELATED: Is Antonio Brown Vaccinated? Bucs Wide Receiver Landing on COVID-19 List Has Fans Curious