Antonio Brown Would Be a 'Great Fit' With a Star QB Not Named Tom Brady, According to a Notable Hall of Famer
After all the off-field drama kept him — for lack of a better term — off the field, Antonio Brown proved with Tom Brady and the Buccaneers last season that he can still be a productive NFL player. However, Brown and the Bucs have been unable to come to terms on a new deal for the 2021 season. So, could AB play with a new team this upcoming year? Well, a Pro Football Hall of Famer thinks he would be a "great fit" with a star QB not named Tom Brady.
That star QB is none other than Kansas City Chiefs quarterback Patrick Mahomes.
Could Antonio Brown join Patrick Mahomes and the Chiefs?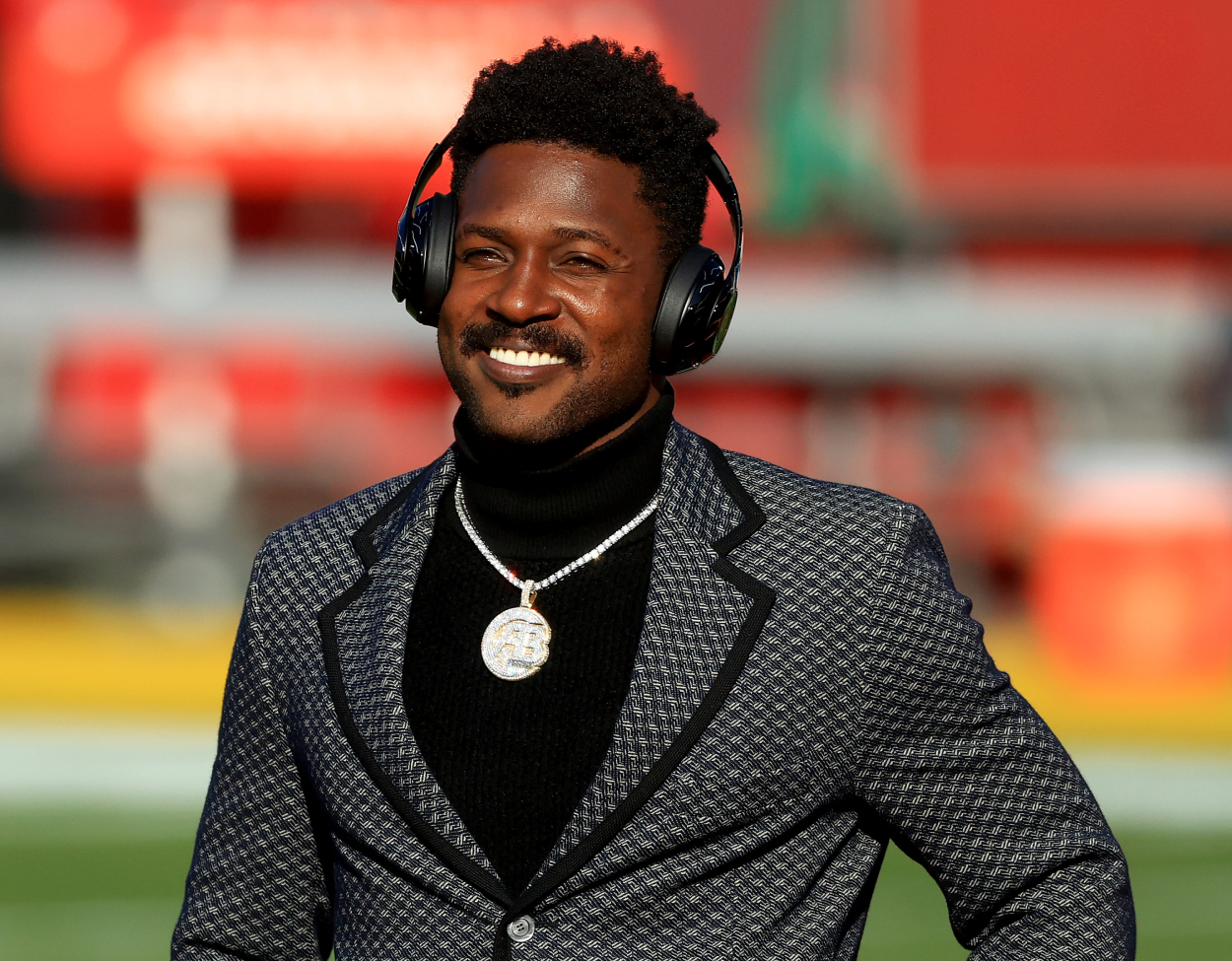 RELATED: Tom Brady Just Beat out Russell Wilson to Secure Another Valuable Weapon for the Buccaneers
Bleacher Report's recent piece about still available NFL free agents really started the conversation about Antonio Brown potentially joining Patrick Mahomes and the Chiefs.
The Buccaneers don't have much salary cap space to work with right now, and Brown reportedly wants something more than the one-year, $1 million deal he took to play in Tampa last season.
Kansas City, though, actually has $11.7 million in cap space, per Bleacher Report. The team also needs to fill the void left by Sammy Watkins, who went to the Baltimore Ravens this offseason.
All these factors led to Bleacher Report listing Patrick Mahomes and the Chiefs as the "best fit" for Antonio Brown.
However, they aren't the only ones who think this, as a Pro Football Hall of Famer seemingly agrees with the idea, too.
Shannon Sharpe thinks AB would be a 'great fit' on the Chiefs 
RELATED: Tom Brady Nearly Tumbled '300 Feet to His Death' While Playing a Sport With Bill Belichick — and It Wasn't Football
Pro Football Hall of Famer Shannon Sharpe recently appeared on his show, Undisputed. The Broncos legend then ultimately said that he believes Antonio Brown would "be a great fit" with Patrick Mahomes and the Chiefs.
"He doesn't want to play again for one year," Sharpe said on the April 20 episode. "He says, 'I played on that prove-it deal. I've proven I can still play. I've proven that I will behave myself.' … He'll be better in this situation than Sammy Watkins because I believe he's a better player than Sammy Watkins is. And that's another guy with quick twitch. You've got Tyreek [Hill], quick twitch; AB's still got quick twitch, and you've got Travis Kelce, who is the premier tight end in all of football."
Sharpe later added: "[Brown is] still an exceptional talent. He still can play at an extremely high level. All he has to do is stay out of his own way."
Shannon Sharpe did admit that a major factor in AB potentially going to KC will be how much the Chiefs offer him. They can, though, offer him significantly more than what Tampa can, so their odds might be greater based on that fact alone. Additionally, Sharpe added that the structure put in place by Andy Reid, similar to the structure that Bruce Arians and Tom Brady put in place with the Buccaneers, could be crucial for AB in terms of his past off-field issues.
Shannon certainly made some good points. No matter where Antonio Brown plays in 2021, though, he proved with Tom Brady and the Buccaneers last season that he is still a talented receiver.
Antonio Brown proved he is still valuable with Tom Brady and the Buccaneers
RELATED: Andy Reid Tried Getting Patrick Mahomes a New Lethal Weapon by Using the Most Baller Recruiting Strategy Possible
Antonio Brown was a seven-time Pro Bowl selection and a four-time First-Team All-Pro in Pittsburgh. He may no longer be quite as great as he was back then, but he proved in 2020 that he is still extremely talented.
In eight games with Tom Brady and the Buccaneers, Brown caught 45 passes for 483 yards. He also caught four touchdowns. Brown then recorded eight catches for 81 yards in three postseason games. The former Pro Bowler even caught a touchdown in the Super Bowl.
Brown did all this despite the Buccaneers already having Mike Evans, Chris Godwin, Scotty Miller, and Rob Gronkowski. This means that on a team like the Chiefs, who already have Tyreek Hill and Travis Kelce, Brown would somehow make that offense even more dominant than it already is.
Antonio Brown may be turning 33 years old, but no matter where he plays in 2021, he has a chance to be a star yet again.
Stats courtesy of Pro Football Reference