Antonio Brown Joined the Bucs Only After Getting the Approval of Tom Brady's 2 Best Weapons First
At one point, it looked like Antonio Brown would never play in the NFL again. However, after only playing in one game in 2019 and serving an eight-game suspension in 2020, Brown signed with the Tampa Bay Buccaneers last season before ultimately winning a Super Bowl with the team last year.
He may have never won that championship, though, had he not received the approval of Tom Brady's two other superstar weapons first: Mike Evans and Chris Godwin.
Antonio Brown won a Super Bowl with Tom Brady and the Buccaneers
On and off-field issues limited Brown — the seven-time Pro Bowl selection — to only one game in the NFL in 2019. He played that one game with Brady and the New England Patriots. 
The NFL then suspended Brown for eight games in 2020 for violating its personal conduct policy, but he later reunited with Brady in October, as he signed a one-year deal with the Buccaneers.
Brown played in eight games for the Bucs last season. He caught 45 passes for 483 yards and four touchdowns. He then caught a touchdown in the Super Bowl to help the Buccaneers win 31-9 over the Kansas City Chiefs.
The Buccaneers asked for the OK from Mike Evans and Chris Godwin first
The Buccaneers recently released Episode 3 of In the Current, a series that looks at the team's 2020 Super Bowl-winning season. The latest episode touched on the Bucs' signing of Brown, and it highlighted what went on behind the scenes while the move was becoming official.
"Bruce [Arians] and I both told Tom that if there was ever a point that we needed him, that we would entertain it," Buccaneers general manager Jason Licht said during the episode. "Then came the point where we were starting to stack up some injuries at the receiving [corps], some of our best players with Mike, with Chris."
Buccaneers head coach Bruce Arians then revealed that he approached Brady's top weapons, 2019 Pro Bowlers Mike Evans and Chris Godwin, before the team signed Brown.
"[I] got their opinion on whether or not we needed him," Arians said.
Evans detailed that conversation with Arians.
"He said, 'I have to ask you and Chris if y'all would be OK with AB joining the team,'" Evans said. "I said, 'It's no problem at all.'"
Godwin then had a great first impression of Brown, too, which seemed to also help tremendously.
"The first time that he kind of introduced himself to the receiving room, he was very, very humble," Godwin said. "To see him come in, carrying that weight with him, and to be so humble, and to be really ready to work to earn whatever role he has, is really cool."
As mentioned above, the move worked out; Brown helped the Buccaneers win a Super Bowl. But it also led to Brown getting an extended stay in Tampa.
Antonio Brown re-signed with the Tampa Bay Buccaneers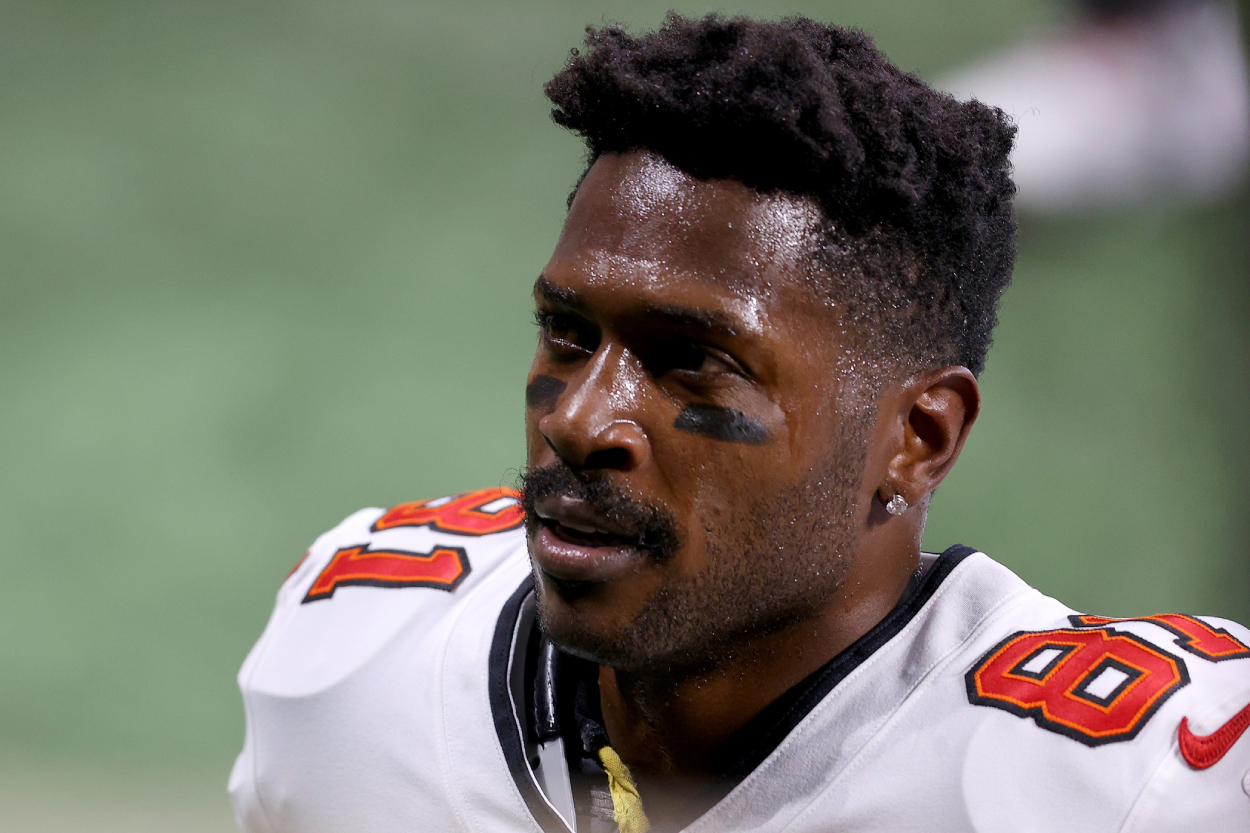 Brown's play with the Buccaneers in 2020 led to him agreeing to a one-year deal with the team for the 2021 season.
After only making $1.25 million with the Bucs last year, per Spotrac, his new deal is worth up to $6.25 million with $3.1 million guaranteed, NFL.com reported.
His signing ultimately helps the Buccaneers bring back their core from last season's title-winning squad. It's not just Brown and other stars like Godwin and Evans returning, though, but all 22 of Tampa Bay's 2020 starters will be coming back. The team also re-signed running back Leonard Fournette, and it added Giovani Bernard, who can be another weapon for Brady out of the backfield.
The Buccaneers certainly have the talent to win a second consecutive Super Bowl in 2021, and Brown is a guy who can be the difference in them doing so. Godwin and Evans probably made the right decision by welcoming AB to the team. He makes their offense nearly unstoppable.
Stats courtesy of Pro Football Reference
RELATED: Tom Brady Admits to Admiring Marshawn Lynch's Infamous Media Move: 'I'll Do It Before I Retire'